50km Ultra Run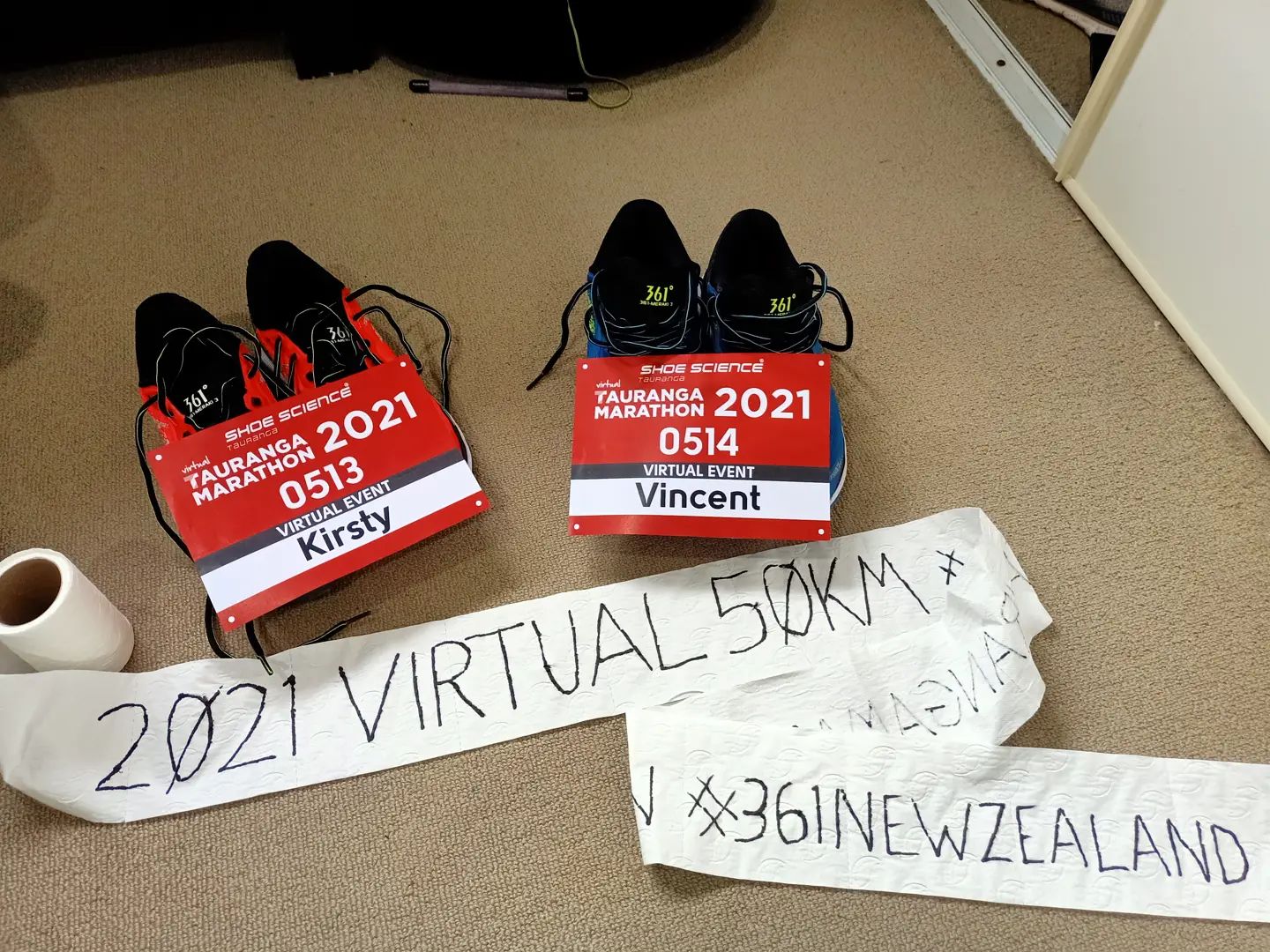 The above image is from my perparations to get ready for this weekends ultra run in Auckland. To try and turn it into a bigger event than it was, I was trying create a finish tape and race bibs.
To give you a bit of a back story. This race was supposed to be help in Tauranga which is about 2 hours east of Auckland, and a nice costal city. We had signed up for the 50km ultra marathon almost a year ago and were really looking forward to it. Fast forward to September when it was supposed to be held, Auckland was in lockdown and the race was postponed and then eventually cancelled with the option of doing a virtual race.
Normally, we would not consider doing a 50km run as a virtual race but @run.kirsty.run had agreed to help raise money for charity which kind of drove us to make the effort and commit to it. Originally I was looking to try and push towards the top half of the competition, but due to an injury at a marathon in August, it had a dent in my preparation, so I decided to carry the drinks and food and run along side Kirsty for the day, supporting her.
50kms To Go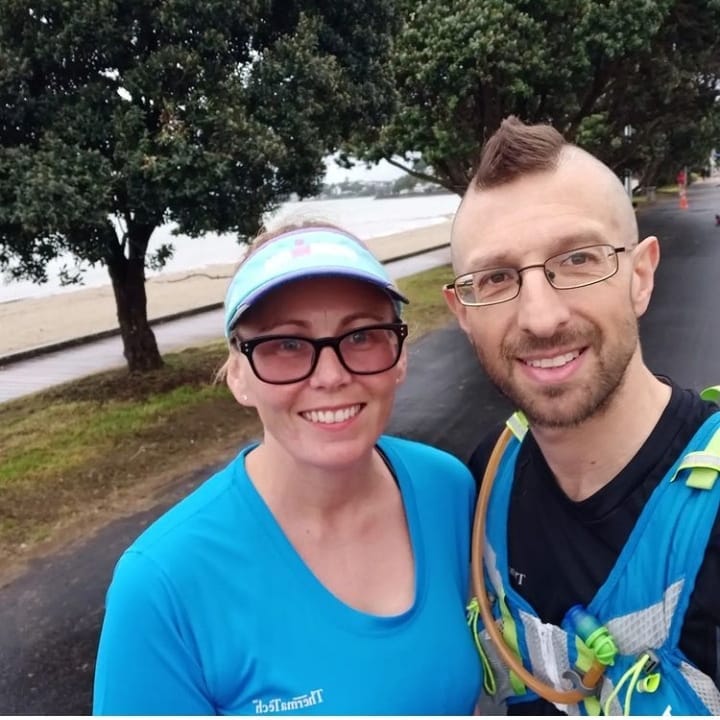 The above image is from the start where we still had 50km to go. It was the one real time when it was not raining and gave me hope that we would have a reasonably easy run. As easy as 50km runs go.
Yes, I have a mohawk. I put the word out on social media to see what people wanted me to do with my hair, and the "Ultra Marathon Mohawk" was the winner.
48kms To Go
I go Kirsty to keep running and already needed a toilet break. Not a major issue, but needed to catch up and kinda felt a little crap pushing hard to run a little faster. The wind was behind us so it was not too bad but I felt good getting back to Kirsty and was able to ease back into our pace. We settled into our pace while the rain started but nothing to hard and we continued on towards Auckland city for our eventual turn around at the 9km mark.
42.2kms To Go
Our path had finished. Yep, the path we were running on ended due to road works. With a marathon still to go, we needed to turn around early which was not a major issue, but meant we needed to run back into the head wind which was definately slowing us down a little. Instead of a 3 lap course, we would adjust it to a 4 lap course, with it all being very flat, but windy and exposed. The rain was starting to come down a little hard, but we continued on and started to take in fuel and food as we went. We finished our first loop of just over 15km in about 90 minutes.
28kms To Go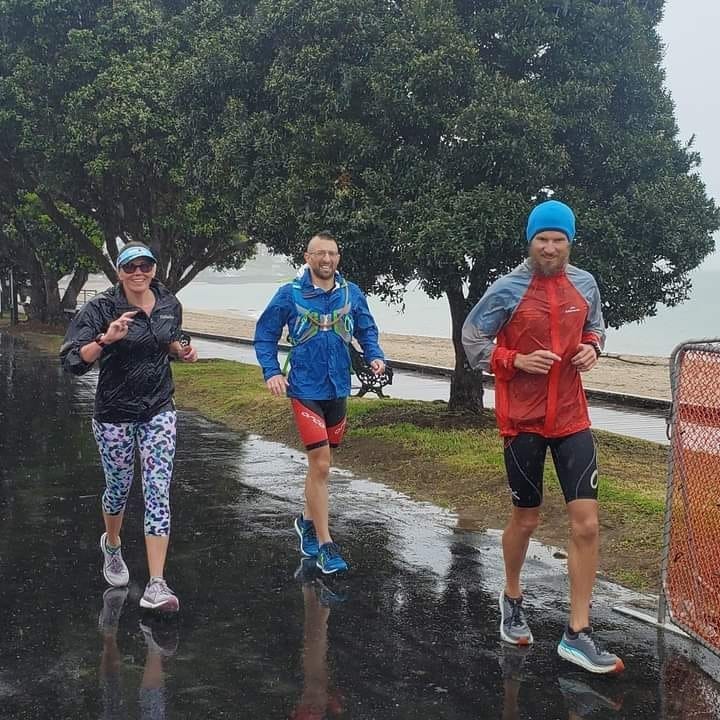 The image shows a third runner with us which was a welcome change. Although, we don't have any issues running together, after 22km we were starting to get tired and welcomed some new conversation. Anthony is an old friend in Auckland and although we have seen him a few times in the past weeks, we have not really spoken to him so we were able to have a good chat and take our mind off the weather and the struggle of the run. We ate a little more, got some more fluids in and continued on to hit the half way mark. Anthony had a 25km training run planned, so we had him with us for a good couple of hours.
11kms To Go
With 11km to go, we started running back into the head wind, Kirsty was feeling a little light headed. We stopped and walked and made sure Kirsty had some solid food while she took it a little easy. I had noticed she was struggling over the past 10km so was a little worried, but knew that if we had to walk the last 11km she would be cool doing that. One problem for me though, was that the conditions continued to get wetter and windier, and as soon as we stopped running, I got very cold. I was really greatful that Kirsty only needed a good five minute walk and got running again, which warmed me up again dispite the rain and wind.
3kms To Go
After Kirsty was not feeling 100%, she got herself going and did not stop since that food break. There must have been something awesome in there to get her to continue on. Don't get me wrong, I was also feeling it, but the continuous running helped me get through. At this point Anthony dropped off as he had finished off his run. Really appreceated his help along the way and his wife Raewyn was taking some nice photos for us.
Finish 49.98kms - Really Strava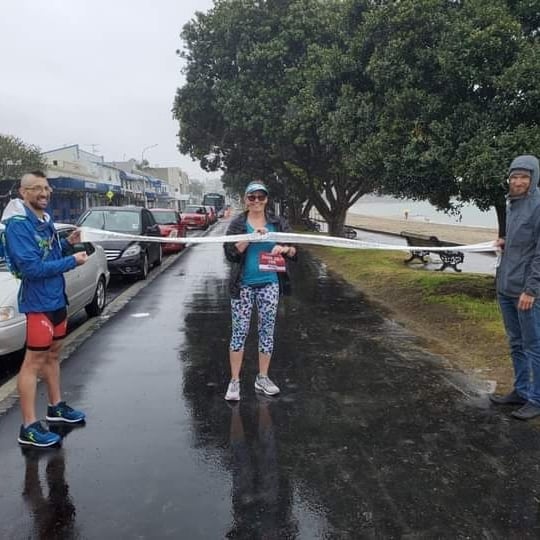 Yep, Strava put me down as 49.98kms for the run. Sorry, I had had enough and was cool with that. The race organisers did not have much of an issue with it either. At the end of the day and showing as the official results, it was pretty clear the wind and the rain scared a lot of people off. Of the 50 people registered to run the 50km run, only 18 people logged results and Kirsty and myself finished 5th and 6th respectively. Both of us getting PB's for a 50km run.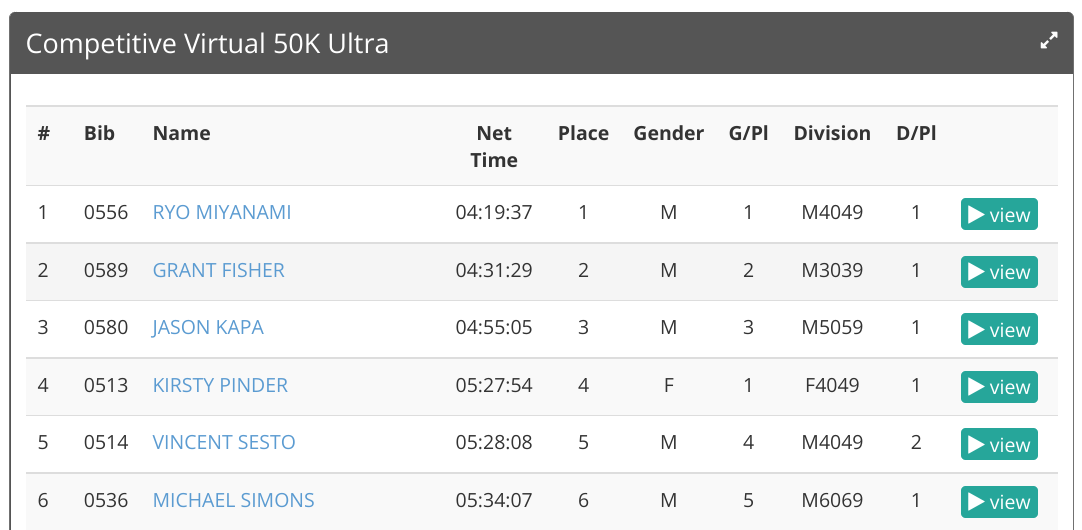 Summing Up
Kirsty ended with first female over all and raised over $1,300 to help cure Ovarian Cancer, which was an amazing achievement. My new shoes for 361degrees were pretty good, but it's a little difficult to give an honest description of how good they are cause they are soaked and my feel were a little blistered due to the rain and wet conditions. They definately did the job. Glad we had a public holiday the day after as it gave us a good day of recovery before we have to worry about work. Hoping we can actually do the race in "real life" next year.
Stay Strong Everyone!
---
---