Splinterlands Brawl Report - PIZZA 2 The Deep Dish Guild - Oct. 6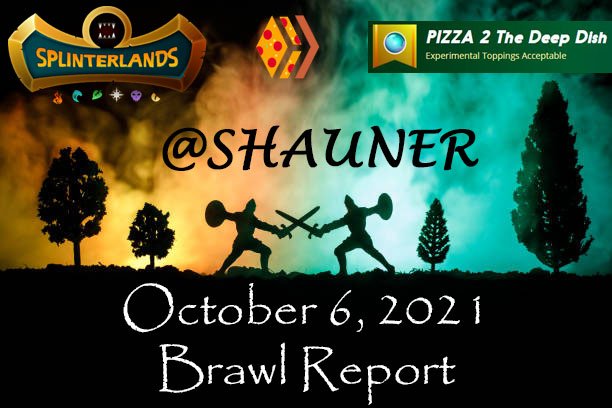 This is my seventh #BrawlReport and my fifth brawl in the @hive.pizza PIZZA 2 The Deep Dish guild.
I entered Fray #7 for this brawl, which is a bronze fray, but only allows Untamed edition to be used for battle.
I faced 5 opponents and my record was 4W-1L. I strategically waited until the last few hours to submit my teams and I believe that helped me get an "opponent fled" result for battle #2.
I placed second in our guild with 4 total wins. Congratulations to @jam728 for taking the top spot in this brawl with 5 wins!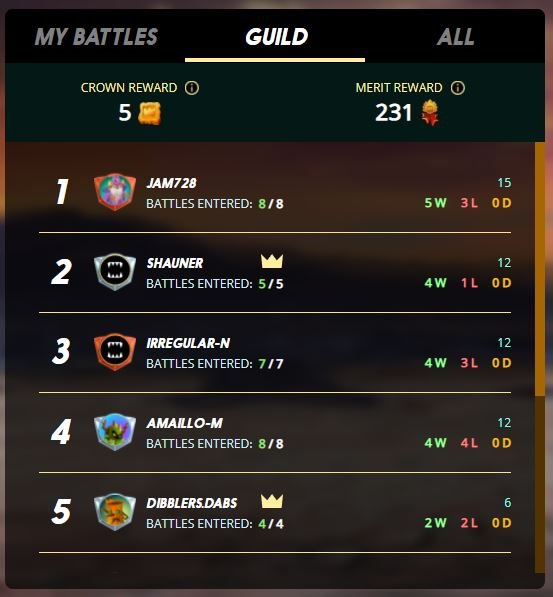 While I may have only landed in second place, I did have the best win percent for our guild in this brawl, coming in at 80%. I was originally entered in Fray #3 which had 8 opponents, but I decided to open that up for another player. Unfortunately, nobody took Fray #3 so I only had 5 opponents in Fray #7 this time.
---
PIZZA 2 The Deep Dish Results
Our guild finished in 7th place this time, with a total of 23 wins. We fell a few places in the standings this time around and it is probably because we did not have a full lineup of Frays for some reason. We usually have too many people fighting to get into too few frays but the opposite happened for this brawl.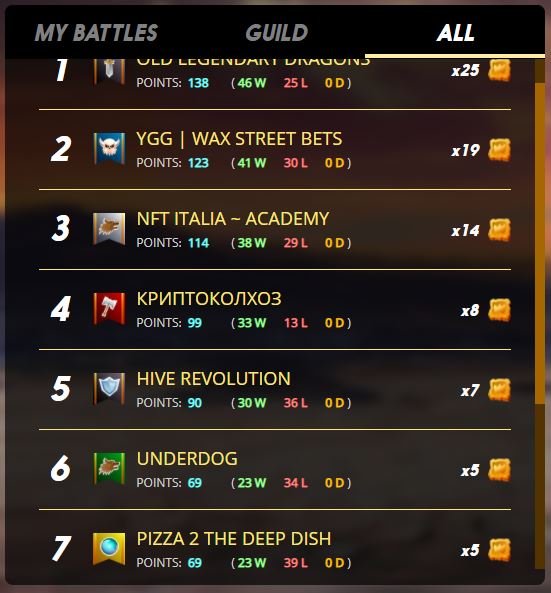 The Brawls
---
Battle 1 - Win
Standard: No modification to gameplay.
This is a rare Brawl battle where there are no modifications to gameplay. This really allows your monsters to shine in battle! Unfortunately, the mana limit was set at 16 so I couldn't deploy my Llama/Kron combo, but that's probably good because my opponent would have done the same and we may have had a draw, or at least an unfair finish based more on luck.
Ironically, my opponent had a virtually identical setup to me. The only deciding factor here was the extra benefit I got from my Llama summoner versus their -2 shield summoner which didn't really do much to me. My magic-repelling monster in the first position was kind of a waste. In the end, I prevailed.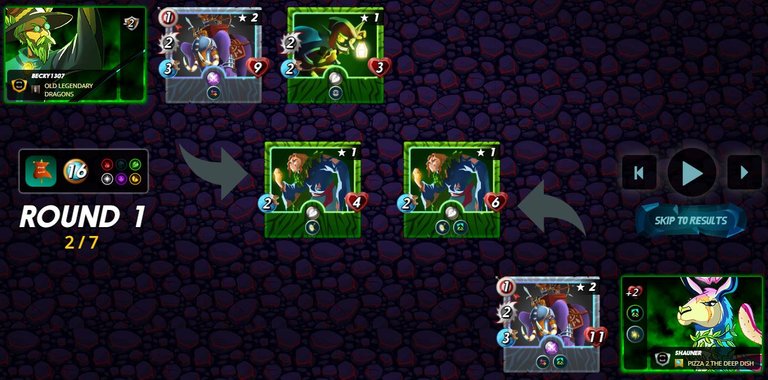 Watch this battle
.
---
Battle 2 - Win
Opponent Fled.
---
Battle 3 - Win
Noxious Fumes: All monsters start the battle poisoned.
Keep Your Distance: Monsters with Melee attack may not be used.
I recently wrote about the strategy in these poison battles needs to center around defense and health regeneration in order to outlast your opponent. The first thing I noticed is that my opponent had no monsters with health regeneration. My back monster, Kron, is a regenerator who will hopefully outlast any attacks. This back position would be vulnerable to Sneak attacks but it doesn't appear this opponent has any of those.
The strategy of outlasting my opponent worked with my Kron staying strong through the end.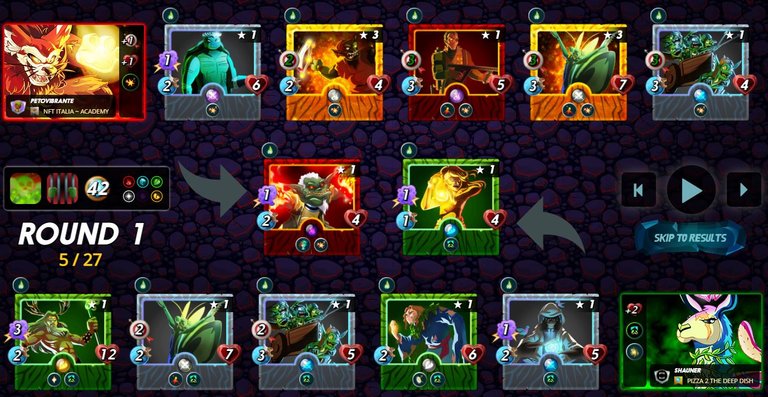 Watch this battle
.
---
Battle 4 - Loss
Close Range: Ranged attacks may be used in the first position in battles.
Lost Legendaries: Legendary monsters may not be used in battles.
This is a high-mana battle, which I usually do quite well in, but the lost legendaries buff is a major handicap to my Untamed deck. We both used the Yodin Zaku summoner, which is the most expensive Untamed card to rent. Unfortunately, I just didn't have a good setup here and made the mistake of not leveraging the +1 range summoner benefit.
I did successfully use a Living Lava monster in the second position that could defend against those blast attacks with its shield buff but it wasn't enough to overcome.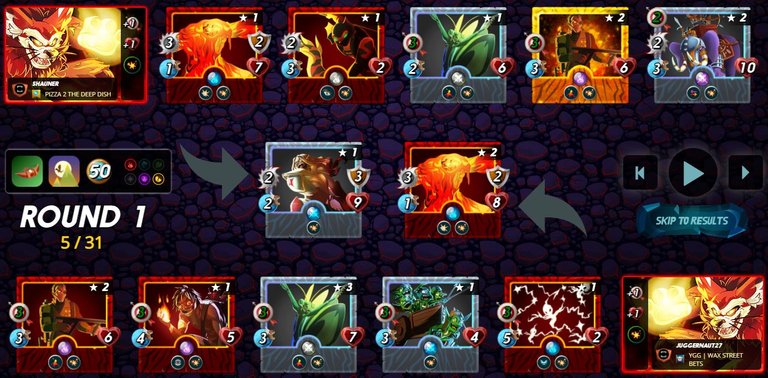 Watch this battle
.
---
Battle 5 - Win
Noxious Fumes: All monsters start the battle poisoned.
Healed Out: All healing abilities are removed from monsters and summoners.
While this battle does not allow healing abilities, I decided to place Kron in the last position to take advantage of the Last Stand bonus from the Llama summoner. This is effectively a healing power when it gets a big boost at the end of the battle if it is the last monster standing. I also placed the Unicorn Mustang, with its 10 health points, in the battle to outlast the poison as well.
This strategy proved effective and my opponent was taken out by the poison moreso than my own attacks.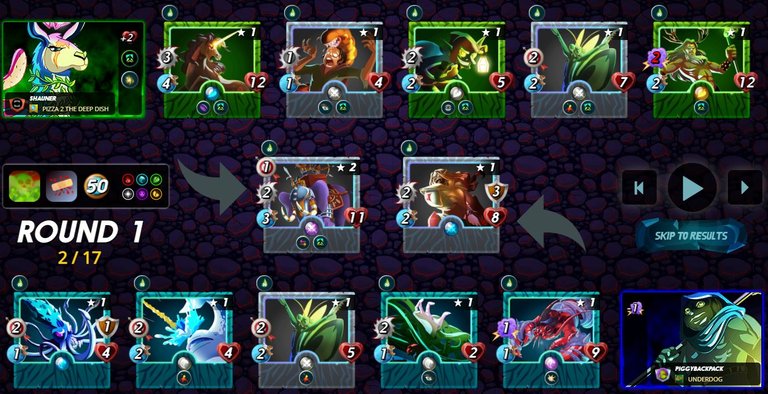 Watch this battle
.
---
---
Final Thoughts
While I was expecting to be in Fray #3 this time, I stayed in the bronze level Untamed fray #7. I was happy with my performance and kept my rental costs under control, while renting just enough power to get myself into the Silver league level to get the better daily chest rewards.
While the PIZZA 2 guild struggled this brawl, congrats to PIZZA 1 The Stuffed Crust for taking first place in theirs!
We each received 231 merits for this brawl and 5 crown rewards for this brawl. This brings my total merits to 1,231 which is not quite enough to get my first gladius case. At this rate, I should be able to pickup that first Gladius in another few weeks.
If you haven't seen the news yet, check out the new 1UP project by @flauwy. This looks like a great new gaming project for Play2Earn blockchain games like Splinterlands!
---
---
@kennysgaminglife has spearheaded the #BrawlReport project as a way to get PIZZA guild members more engaged in the @Splinterlands community. Here's what he had to say:
Starting with the brawl that just ended, I've invited/asked members of the #HivePizza guild to publish a #BrawlReport, breaking down their highs & lows, where they need help, questions they have, strategies they love, and so on. The idea is to help us all reflect a bit, learn a bit, share a bit, earn a bit, and connect a bit :-)
Any other guilds interested in publishing a #BrawlReport, either as individuals, or one for the whole guild, I'm happy to send some curation love your way!
My last BrawlReport: https://www.splintertalk.io/@shauner/splinterlands-brawl-report-pizza-2-43a08742be7fc
Check out the other recent #BrawlReport posts from the #HIVEPIZZA family:
@rayius - Brawl Report #6 - Helmet Kharafax
@nata86 - Splinterlands Brawl Report 06.10.21
---
---
---
---