Restaurando equipo deportivo para entrenar en casa ( Mancuernas ) - esp/eng - original content by @yusmi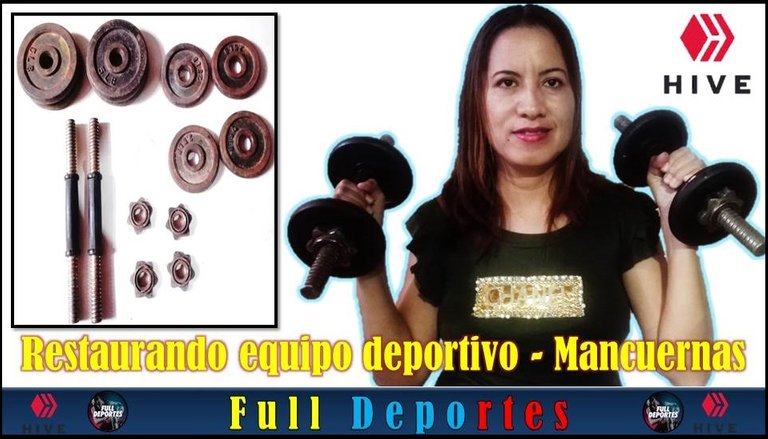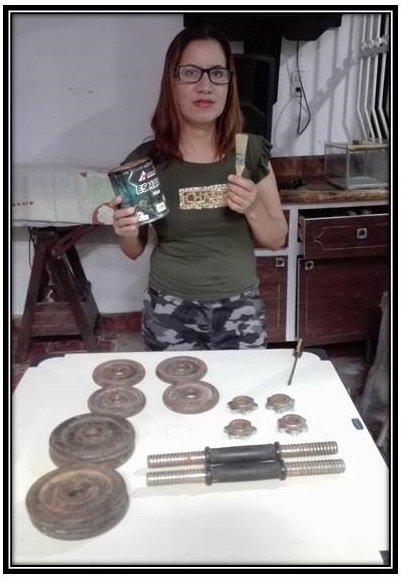 Aunque el hierro sea un excelente material muy utilizado en la mayoría de los gimnasios de Venezuela para la construcción de máquinas, aparatos o implementos deportivos su consistencia, peso y forma no escapa de uno de sus grandes enemigos como lo es el óxido... el deterioro que el descuido, la falta de aseo, mantenimiento y en especial la humedad a la que pueden estar sometidos estos equipos deportivos sólo causarán a la larga daños que posiblemente de acuerdo al mecanismo del implemento deportivo pudieran causar su mal funcionamiento o la perdida total del mismo.

Recientemente hemos recibido la donación de una mancuernas de hierro que fueron recuperadas de una empresa que compra metales también conocida como "chatarreras", el tío de mi esposo pensó que tal vez teníamos un interés por las mismas y nos llamó para que las fuéramos a buscar las cuales se encontraban oxidadas pero todavía en buen estado de conservación; así que decidimos restaurarlas por considerarlas de valor para el trabajo físico y acondicionamiento muscular en casa.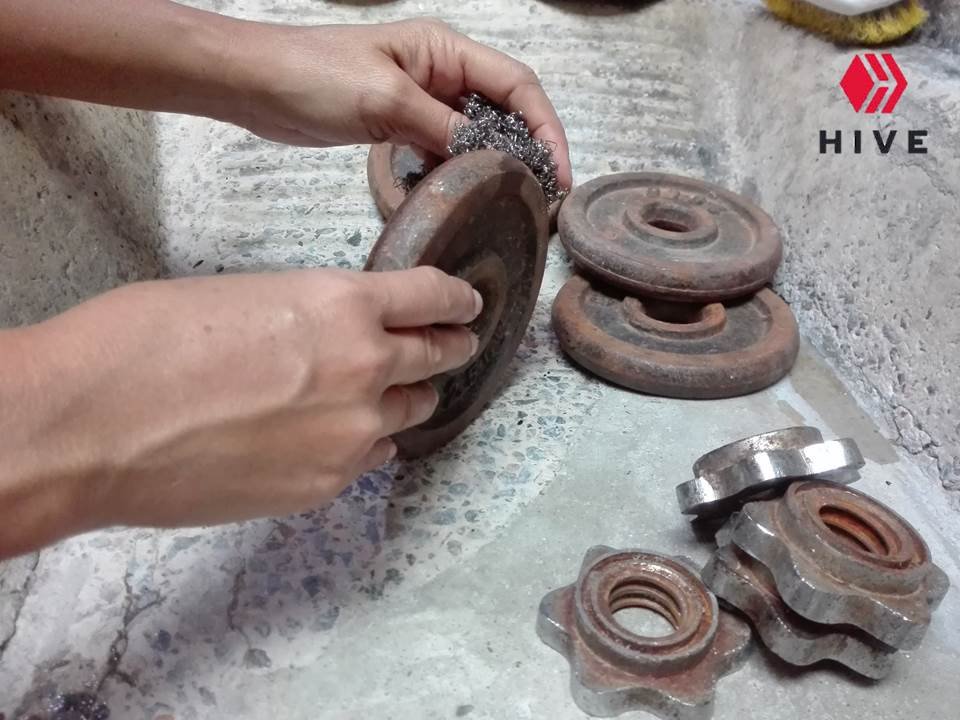 Although iron is an excellent material widely used in most gyms in Venezuela for the construction of machines, equipment or sports equipment, its consistency, weight and shape does not escape from one of its great enemies such as rust ... the deterioration that neglect, lack of cleanliness, maintenance and especially moisture to which these sports equipment may be subjected will only cause damage in the long run that possibly according to the mechanism of the sports equipment could cause malfunction or total loss of the same.
Recently we have received the donation of an iron dumbbells that were recovered from a company that buys metals also known as "junkyards", my husband's uncle thought that maybe we had an interest in them and called us to go get them which were rusty but still in good condition, so we decided to restore them to consider them of value for physical work and muscle conditioning at home.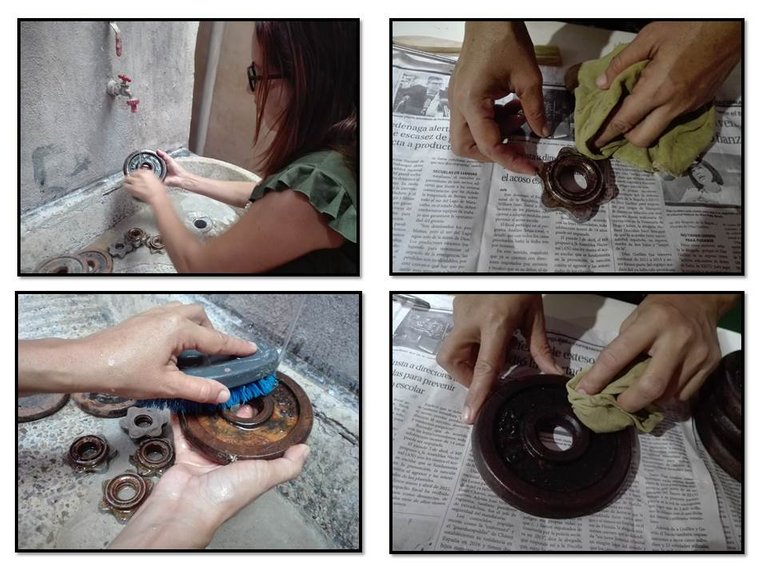 Paso 1 : Retirando la capa de Óxido
Aunque no tenía en mi casa un cepillo de alambre que es la herramienta más ideal para limpiar hierro, el cepillo de lavar en este caso fue suficiente para retirar la capa de óxido de cada una de las piezas que conforman las dos mancuernas: 4 discos de 2.5 libras cada uno y 4 discos de 5.0 libras cada uno con su par de barras y sus dos sujetadores que funcionan a manera de tuercas sujetando los discos de la barra.
Se remojaron las piezas en agua, se cepillaron y luego se procedió a sacarlas para retirarles la humedad para luego pintarlas con un esmalte especial para metales. Buscamos una superficie plana como una mesa y colocamos debajo papel periódico reciclado u otro papel para no manchar la mesa cuando vayamos a pintar los discos.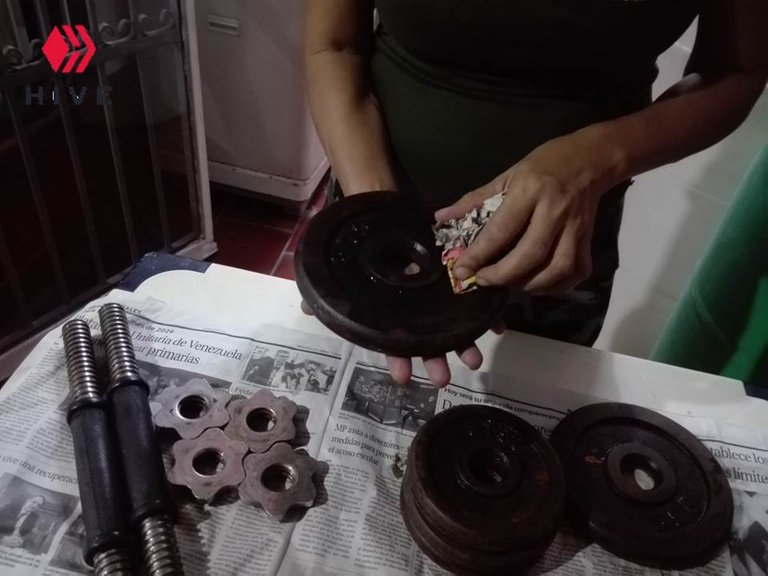 Step 1 : Removing the Rust Layer
Although I did not have a wire brush in my house, which is the most ideal tool to clean iron, the washing brush in this case was enough to remove the rust layer of each of the pieces that make up the two dumbbells: 4 discs of 2.5 pounds each and 4 discs of 5.0 pounds each with its pair of bars and its two fasteners that work as nuts holding the discs of the bar.
We soaked the pieces in water, brushed them and then proceeded to take them out to remove the moisture and then paint them with a special enamel for metals. We looked for a flat surface such as a table and placed recycled newspaper or other paper underneath so as not to stain the table when we were going to paint the disks.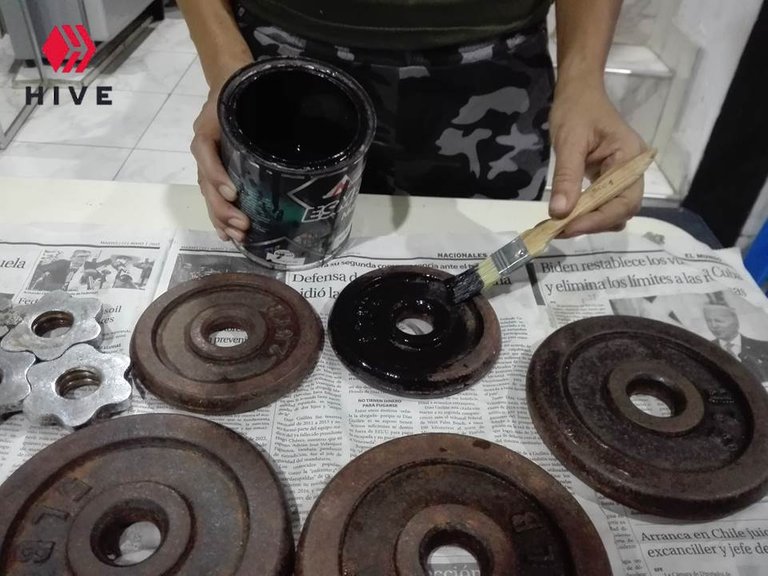 Paso 2 - Pintamos los discos
Una vez secados adecuadamente los discos de hierro colocamos sobre la mesa recubierta por papel reciclado los mismos y cuidadosamente con una brocha y pintura negra en este caso pintar primero una cara de los mismos esperar varias horas a que seque y luego darles la vuelta para pintar la cara opuesta. Esperamos un tiempo prudente y repetimos la operación hasta cubrir en su totalidad toda la superficie de cada uno de los discos.
Las otras piezas como las tuercas sujetadoras hay que limpiarlas con abrillantador de metales que en estos momentos no poseo pero se que existen para devolverle el brillo a las partes cromada.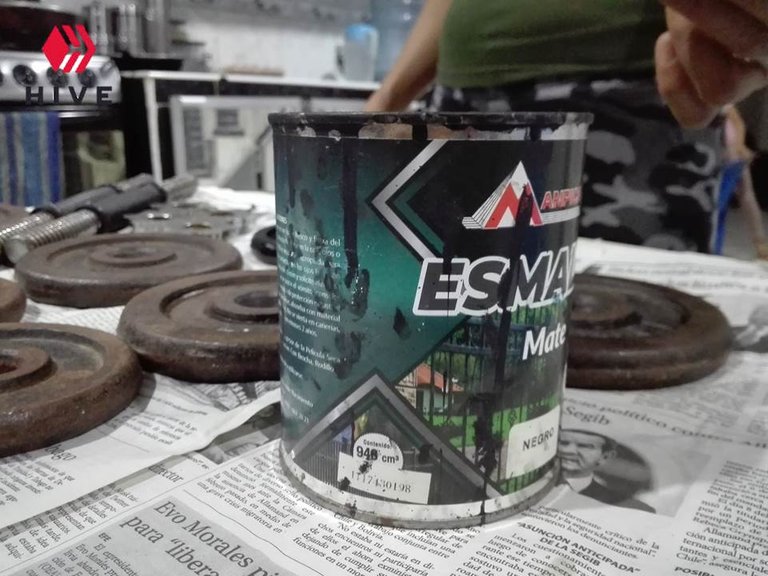 Step 2 - We paint the discs
Once properly dried iron discs placed on the table covered by recycled paper the same and carefully with a brush and black paint in this case paint first one side of the same wait several hours to dry and then turn them over to paint the opposite side. We wait a prudent time and repeat the operation until we cover in its totality the whole surface of each one of the disks.
The other parts such as the fastening nuts must be cleaned with metal polish that at the moment I do not have but I know they exist to restore the brightness to the chrome parts.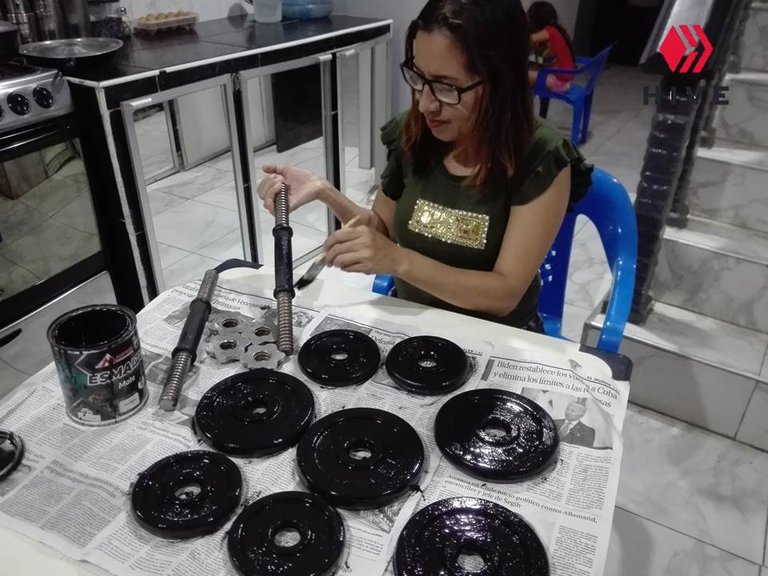 Paso 3 - Dejamos secar y armamos las mancuernas y tenemos material deportivo NUEVO!
Una vez que dejemos reposar lo suficiente los discos por ambos lados procedemos a armar las mancuernas y obtendremos como resultado un equipo deportivo de muy buena apariencia listo para usar y totalmente recuperado como NUEVO!... No queda más que agradecer a esta gran comunidad por crear espacios destinados a la difusión, promoción y muestra de la actividad y quehacer del deporte desde lo local hasta lo mundial. Gracias por leer a la maestra Yusmi.
Step 3 - Let dry and assemble the dumbbells and we have NEW sports equipment!
Once we let the discs rest enough on both sides we proceed to assemble the dumbbells and we will get as a result a very good looking sports equipment ready to use and fully recovered as NEW!.... We can only thank this great community for creating spaces for the dissemination, promotion and display of the activity and work of the sport from the local to the global. Thanks for reading the teacher Yusmi.

¿ Te gustan los Deportes ?
Te invito a unirte a través de este enlace a la comunidad deportiva hispanohablante número 1 de la plataforma #hive donde podrás compartir tu pasión y amor por el mundo deportivo a través de imágenes, textos y vídeos. Noticias, análisis , opinión y tutoriales de rutinas deportivas podrás hallar en esta gran comunidad además de conocer a excelentes autores únete ahora y comparte junto a nosotros la pasión por el deporte. Únete pinchando acá Fulldeportes Comunidad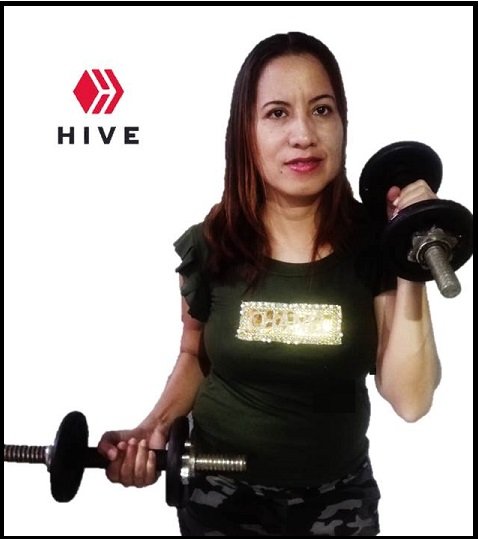 Credits:
Fotografías: @gaborockstar
producción y redacción @yusmi
---
---