New SportsTalkSocial.com Feature - Better Categorization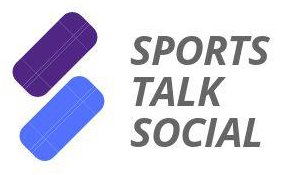 One of the toughest parts of social networks are finding people who share interests with you. That's what's made SPORTS so much fun to date is that everyone participating has a tie and common ground between one another.
We want to strengthen those ties by allowing you to not only find people who care about the same sport as you but also share the same team bonds with you. That's why we are happy to introduce a new, deeper tag categorization that goes all the way down to your favorite leagues.

New Sidebar
As you can see in the image on the right there are now sub level tags shown. This allows us to keep each sports as the top level tags while sub-level tags can be tied into an associated sports or leagues.
This will still allow discussion to occur under #football but opens a new range of topics when including #leagueplay. The means that your post will not only show under the top level football header but could also tie a bit deeper down to be classified as being about league football over tournament football. This will make it much easier to focus on your favorite Premier League news during world cup season.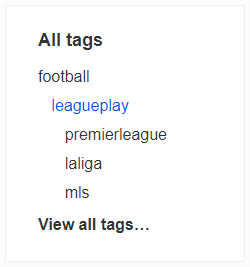 Speaking of Premier League maybe that's more of the focus of your post. If you click on #leagueplay now you notice the sidebar behaves dynamically changing down a level to showcase new sidebar options. Now you can make sure your post is tagged #football #leagueplay #premierleague then your post will show in all football related columns down to the Premier League section. This is great for a wider focus look at a league where you may be covering multiple teams.

What if you're not though. What if you'd instead prefer to only read about your specific team? Now you can! Just follow down through the league and click your team from the sidebar. Once you do you should begin to see posts that only deal with your favorite team/club.
I've always felt like sports teams were families in a way. Now you can find members of your family that you may have never known existed on Steem.
To write a post that goes all the way down to your team you only need to include your favorite team's tag. That will make sure its at least posted in your team's tag. I'd also recommend including tags the rest of the way up so that it can appear in a wider range of pages. This will not only help your visibility but may also help fans find other fans while searching through the wider league views.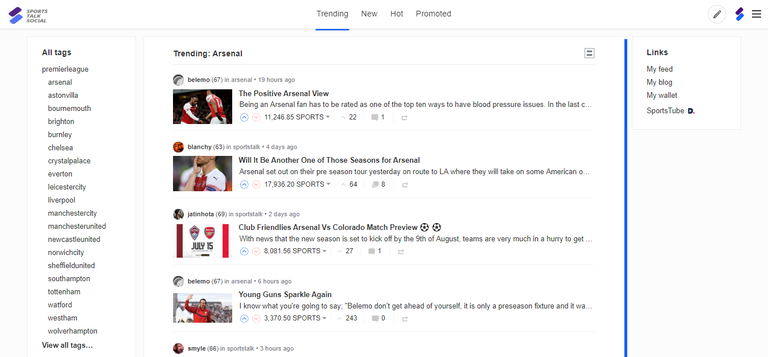 Categorization Help
We're still finalizing all of the tags. If you've seen tags that are listed in the sidebar but the Steem community have already been using a different tag for your team/league then please let me know in the comments below. We don't want to reinvent the wheel so if your team has a community here let's keep them all together and welcome everyone to the SPORTS community!
Thank You Steem Community!
I want to share something very special to me with everyone who reads this. The Steem community rocks! Shortly after creating this tribe a user reached out to me and started offering to help in various ways. Not seeking financial benefit but rather they liked the idea and wanted to help. You don't find that just anywhere!
All of the changes you're reading above come from that same user that reached out early on. @voltair has been instrumental in helping the community grow and have the features we need to really make this place something special. Thank you to all of you who've contributed! This couldn't have been done without you!
---
---