Tonifiquemos el cuerpo. (Full body.)/🔥💪🔥Toning the body.(Full body.)
---
Feliz inicio de semana querida comunidad de full deportes, empecemos la semana activos con un grandioso full body para tonificar cada musculo, este full body lo realice con apoyo de pesas improvisadas para tener más equilibrio y quería exigirme un poco más, son 6 movimiento; en el cual trabaje piernas, glúteos ,brazos y abdomen un paquete completo, cada movimiento lo realice en 20 repeticiones en 4 series dejando un tiempo de descanso entre 10 segundos entre series, los invito a ver mi rutina completa sin decir acompañeme.
Happy start of the week dear community of full sports, let's start the active week with a great full body to tone every muscle, this full body I performed with support of improvised weights to have more balance and wanted to demand a little more, are 6 movement; in which I worked legs, buttocks, arms and abdomen a complete package, each movement I performed in 20 repetitions in 4 series leaving a rest time between 10 seconds between series, I invite you to see my full routine without saying accompany me.
---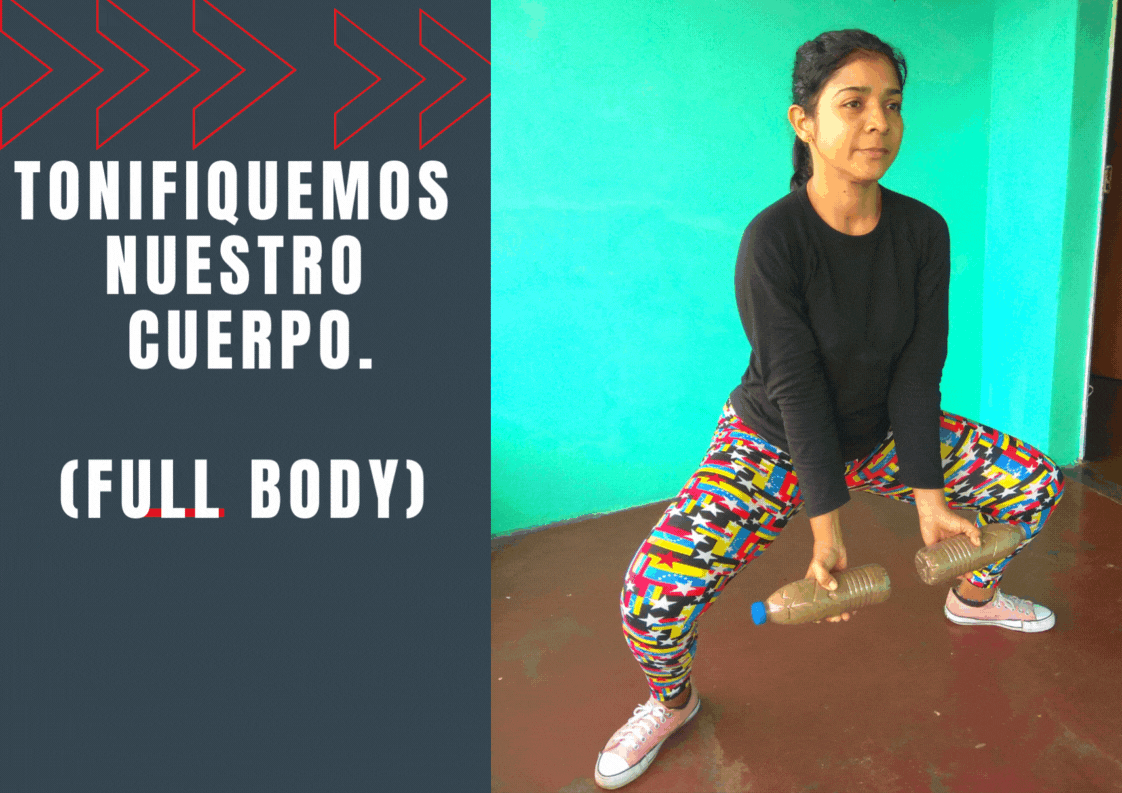 ---
Calentamiento/Warm up
Sumo sin carga.
Sumo without load.
---
Comencé mi calentamiento con un movimiento llamado sumo lo realicé sin carga, en 2 series de 20 repetición; consiste en abrir la pierna y bajar a 90° y volver a subir sucesivamente.
I started my warm-up with a movement called sumo, which I performed without load, in 2 sets of 20 repetitions; it consists of opening the leg and lowering it to 90° and then raising it again successively.
---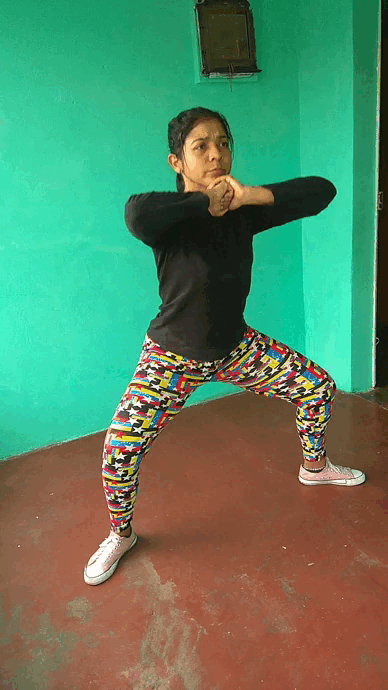 Rutina./Routine.
---
Sentadilla sumo con elevación de brazos con carga.
Sumo squat with loaded deadlift.
---
Primer movimiento que realice fume sumo con elevación de brazos, abrí mis piernas y baje a 90° al subir eleve mis brazos completa hacia arriba utilice peso, realice 20 repetición en 4 series.
First movement I did, I smoked sumo with arm lift, I opened my legs and lowered to 90° when I went up I lifted my arms all the way up, I used weight, I did 20 repetitions in 4 sets.
---
---
Sentadilla cerrada con elevación de brazos al ancho de los hombros con swings.
Closed squat with shoulder-width arm raises with swings.
---
Segundo movimiento, es sentadilla con ancho de hombros con swings, este movimiento se realiza con la pierna cerradas y se baja a 90° manteniendo el movimiento de los brazos hacia atrás y llevándolos hacia adelante al nivel de los hombros, realizar 20 repetición en 4 series.
Second movement is squat with shoulder width with swings, this movement is performed with the leg closed and lowered to 90 ° keeping the movement of the arms back and bringing them forward to the level of the shoulders, perform 20 repetitions in 4 sets.
---
---
Estocada estática con curl biceps y press de hombros.
Static lunge with biceps curl and shoulder press.
---
Tercer movimiento es estocada combinado con curl y press de hombros, buenísima combinación trabaje piernas, glúteos biceps y hombros, realizar el mismo procedimiento en la otra pierna,este movimiento lo trabaje en 20 repetición en 4 series.
Third movement is lunge combined with curl and shoulder press, great combination work legs, gluteus, biceps and shoulders, perform the same procedure on the other leg, this movement I worked in 20 repetitions in 4 sets.
---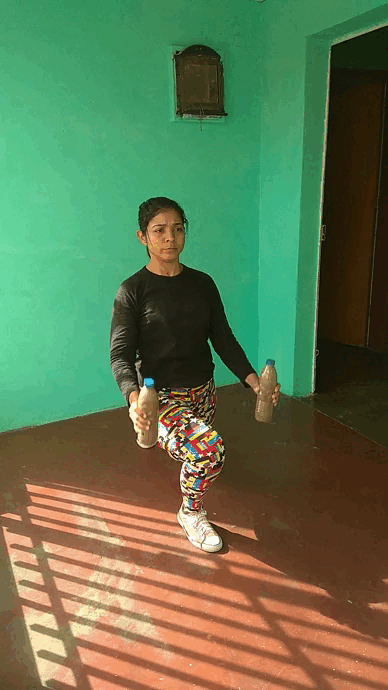 ---
Press de hombro y crunch con carga.
Crunch with straight leg and load.
---
El cuarto movimiento es press de hombros y crunch, este movimiento se enfoca más que todo en el pecho y el abdomen, consiste en elevar las pesas por encima de mi pecho; luego realice crunch manteniendo los pies en el aire mientras comprimo mi abdomen, realice 20 repetición de 4 series.
The fourth movement is shoulder press and crunch, this movement focuses mostly on the chest and abdomen, it consists of raising the weights above my chest; then perform crunch keeping my feet in the air while compressing my abdomen, perform 20 repetitions of 4 sets.
---
---
Plancha en cuadrupedia, más plancha alta
Squat plank, plus high plank.
---
El quinto movimiento es plancha en cuadrupedia combinado con plancha alta, este movimiento se enfoca en trabajar las piernas y el abdomen, este ejercicio lo realice en 20 repetición de 4 series.
The fifth movement is quadruped plank combined with high plank, this movement focuses on working the legs and abdomen, this exercise was performed in 20 repetitions of 4 sets.
---
---
Nadador y flexiones.
Swimmer and push-ups.
---
Sexto movimiento, que realice fue nadador y flexiones, este movimiento me ayuda a trabajar mi espalda y triceps, lo realice en 20 repetición de 4 series.
Sixth movement, which I performed was swimmer and push-ups, this movement helps me to work my back and triceps, I performed it in 20 repetitions of 4 sets.
---

---
Mis queridos amigos les comparto esta buenísima rutina para tonificar todo el cuerpo, es una rutina que pueden realizar desde casa con apoyo de pesas improvisadas, les recuerdo realizar un breve calentamiento antes de hacer su rutina, y mantener una excelente hidratación, este tipo de rutinas para ser 100% efectivas y ver óptimos resultado se tiene que combinar con una buena alimentación, en el cual se debe consumir frutas, proteínas y fibras; espero que les guste mucho así que nos vemos en otra ocasión.
My dear friends I share with you this great routine to tone the whole body, it is a routine that can be performed from home with the support of improvised weights, I remind you to perform a brief warm up before doing your routine, and maintain excellent hydration, this type of routines to be 100% effective and see optimal results must be combined with a good diet, in which you should consume fruits, protein and fiber, I hope you like it a lot so I'll see you another time.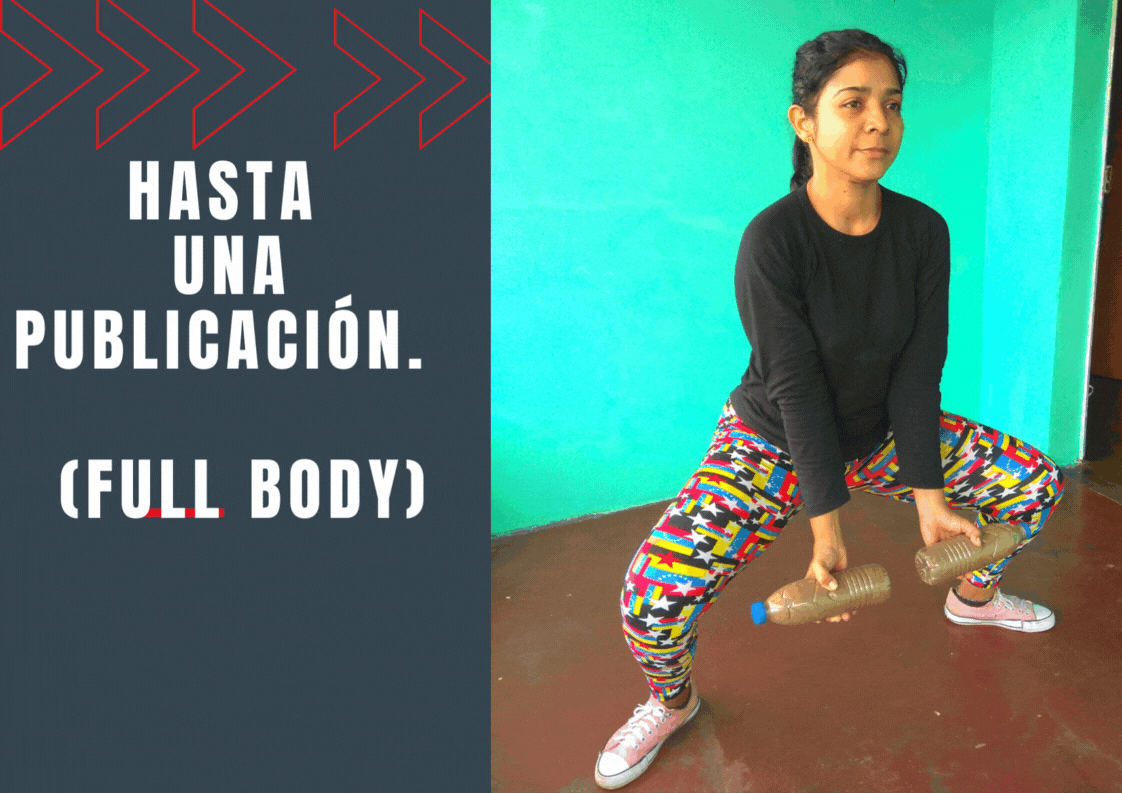 Fotos tomadas desde teléfono Alactel idol./Photos taken from
Alactel idol phone.
Ediciones y banner desde canva./editions and banners from canva.
videos convertidos en gifs en https://www.img2go.com/convert-video-to-gif

---
---