Champions League Eliminations - Round 2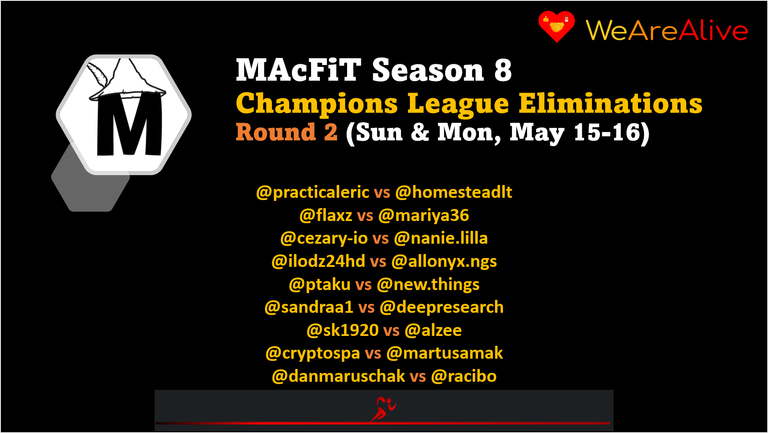 Hello,
Time for Round 2 of Champions League Eliminations. As always, the winner is decided over two matches.
Champions League Path
Match One: Sunday, May 15
Match Two: Monday, May 16
Pairs:
@practicaleric vs @homesteadlt
@flaxz vs @mariya36
@cezary-io vs @nanie.lilla
@ilodz24hd vs @allonyx.ngs
@ptaku vs @new.things
@sandraa1 vs @deepresearch
@sk1920 vs @alzee
@cryptospa vs @martusamak
@danmaruschak vs @racibo
What's Next
The 9 Winners + 1 Lucky Loser will advance to the group phase of Champions League. The remaining 8 losing sides will be transfer to Consolation Cup, Round of 16.
Consolation Cup Path
(matches over, results coming in)
Match One: Friday, May 13
Match Two: Saturday, May 14
Pairs:
@stefannikolov vs @notak
@awah vs @assassyn
@asia-pl vs @kwsnomzys
@zimnaherbata vs @kiel91
@silvertop vs @ykretz.sports
@davidesimoncini vs @pjansen
@axel-mccornstack vs @mushanov
@fredkese vs @davidthompson57
What's Next
The 8 winners will advance to the main phase - Round of 16. The losing sides will have to wait for Season 9 for another chance.
Direct access into Group Phase
---
Beneficiaries
All Season 8 @MAcFiT updates will have Season 7 Winners as beneficiaries:
@bucipuci 6% (Winner of Champions League)
@dragokazo 4% (Winner of Consolation Cup)
---
---