Super League - Weekend Three Announcement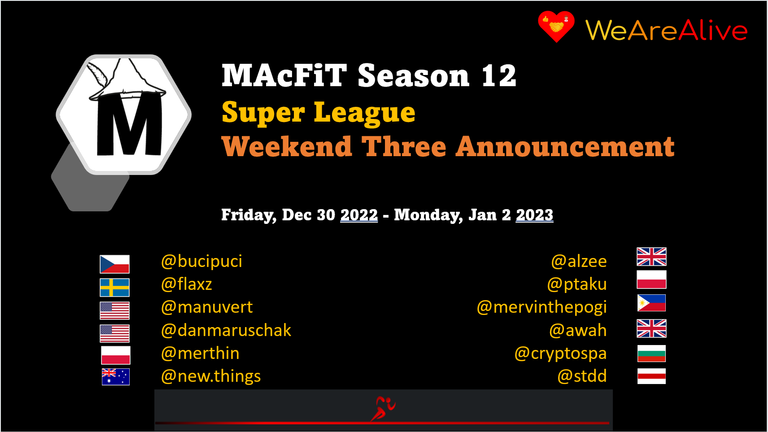 Hello Players and Fans,
Super League is rolling into Weekend Three - which spans 2022 and the New Year 2023. 12 players are left and they will compete for 8 slots in Weekend Four.
Weekend Three
Friday, Dec 30 2022 - Monday, Jan 2 2023
Rules
We will again compete over 4 days, but again players can choose their two best days. With a twist, however - one of the two chosen days MUST BE Dec 31 or Jan 1. You can pick both - dance all night and you are all set! ;-)
To pick your best days, comment THIS POST no later than Tuesday, Jan 3 20:00 UTC with your two chosen scores. Players who do not comment, will default to Dec 31 and Jan 1
Roster and Standings
Remaining in the game:
Scores from previous weekends are weighted:
60% of Weekend 1 score
80% of Weekend 2 score
The standings:

You can always view the standings online.
@bucipuci is well ahead of the peleton. Next 6 players are within 10 points reach and they seem to be on a good way into Weekend Three (@flaxz, @manuvert, @danmaruschak, @merthin, @new.things, @alzee). Of course nothing is certain in the game, so don't feel too secure on your privileged position. Remaining 5 players (@ptaku, @mervinthepogi, @awah, @cryptospa, @stdd) will have to do their best to stay in the tournament.
Schedule
Weekend 1: Fri-Sat, Dec 16-17
Weekend 2: Fri-Mon, Dec 23-26
Weekend 3: Fri-Mon, Dec 30-Jan 2 (New Year)
Weekend 4: Fri-Mon, Jan 6-9 (Holidays in some regions)
Final Four: Fri-Sat, Jan 13-14
Note: Weekend One and Final Four are played over 2 days (Fri and Sat), whereas Weekends 2-4 are played over 4 days (Fri thru Mon).
---
Beneficiaries
All Season 12 @MAcFiT updates have the following beneficiaries:
@danmaruschak - 4% (Winner of Super League in Season 11)
@davidxxl - 2% (Winner of Consolation Cup in Season 11)
In addition:
Total: 15%
85% of the HBD collected via upvotes/tips will make up the Season 12 Award Pool.
---
---