Salto en Caja... Planchas de Locura [Esp/Eng]
No nos detenemos y luego de la presentación del video 300, el día de hoy traemos a la palestra una nueva serie de movimientos, que como es costumbre son totalmente diferentes a lo que has visto. Si no crees lo que te digo, debes entrar y disfrutar de esta rutina. Aquí no hay limitantes porque para ejecutar cada movimiento he buscado elementos de mi alrededor para llegar a tal fin. Dichos movimientos serán desarrollados a través de planchas, pero como dije no son las planchas tradicionales ya que sus variantes son especiales. Lo cierto es que tú tren inferior va a trabajar de lo lindo, los movimientos de cadera son fabulosos y el apoyo que debes ejercer con tus brazos, serán la clave para mantener un total equilibrio, además el abdomen, en especial los oblicuos sentirán tensión extraordinaria.
Lo que si les digo es que cada día se incrementa mi energía, lo que quiere decir que los resultados se están obteniendo. Sigamos adelante quemando todas las calorías posibles, oxidando grasas y manteniendo tu cuerpo en buena forma. Solo debes recordar que de no poder realizar los ejercicios tal como los indico, ustedes pueden hacer su propia planificación e ir incrementando la intensidad poco a poco, la idea es que no se lesionen. Aquí no somos robots, por ello, además de ejercitarnos, también cuidamos su salud. Solo falta que te animes y descubras que tú también lo puedes lograr, no dejes que te lo cuenten. Vamos.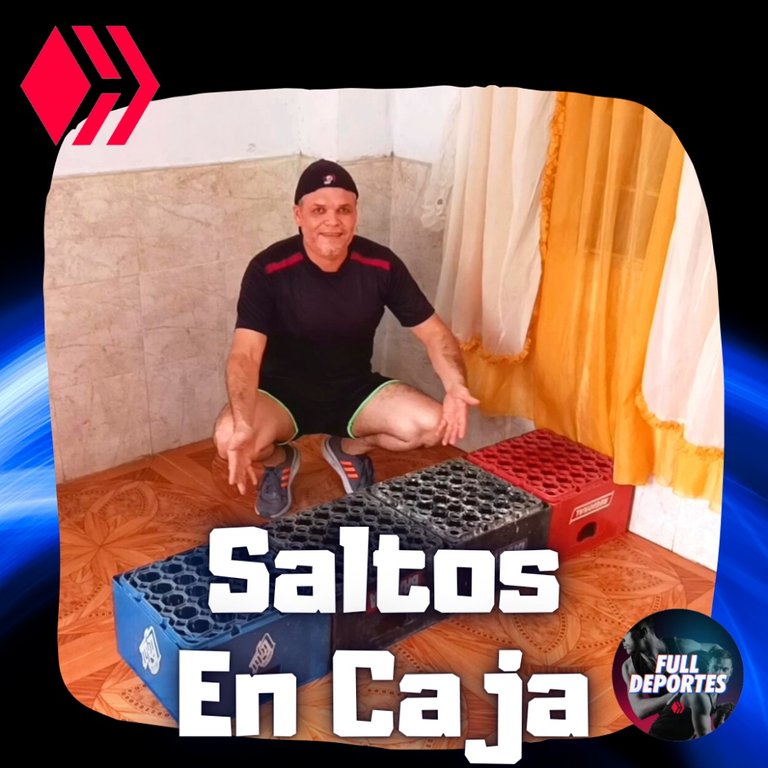 Imagen de mi Autoría Editada por/Image of my Authorship Edited by Canva
Gifs creados en la aplicación/Gifs created in the application HD Video To Gif Converter
Logos propiedad de/ logos owned by @hiveio, @fulldeportes
We do not stop and after the presentation of the video 300, today we bring to the forefront a new series of movements, which as usual are totally different from what you've seen. If you don't believe what I'm telling you, you should come in and enjoy this routine. Here there are no limitations because to execute each movement I have looked for elements from my surroundings to reach that end. These movements will be developed through planks, but as I said they are not the traditional planks because their variants are special. The truth is that your lower body will work really hard, the hip movements are fabulous and the support that you must exercise with your arms, will be the key to maintain a total balance, in addition to the abdomen, especially the obliques will feel extraordinary tension.
What I can tell you is that every day my energy increases, which means that the results are being obtained. Let's go ahead burning as many calories as possible, oxidizing fats and keeping your body in good shape. Just remember that if you can not perform the exercises as I indicate, you can make your own planning and increase the intensity little by little, the idea is that you do not get injured. Here we are not robots, therefore, in addition to exercise, we also take care of your health. You just need to cheer up and discover that you can do it too, don't let them tell you about it. Let's go.

Material a utilizar
Para cumplir la rutina de hoy me di a la tarea de utilizar 4 cajas de cervezas (valga la publicidad), las cuales tendrán la función de banco. Ustedes pueden utilizar un verdadero banco de pesas, de abdominales, el mismo piso es válido. Particularmente utilizo las cajas para tener un poco de elevación y así darle mayor intensidad a los ejercicios. Como dije, aquí no hay limitante, solo deben imperar las ganas, la voluntad y la creatividad. Vamos.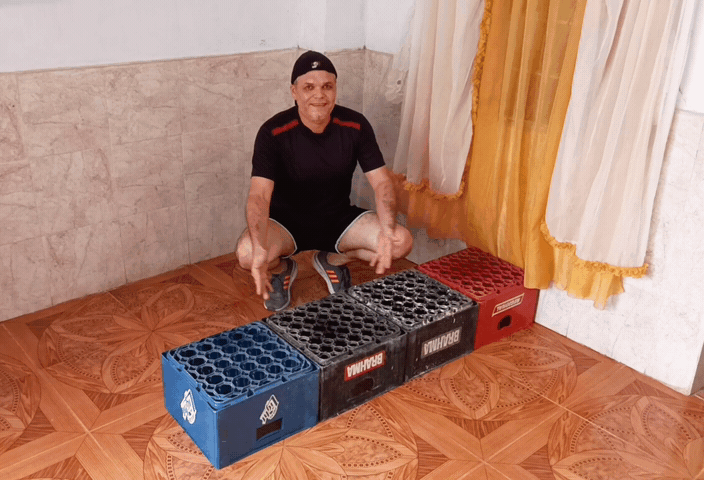 Material to use


To accomplish today's routine I took on the task of using 4 beer crates (worth the publicity), which will have the function of a bench. You can use a real weight bench, abdominal bench, the same floor is valid. I particularly use the boxes to have some elevation and thus give more intensity to the exercises. As I said, there are no limitations here, only desire, will and creativity are needed. Let's go.

Calentamiento Corporal
Giro alterno de pierna con rodilla elevada.
Cruce de brazo y pierna opuesta en salto.
Plancha elevada + apertura y cierre de piernas en salto.
Plancha en elevación + saltos laterales sobre caja.
Flexiones declinadas + torsión con movimiento lateral de piernas en salto.
Relajación Corporal
Body Warming

Alternating leg twist with knee elevated.
Cross arm and opposite leg crossing in jump.
Raised plank + opening and closing of legs in jump.
Lift plank + lateral jumps on box.
Declined push-ups + twisting with lateral leg movement in jump.
Body Relaxation

Alternating hip rotation.

Calentar antes de entrenar
Dinámica: En circuito
Trabajo por ejercicio: entre 10 Y 20 (se indica) repeticiones.
Series: 4 por circuito completo.
Descanso entre ejercicios: de 10 a 20 segundos.
Descanso entre series: de 1 a 2 minutos.
Warm up before training
Dynamics: In circuit
Work per exercise: between 10 and 20 (indicated) repetitions.
Series: 4 per complete circuit.
Rest between exercises: 10 to 20 seconds.
Rest between series: 1 to 2 minutes.

Calentamiento Corporal
Esta fase debe estar impregnando nuestra mente cada vez que vayamos a realidad cualquier actividad física. ¿Por qué?, bueno, porque cumpliendo un buen calentamiento el cuerpo en su totalidad se pone a tono para la acción exigente. Todo debe ir de menor a mayor para que los músculos se flexibilicen, la temperatura y el ritmo cardíaco se eleven. Recuerden que si el cuerpo está frío, por ende está rígido y la posibilidad de lesión se incrementa. Así que amigos míos, vamos todos a los calentamientos para avanzar al siguiente nivel. Vamos.
Body Warming

This phase should be permeating our mind every time we are going to actually do any physical activity. Why, well, because by performing a good warm-up the body as a whole gets in tune for the demanding action. Everything should go from low to high so that the muscles become more flexible, the temperature and heart rate rises. Remember that if the body is cold, it is therefore stiff and the possibility of injury increases. So my friends, let's all get to the warm-ups to advance to the next level. Let's go.

Giro alterno de pierna con rodilla elevada
Este ejercicio permite ir activando poco a poco los brazos, el torso y el tren inferior. Que la temperatura se incremente, activos.
Partimos de la posición de pie con las piernas separadas al ancho de cadera. Los codos se flexionan y los brazos se ubican al frente.
Ya en posición, flexionamos y elevamos una rodilla para girar la pierna hacia atrás. El brazo del mismo lado baja y el brazo opuesto se mantiene arriba. Bajamos la pierna y realizamos el mismo movimiento del lado opuesto.
Ejecutamos el ejercicio durante 3 minutos.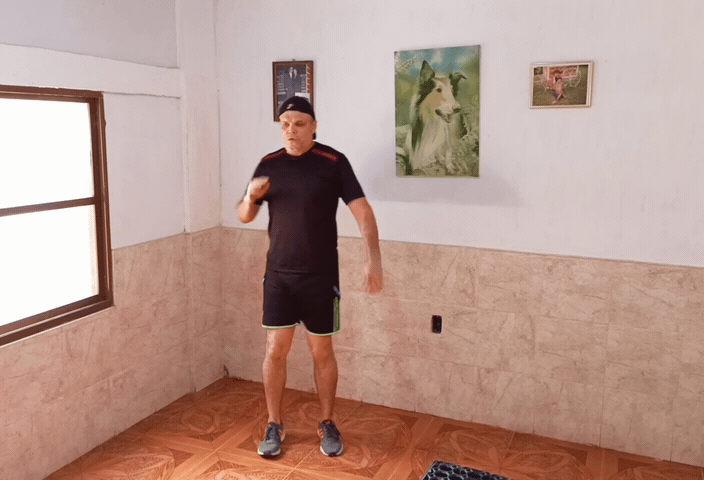 Alternating leg twist with knee elevated

This exercise allows you to gradually activate your arms, torso and lower body. Let the temperature increase, active.
We start from a standing position with legs hip-width apart. The elbows are bent and the arms are placed in front.
Once in position, we bend and raise one knee to rotate the leg backwards. The arm on the same side comes down and the opposite arm stays up. Lower the leg and perform the same movement on the opposite side.
Perform the exercise for 3 minutes.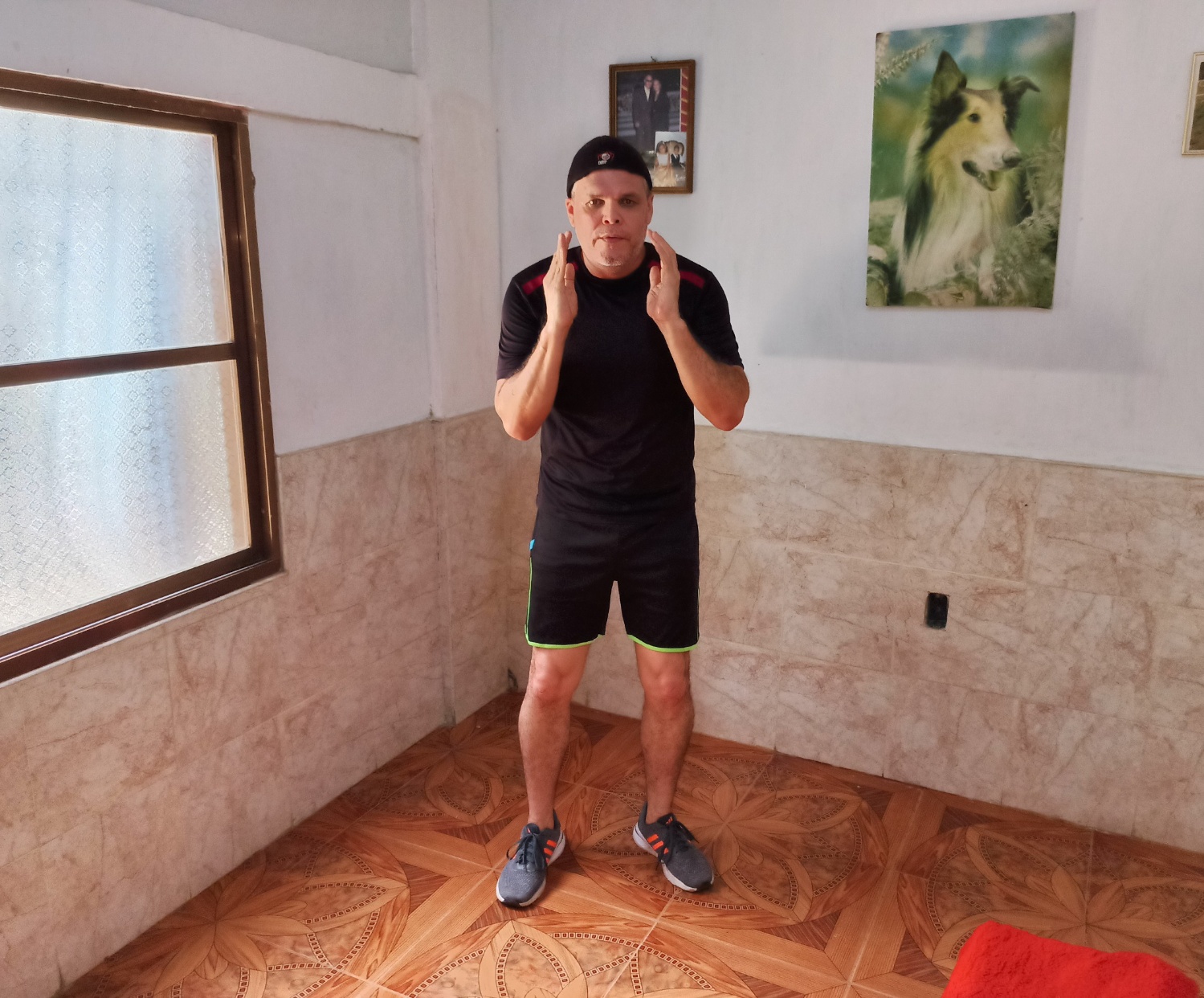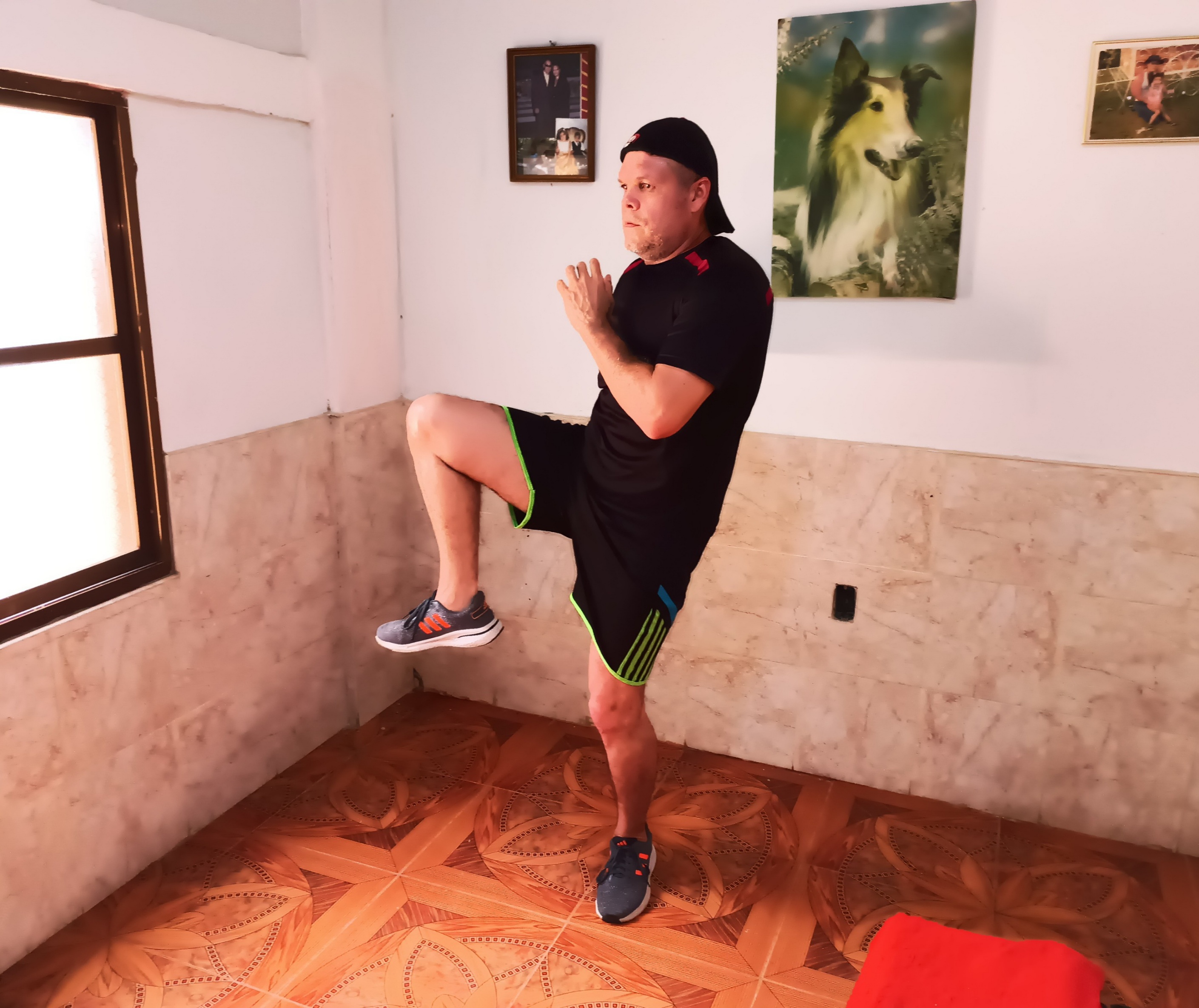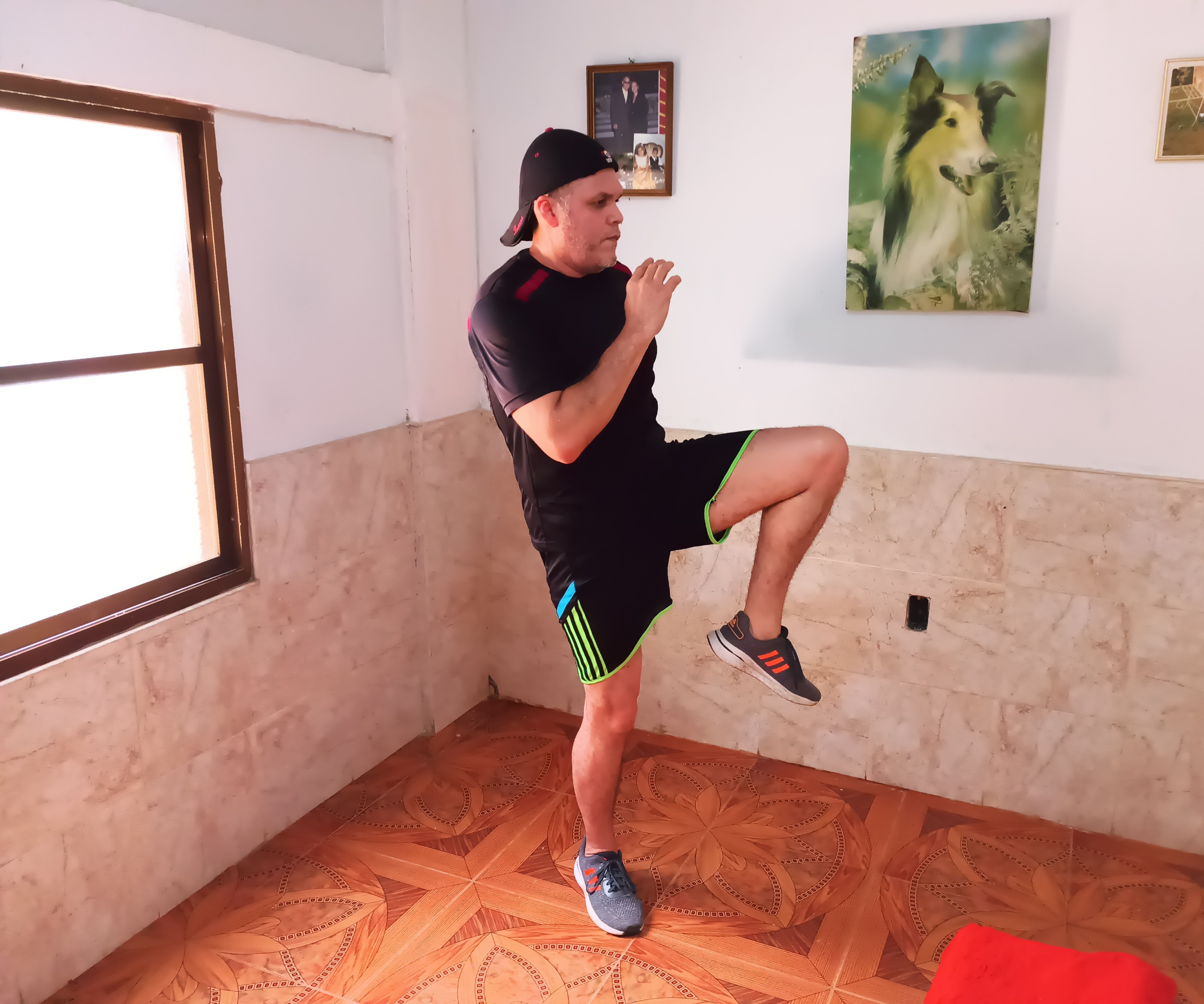 Cruce de brazo y pierna opuesta en salto
Con este movimiento le damos mayor actividad al cuerpo. Ya en este apartado la temperatura está un poco elevada.
Igualmente de pie con piernas un poco separadas. Codos flexionados y brazos ubicados el frente.
Una vez adquirida la posición deseada y a través de pequeños saltos, extendemos el codo por ejemplo del brazo derecho, y cruzamos la pierna izquierda. Luego se extiende codo izquierdo y se cruza la pierna derecha.
Ejercicio a realizar por 3 minutos continuos.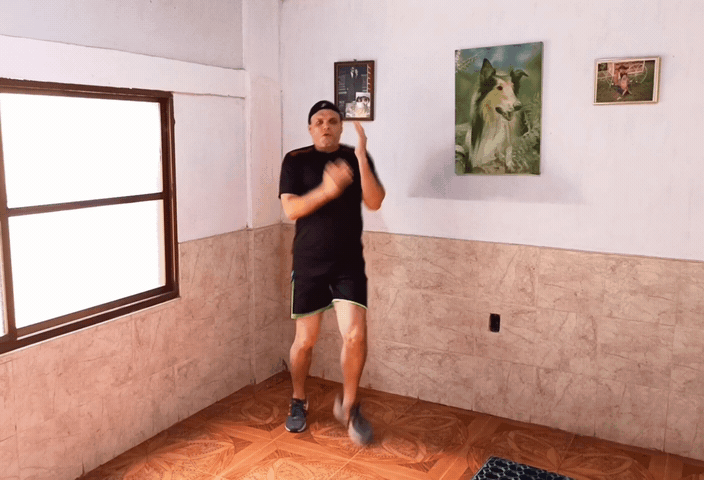 Cross arm and opposite leg in jumping

With this movement we give more activity to the body. Already in this section the temperature is a bit elevated.
Equally standing with legs a little apart. Elbows bent and arms placed in front.
Once the desired position is acquired and through small jumps, we extend the elbow of the right arm, for example, and cross the left leg. Then we extend the left elbow and cross the right leg.
Exercise to be performed for 3 continuous minutes.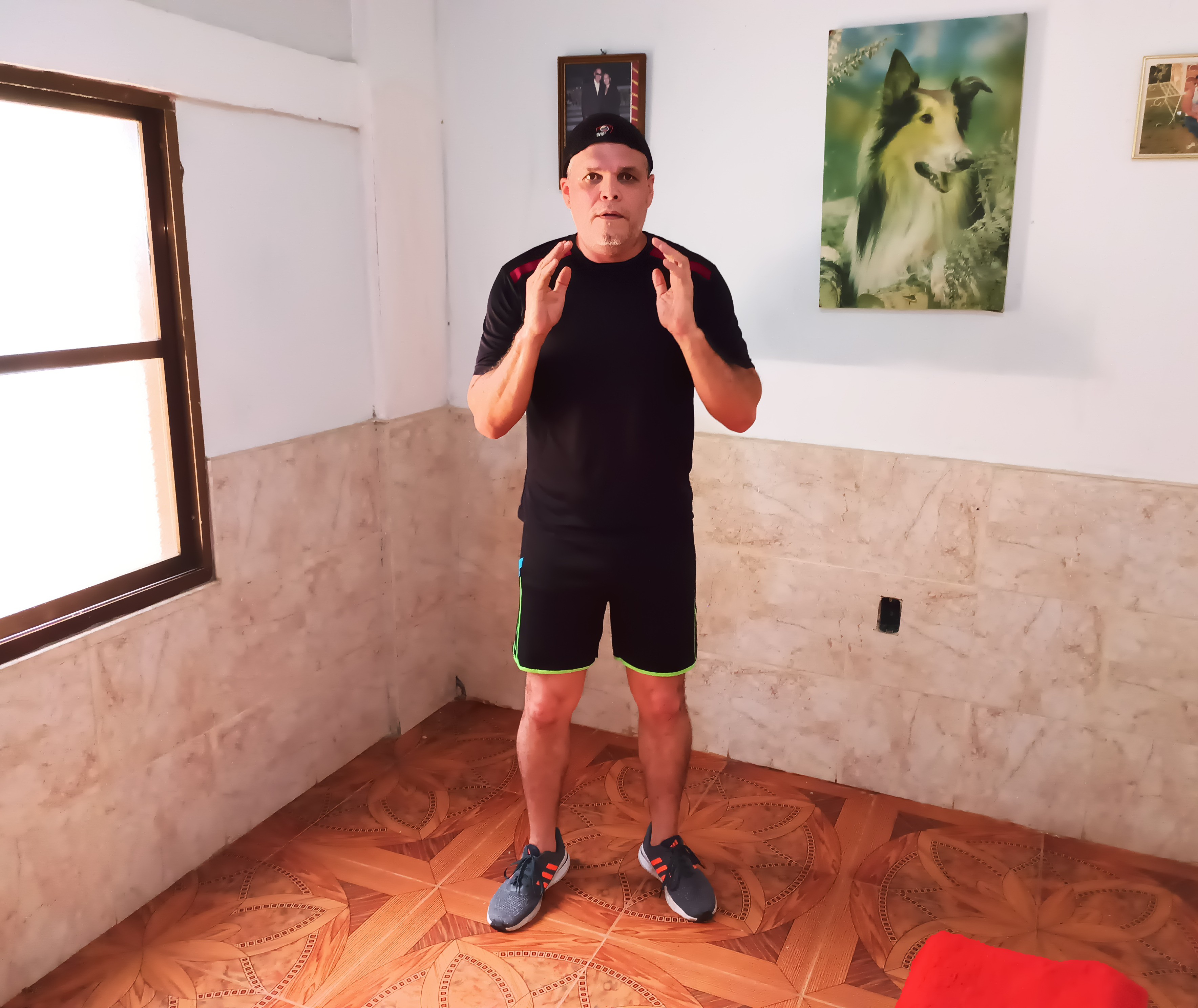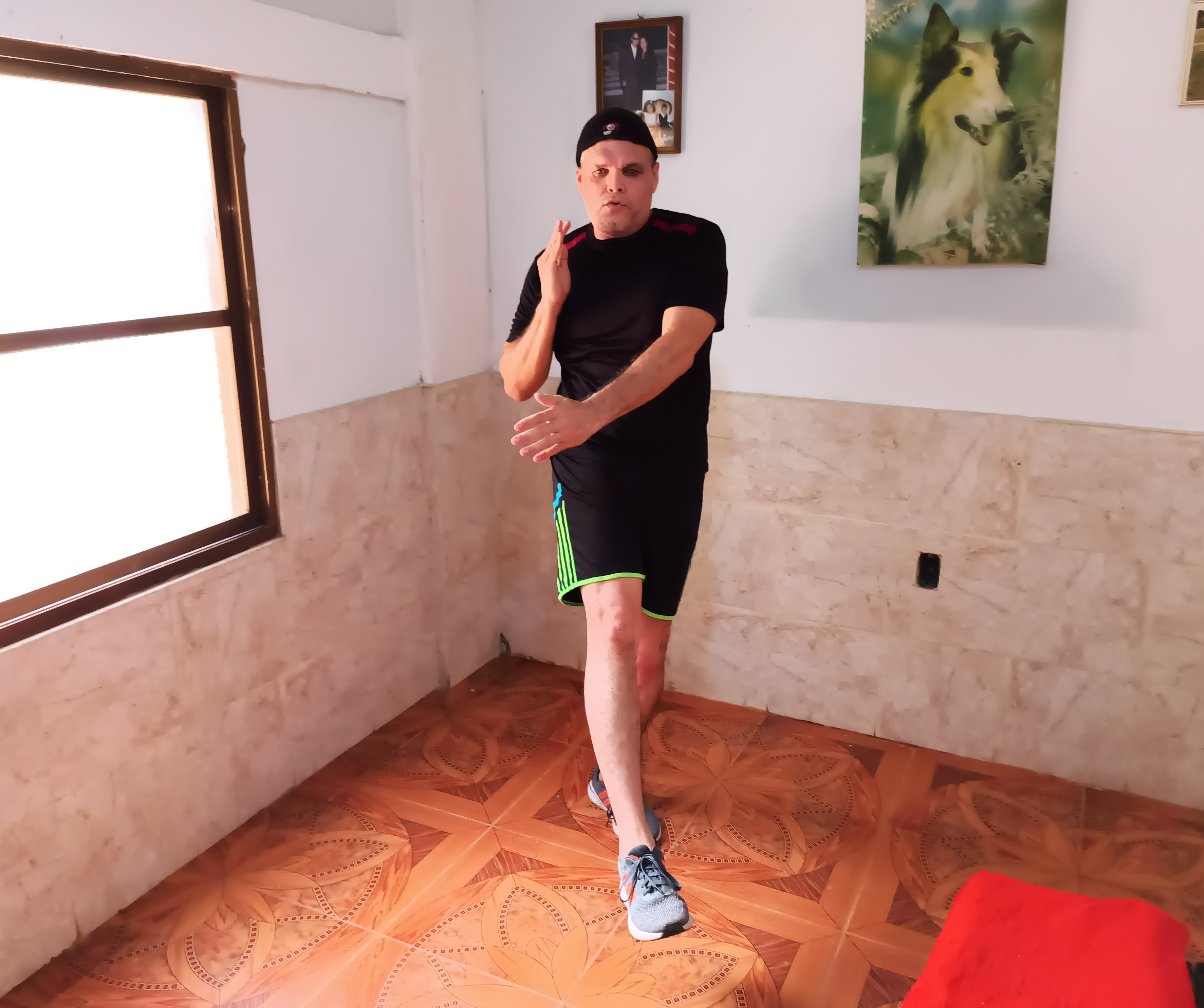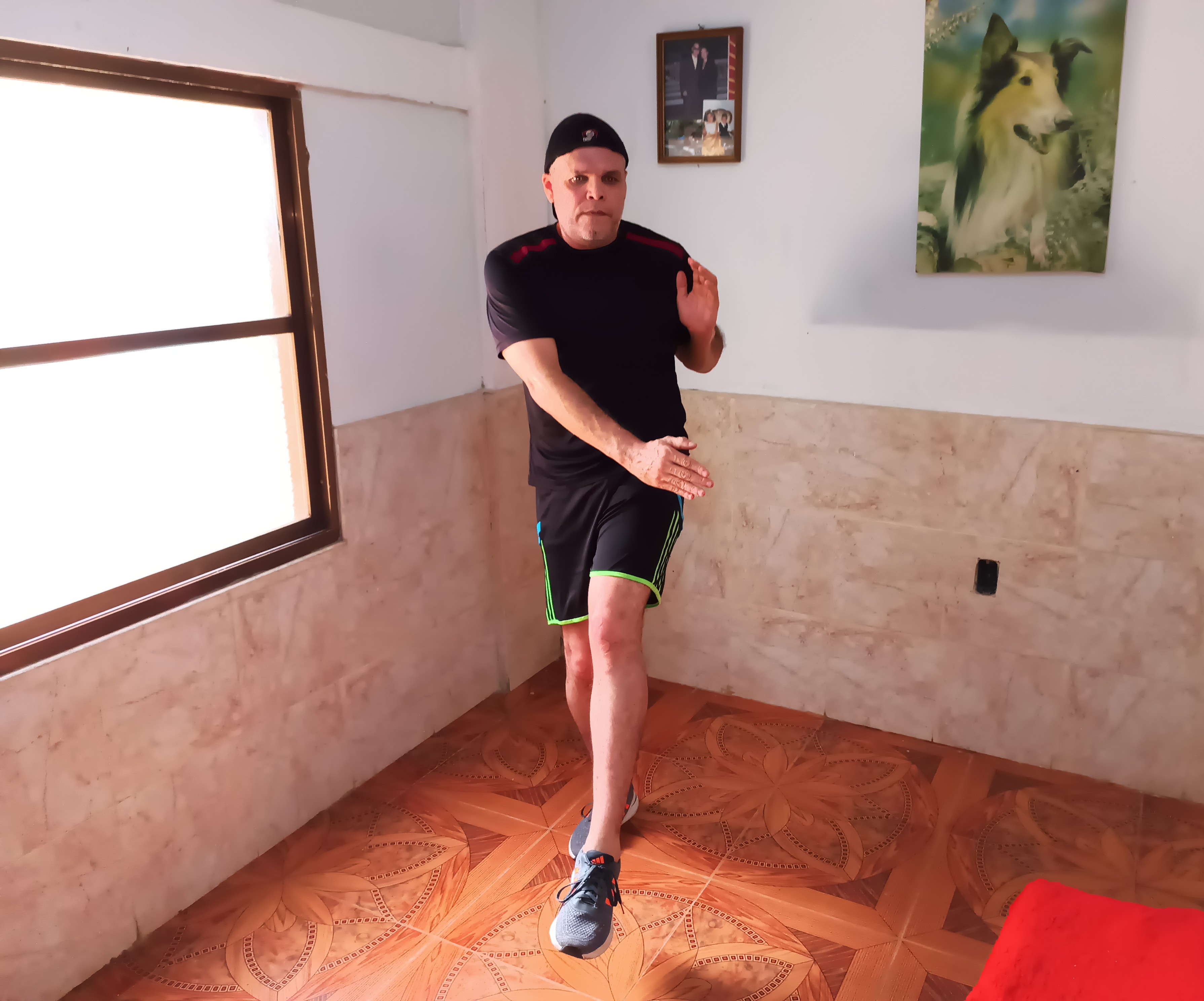 A partir de este momento iniciamos la acción fuerte y es donde vamos a utilizar las cajas de cervezas para cumplir con cada estación del circuito. En los primeros ejercicios usaremos las 4 cajas, y para el tercer movimiento solo se usará 1 caja. Ya verán de que se trata. Recomendamos estar totalmente seguros de que el cuerpo ha calentado lo suficiente y está apto para continuar al siguiente nivel, de no ser así, volvamos a calentar un poco más. No hay apuro. No olviden mantener abdomen y glúteos contraídos para obtener mejores resultados.
From this moment on we start the strong action and it is where we are going to use the beer crates to accomplish each station of the circuit. In the first exercises we will use all 4 crates, and for the third movement only 1 crate will be used. You will see what it is all about. We recommend to be absolutely sure that the body has warmed up enough and is ready to continue to the next level, if not, go back and warm up some more. There is no rush. Don't forget to keep your abs and glutes contracted for best results.

Plancha elevada + apertura y cierre de piernas en salto
La activación de tren inferior será total. El abdomen será beneficiado de gran manera al igual que los brazos, por mantenerse en tensión durante el apoyo. Si desean usar un pañito para apoyar las manos, lo puede hacer.
Nos colocamos en posición de plancha sobre las cajas. Flexionamos las rodillas, las piernas deben estar juntas, los glúteos se elevan. Notarán que los pies están ubicados al borde de la última caja, por lo que las dos cajas centrales parecen no tener uso. Sin embargo, actúan como agentes de presión para que la primera y última caja no se deslicen, debido a la tensión que ejercen los brazos.
Ahora ya en posición, realizamos un salto para abrir las piernas y que los pies toquen el piso, en la acción la cadera baja. Con otro salto volvemos a la posición incial, siempre manteniendo la tensión con los brazos.
Este ejercicio lo podemos realizar en 20 repeticiones por 4 series, de verdad que es explosivo y muy dinámico.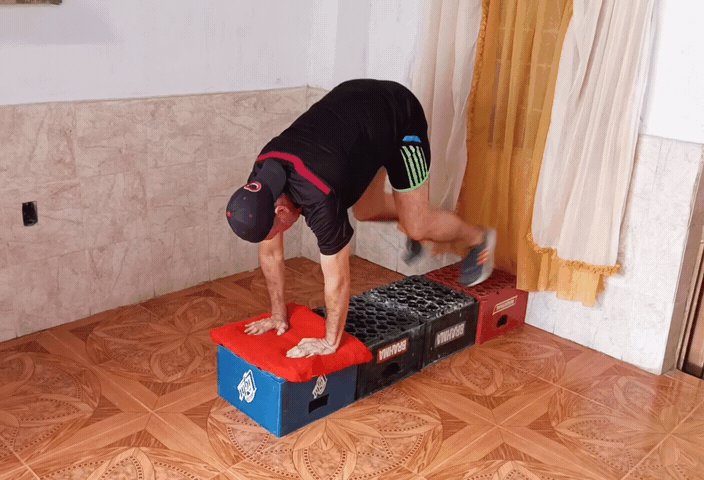 Raised plank + jumping leg opening and closing

Lower body activation will be total. The abdomen will benefit greatly as well as the arms, because they are kept in tension during the support. If you wish to use a handkerchief to support your hands, you may do so.
We place ourselves in a plank position on the boxes. We bend our knees, legs should be together, buttocks are lifted. You will notice that the feet are placed at the edge of the last box, so the two central boxes seem to have no use. However, they act as pressing agents so that the first and last boxes do not slip, due to the tension exerted by the arms.
Now already in position, we perform a jump to open the legs so that the feet touch the floor, in the action the hip goes down. With another jump we return to the initial position, always keeping the tension with the arms.
This exercise can be performed in 20 repetitions for 4 series, it is really explosive and very dynamic.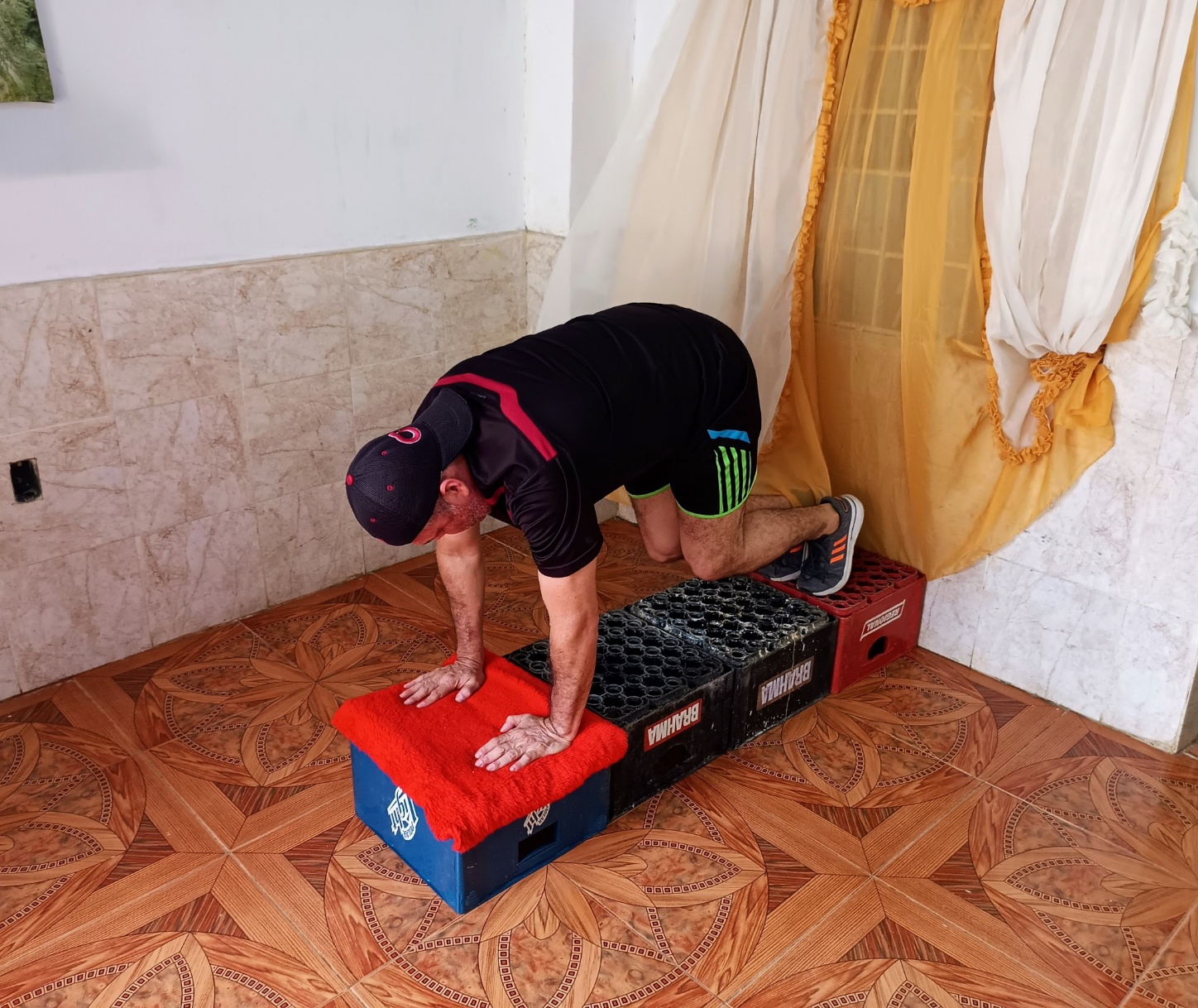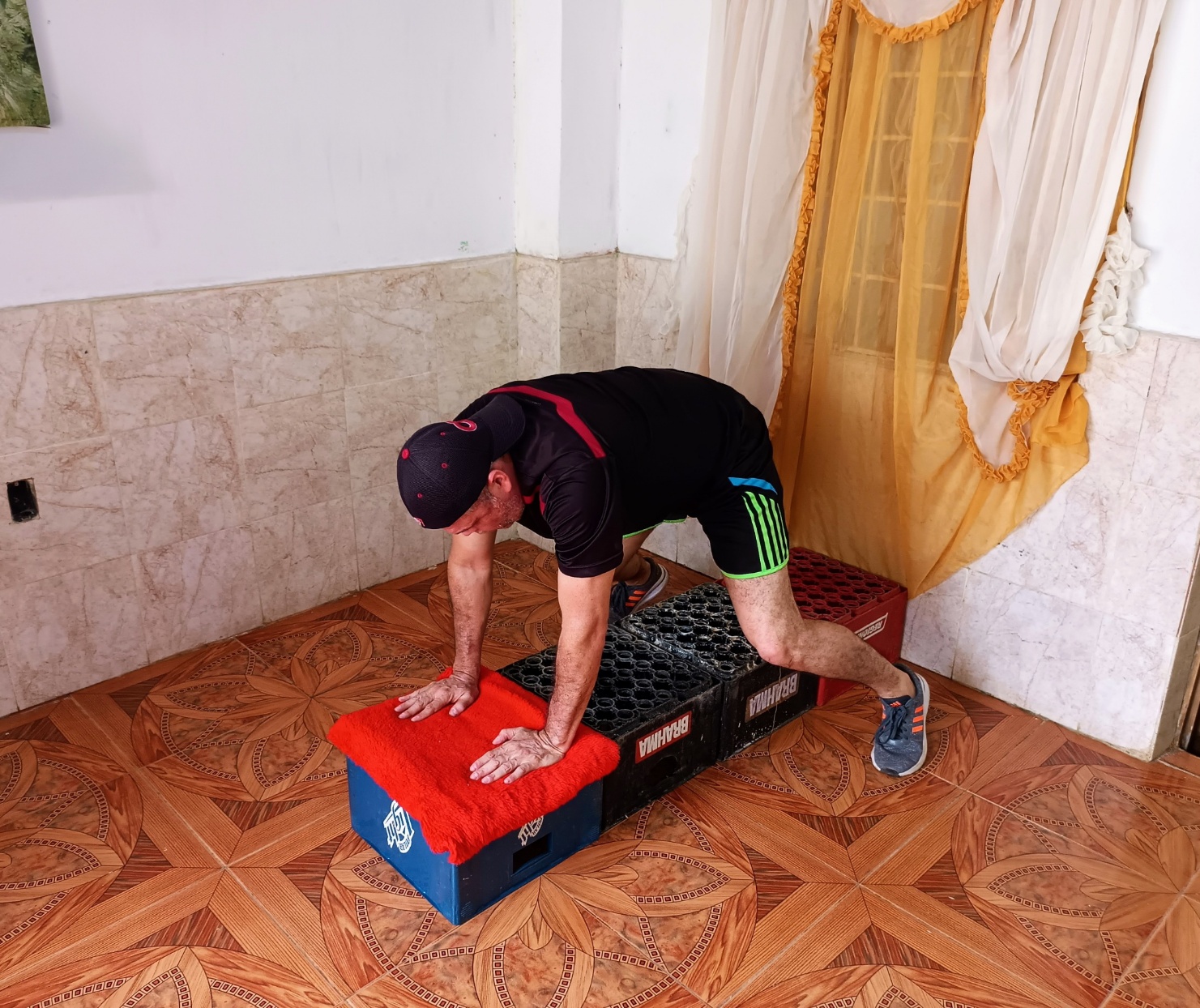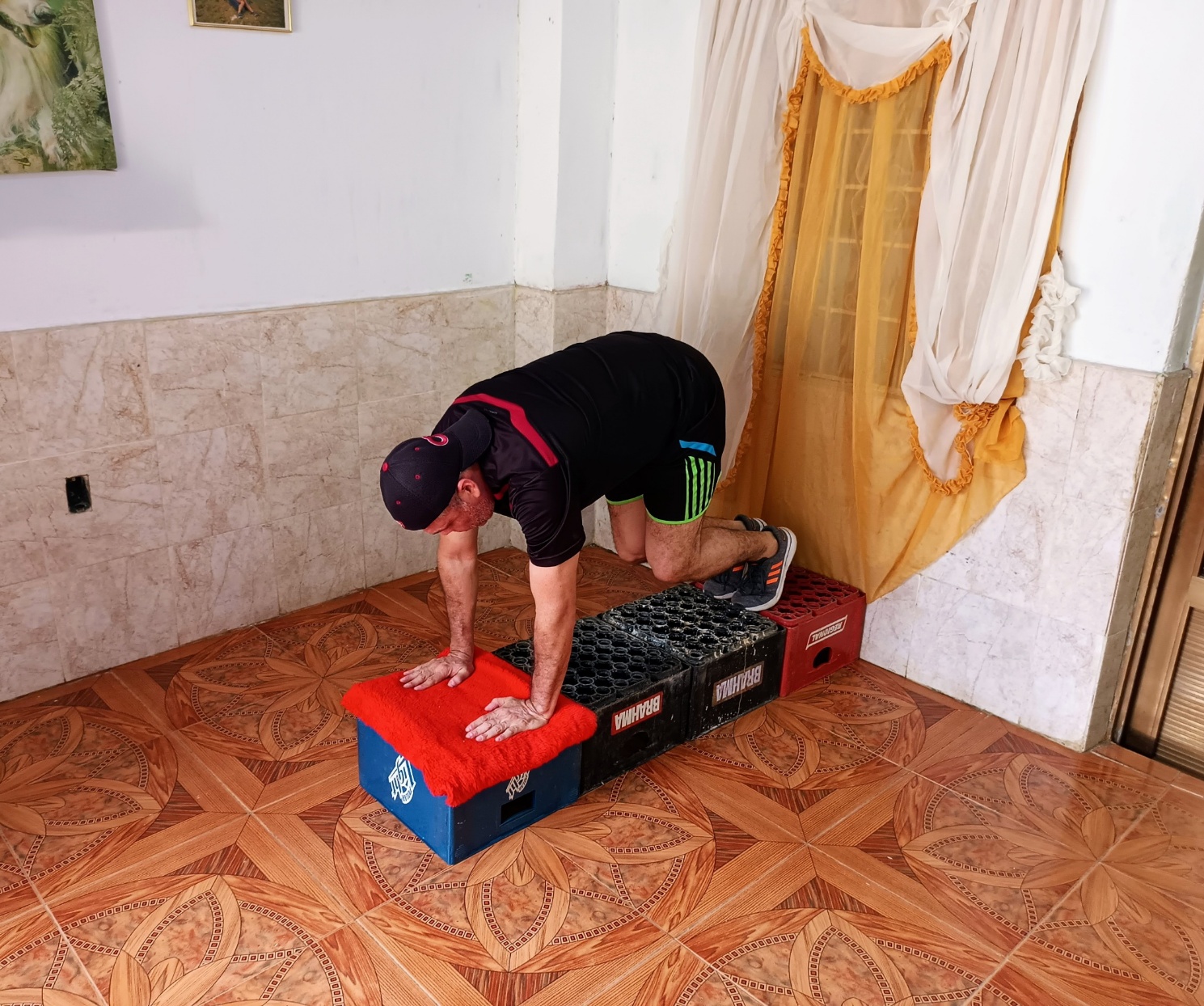 Plancha en elevación + saltos laterales sobre caja
Continuamos con la activación del tren inferior. También el abdomen en su región oblicua tendrá acción. Los brazos continúan fabulosos brindando apoyo total. Aquí y en el ejercicio anterior todo el cuerpo trabaja. Vamos
Nuevamente colocamos las manos sobre la primera caja. Flexionamos las rodillas. Esta vez los pies parten desde el suelo ubicados a uno de los lados de la caja. Supongamos que partimos desde nuestro lado izquierdo. Lógicamente el abdomen se flexiona hacia ese lado.
Ya estando en la posición deseada, solo debemos tomar impulso y dar saltos de lado a lado elevando las piernas lo más que podamos para pasar el tren inferior sobre las cajas. Saltamos de un lado a otro siempre cayendo y tocando suelo.
Podemos realizar el ejercicio en 20 repeticiones por 4 series.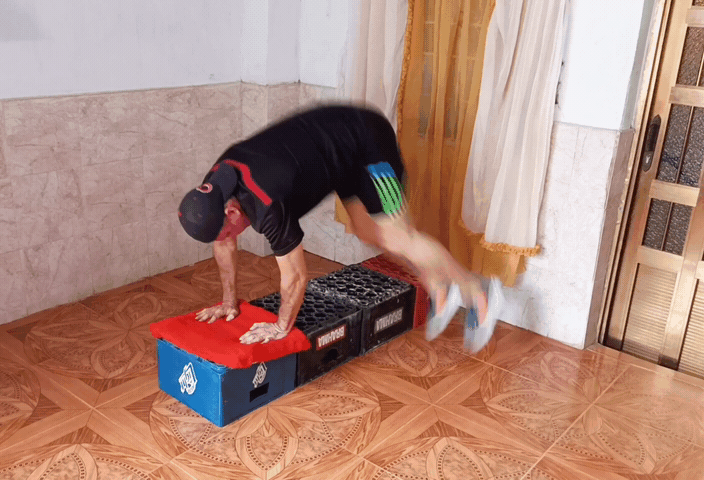 Lifting plank + lateral box jumps

We continue with the activation of the lower body. The abdomen in its oblique region will also be in action. The arms continue to be fabulous, providing full support. Here and in the previous exercise the whole body works. Let's go to
Again we place our hands on the first box. We bend our knees. This time the feet start from the floor on one side of the box. Let's suppose we start from our left side. Logically the abdomen is flexed to that side.
Once we are in the desired position, we only have to take impulse and jump from side to side raising our legs as much as we can to pass our lower body over the boxes. We jump from one side to the other always falling and touching the floor.
We can perform the exercise in 20 repetitions for 4 series.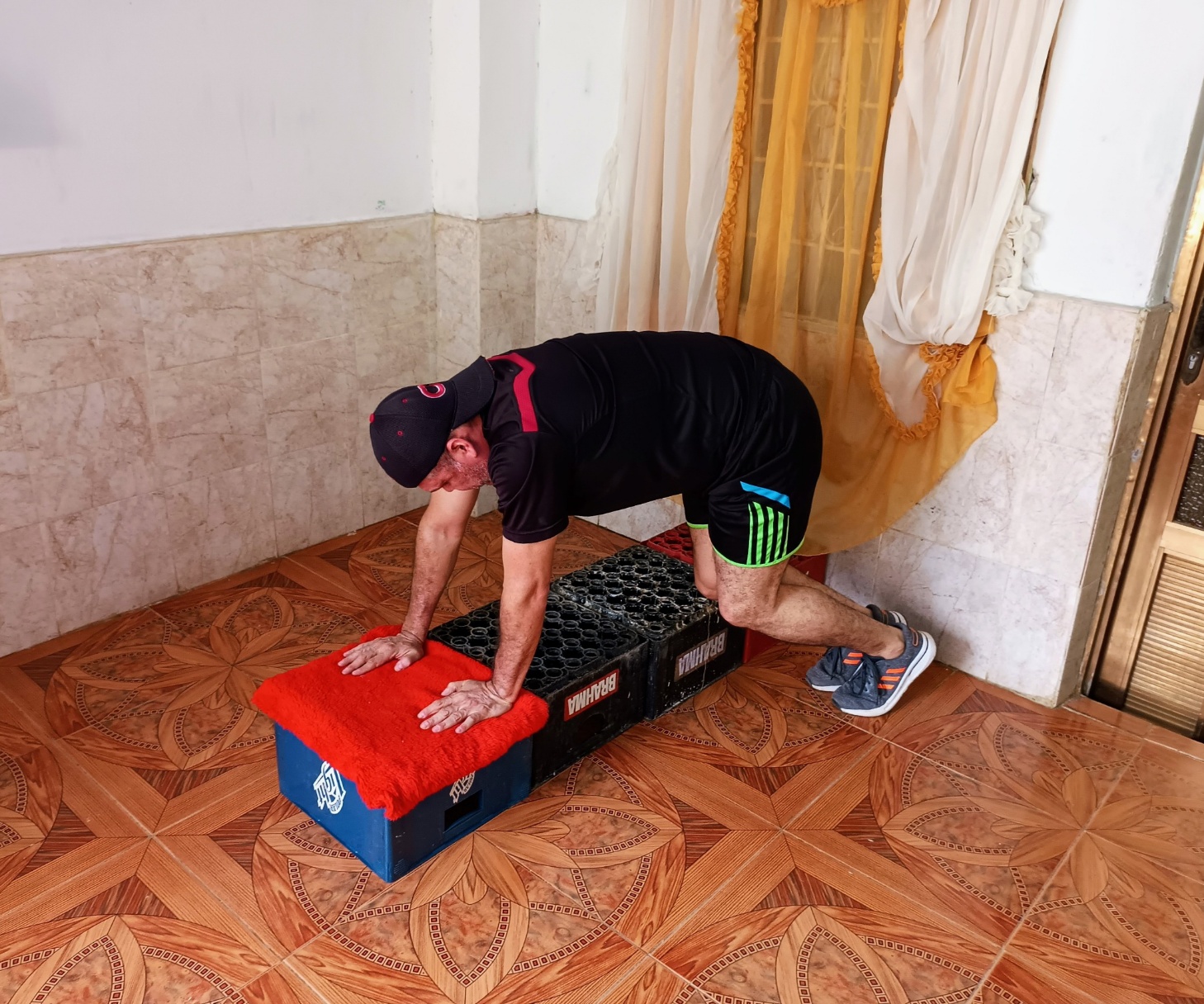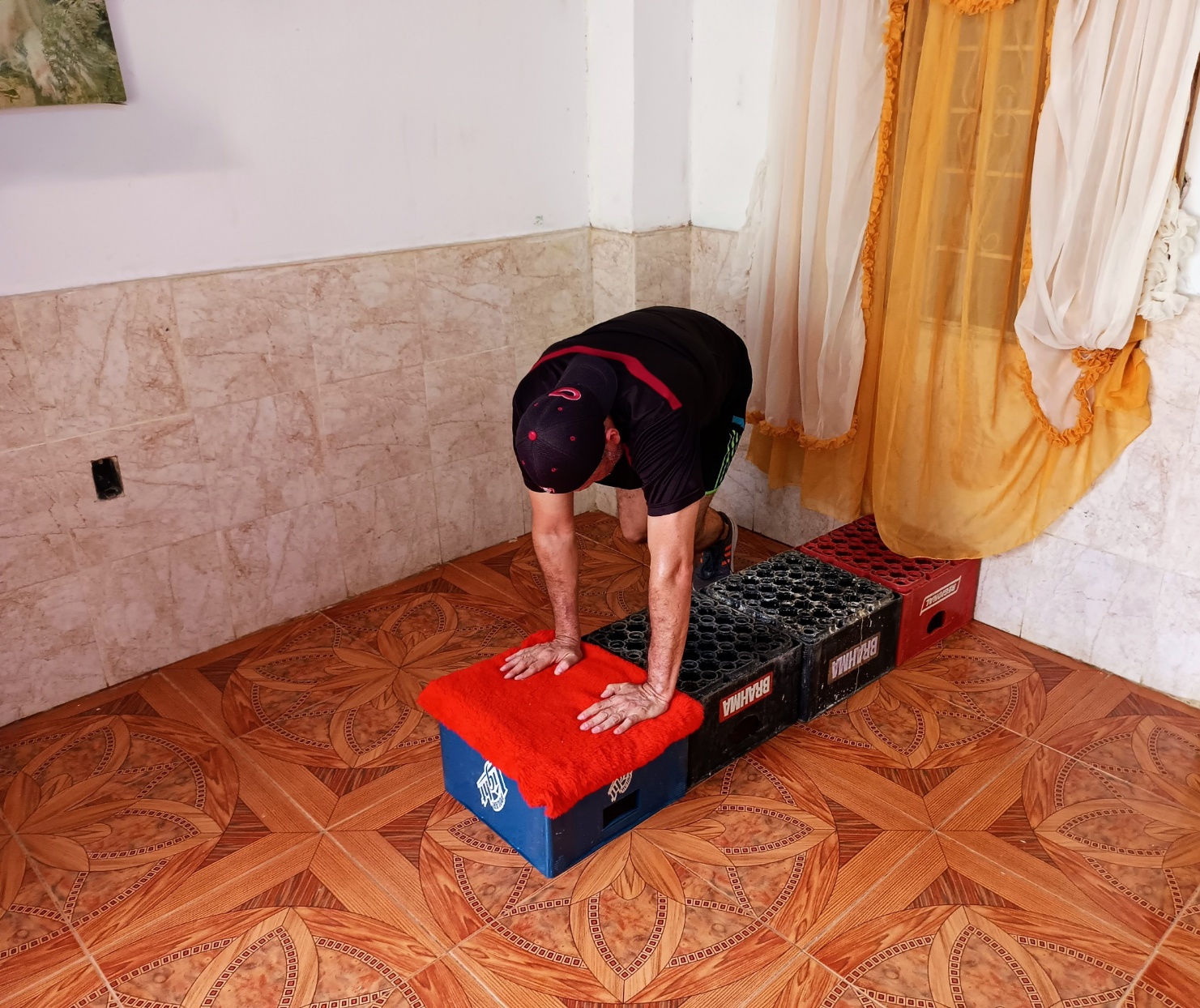 Flexiones declinadas + torsión con movimiento lateral de piernas en salto
Con este ejercicio, sin duda alguna trabajamos el cuerpo completo en su totalidad. Los brazos, pectorales, los oblicuos, glúteos, piernas, activación total. Vamos que esto deben vivirlo.
Aquí solo usamos una sola caja y la apoyamos de la pared. Nos ubicamos en posición de flexiones colocando ambos pies sobre la caja.
Ya activados en la posición deseada, tomamos impulso y por medio de saltos, llevamos los pies al piso para al mismo tiempo ejecutar una flexión. El abdomen en su zona oblicua se flexiona.
Con otro salto volvemos a colocar los pies sobre la caja y los brazos se mantienen extendidos. Saltamos de nuevo llevando los pies al otro extremo del piso, ejecutando igualmente otra flexión.
Realizamos 20 repeticiones totales en 4 series. Pura candela.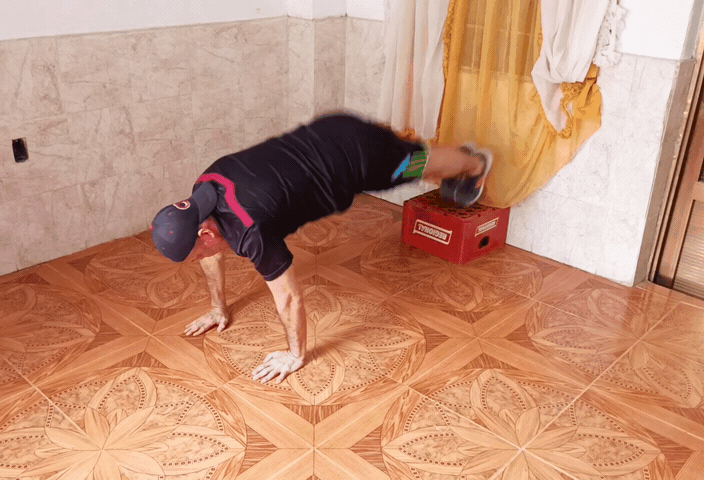 Declined push-ups + twisting with jumping lateral leg movement

With this exercise, we undoubtedly work the entire body as a whole. Arms, pectorals, obliques, glutes, legs, total activation. Come on this must live it.
Here we only use a single box and lean it against the wall. We place ourselves in push-up position by placing both feet on the box.
Already activated in the desired position, we take impulse and by means of jumps, we take the feet to the floor to execute a flexion at the same time. The abdomen in its oblique zone is flexed.
With another jump we place our feet back on the box and the arms are kept extended. We jump again taking the feet to the other end of the floor, executing another flexion.
We perform 20 total repetitions in 4 series. Pure candela.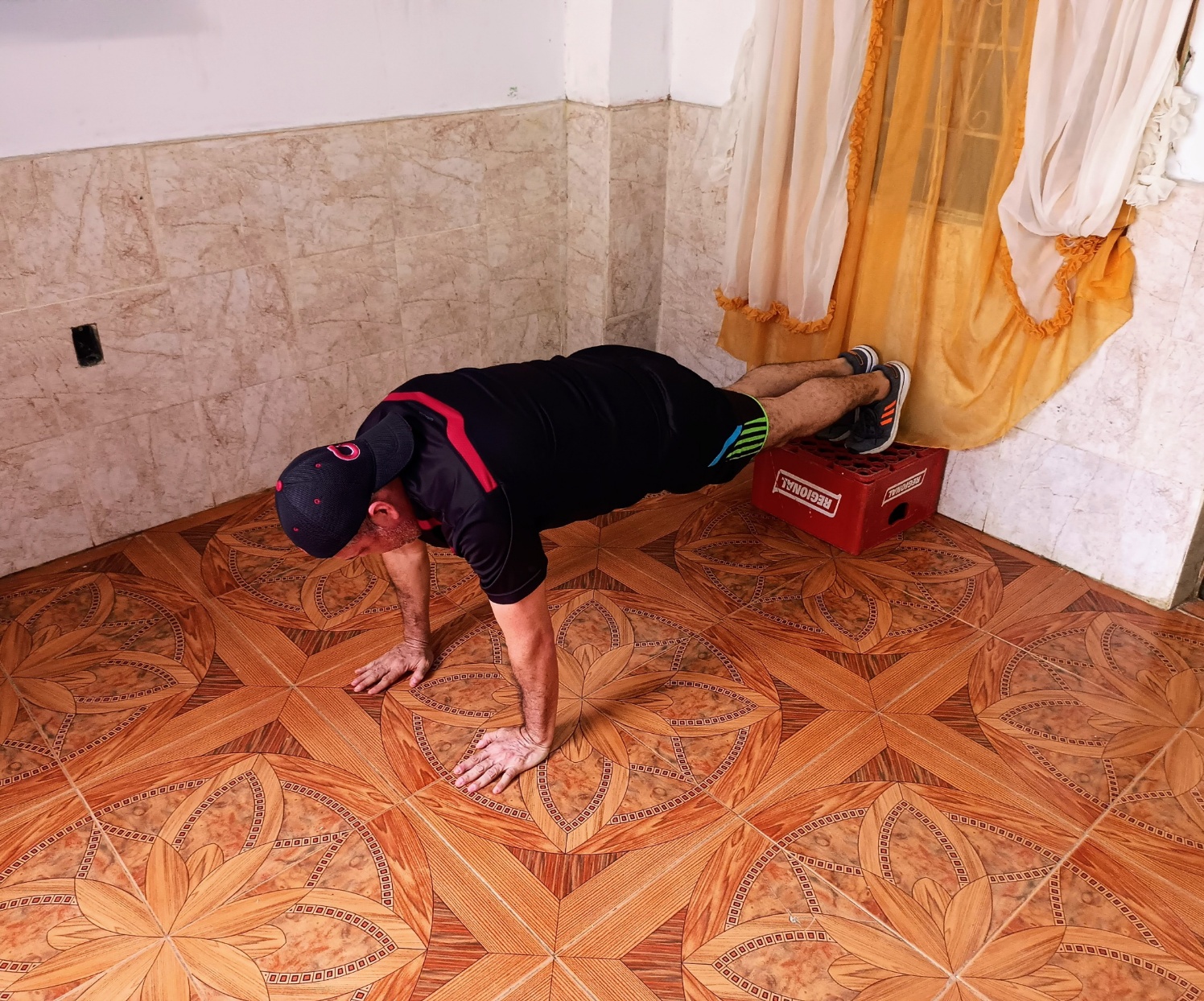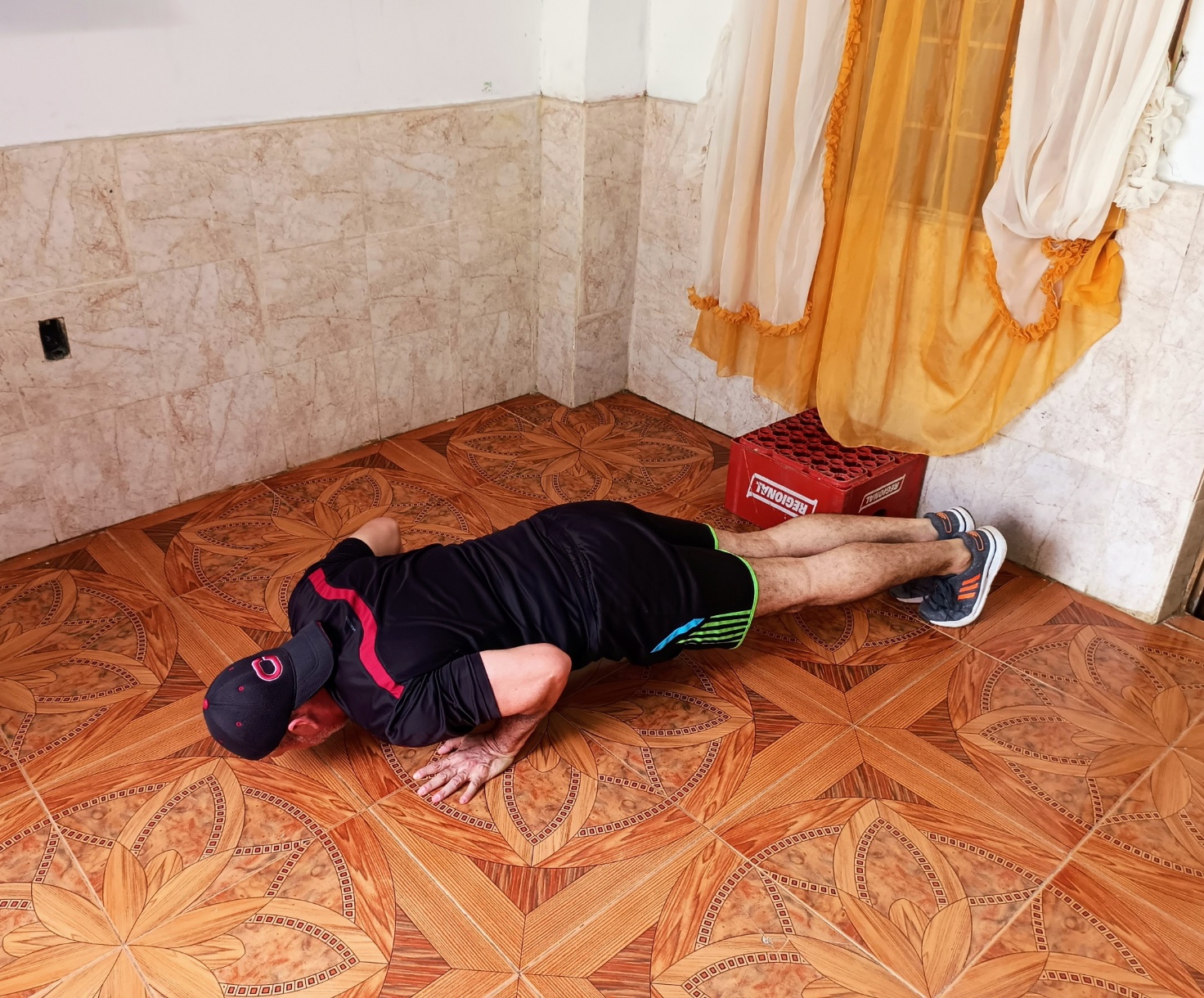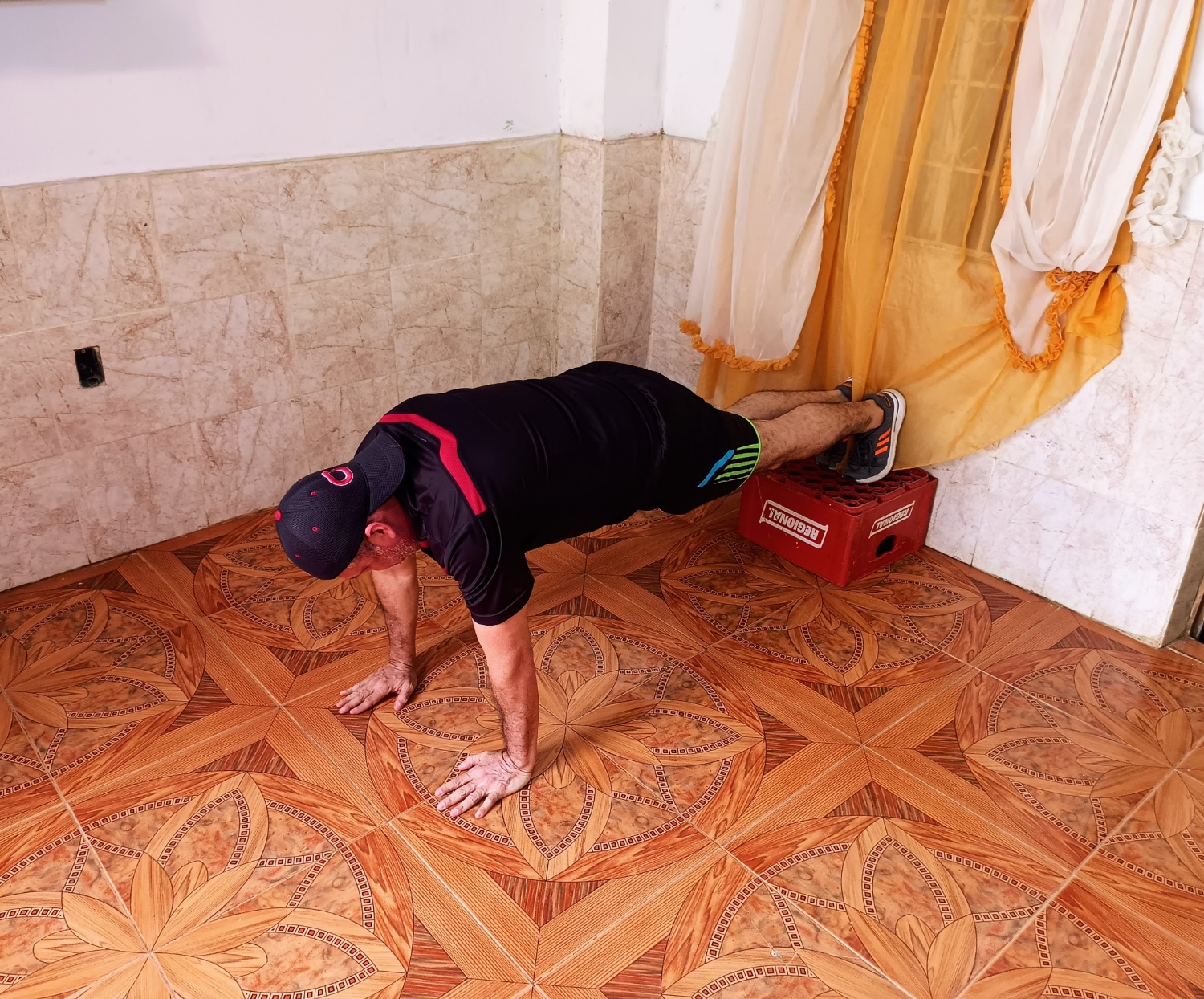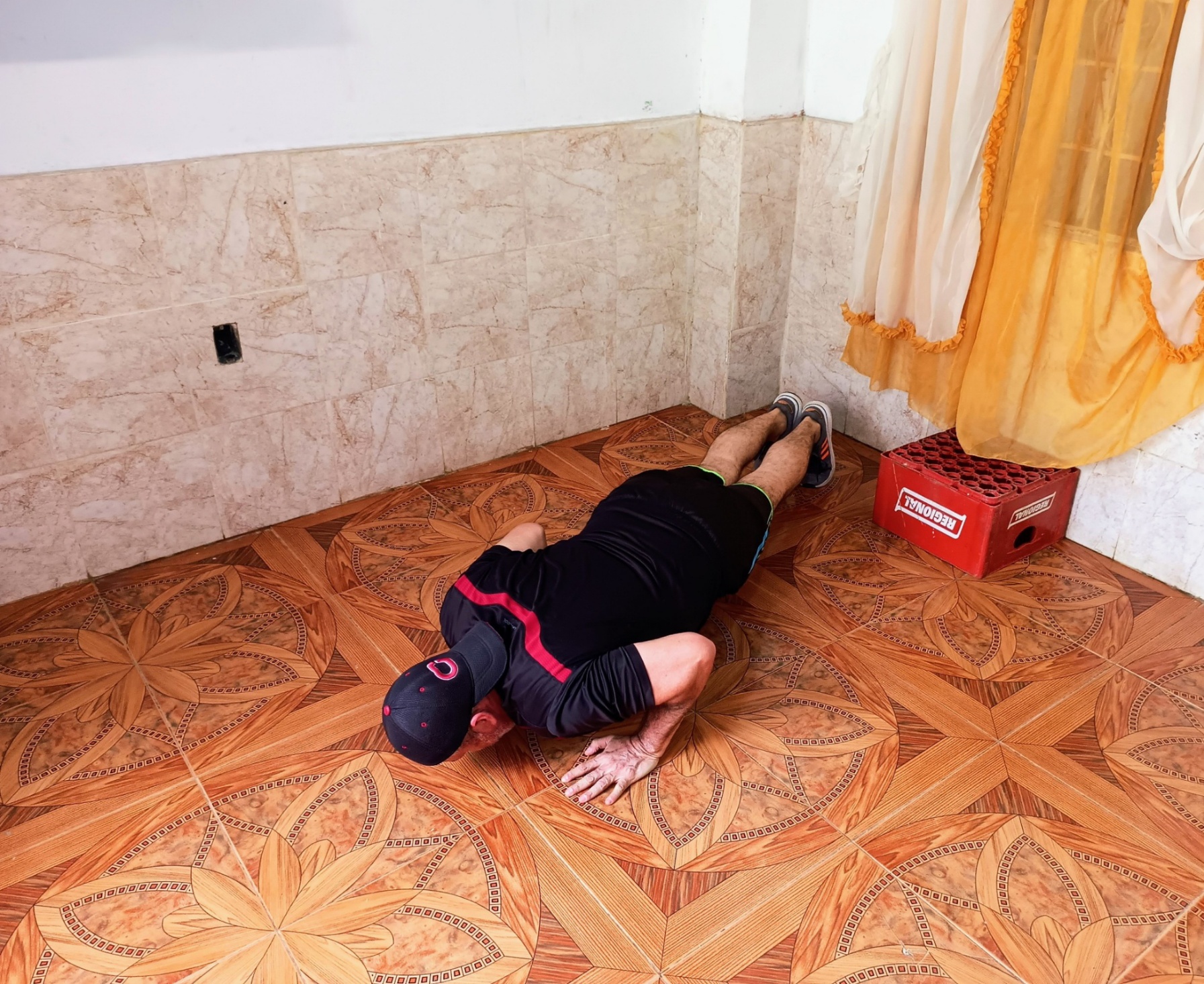 Relajación Corporal
Ahora nos activamos con la relajación corporal. Recuerden respirar y exhalar. Ejecutamos los movimientos suavemente.
Body Relaxation

Now we activate with body relaxation. Remember to breathe in and out. We execute the movements smoothly.

Giro alterno de cadera
Estando de pie colocamos las manos a los lados de la cadera. Piernas un poco separadas.
Ahora y sin despegar las manos de la cadera, vamos girando la misma de forma alterna.
Repetimos los movimientos por 3 minutos.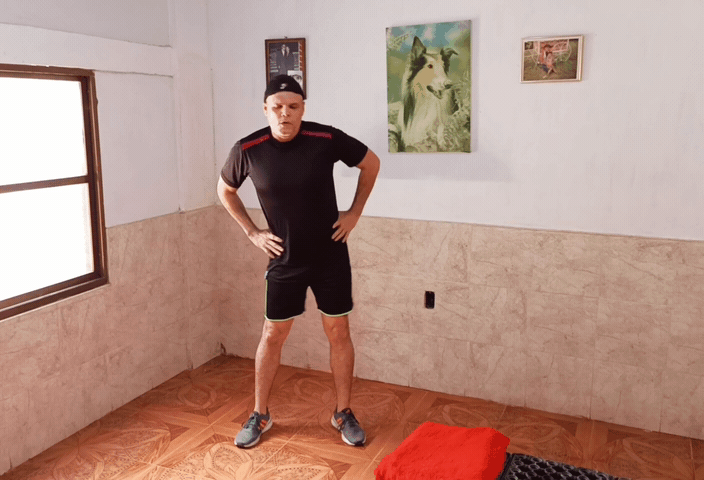 Alternating hip rotation
Standing we place our hands on the sides of our hips. Legs slightly apart.
Now, without taking your hands off your hips, we turn your hips alternately.
Repeat the movements for 3 minutes.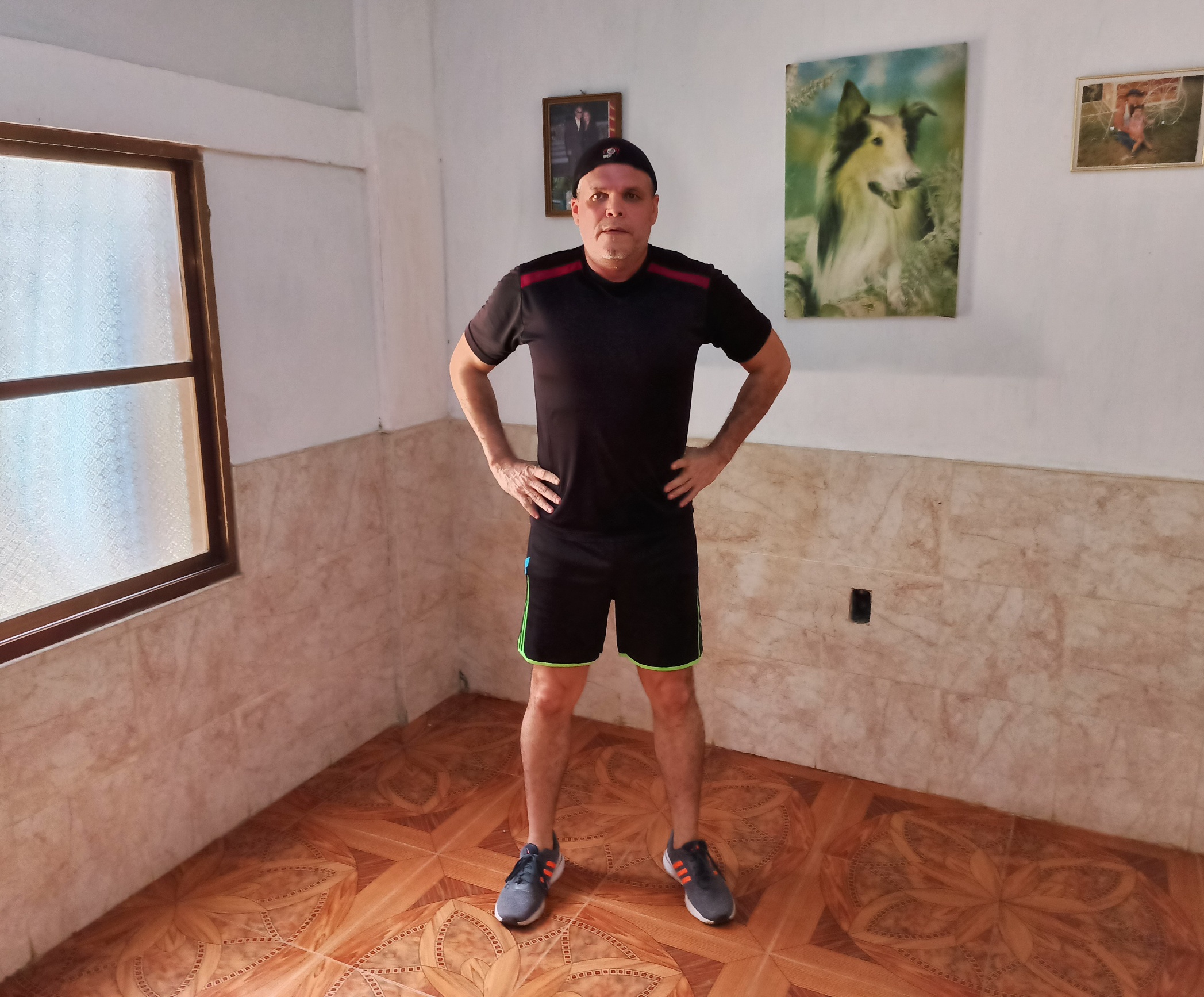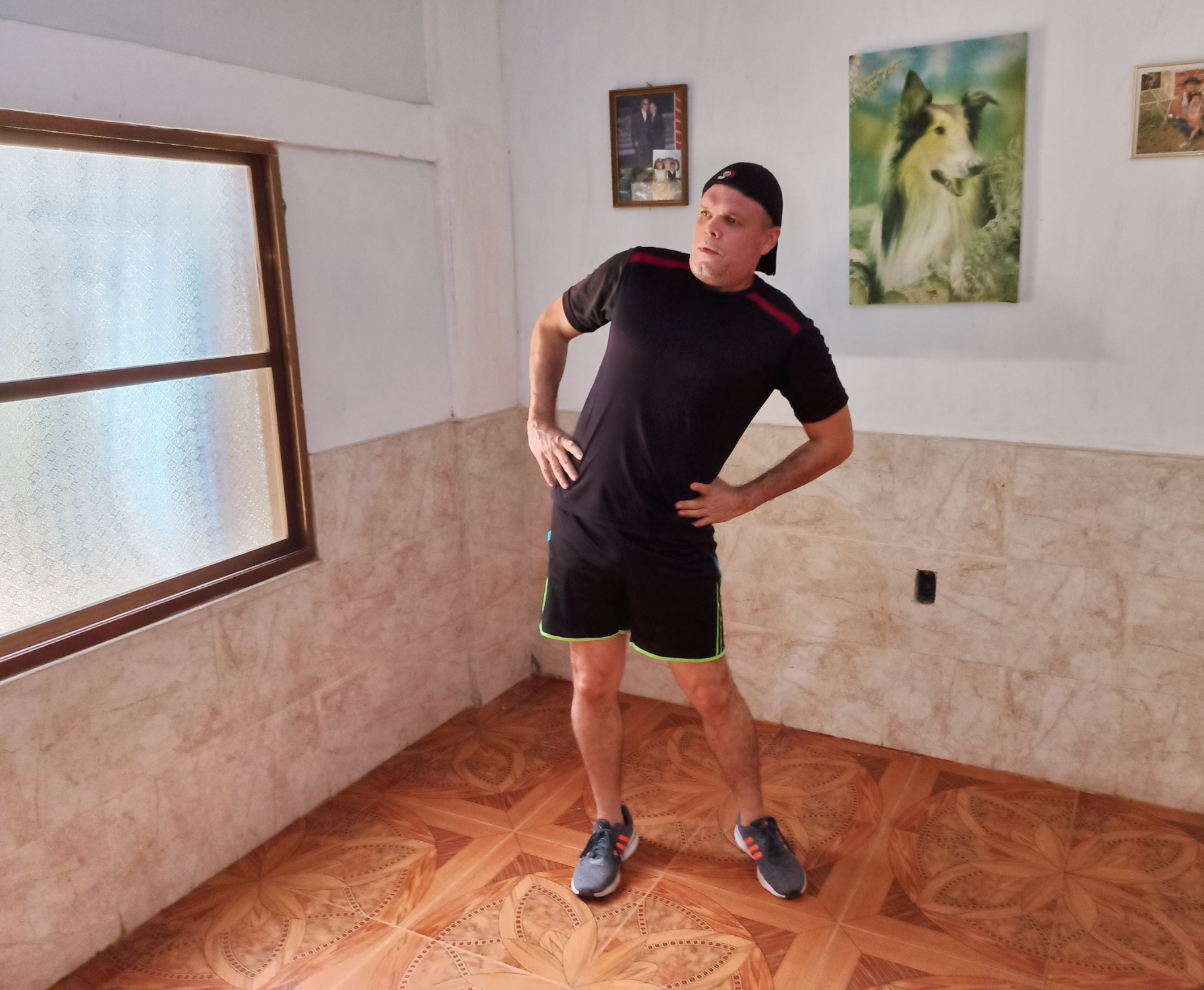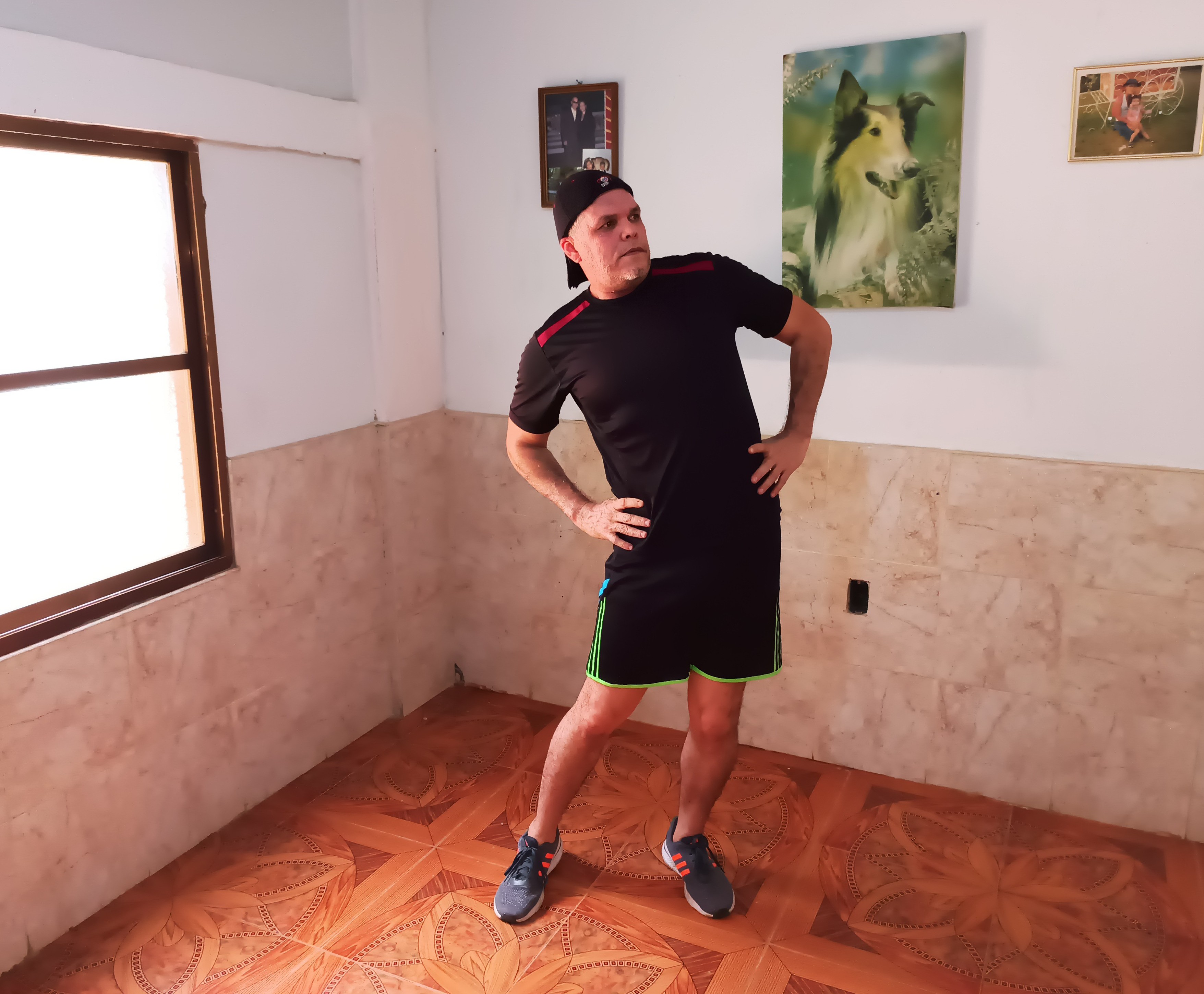 Continuamos en el camino de la ejercitación y de la ganancia de beneficios corporales. Solo queda decir que no se detengan, sabemos que nada es fácil pero si se lo proponen, hasta las cosas que se creen imposibles se pueden lograr. Hasta una próxima oportunidad, saludos a todos.
We continue on the path of exercising and gaining body benefits. We know that nothing is easy, but if you set your mind to it, even things that you think are impossible can be achieved. Until next time, greetings to all.
...Gracias Por Visitar...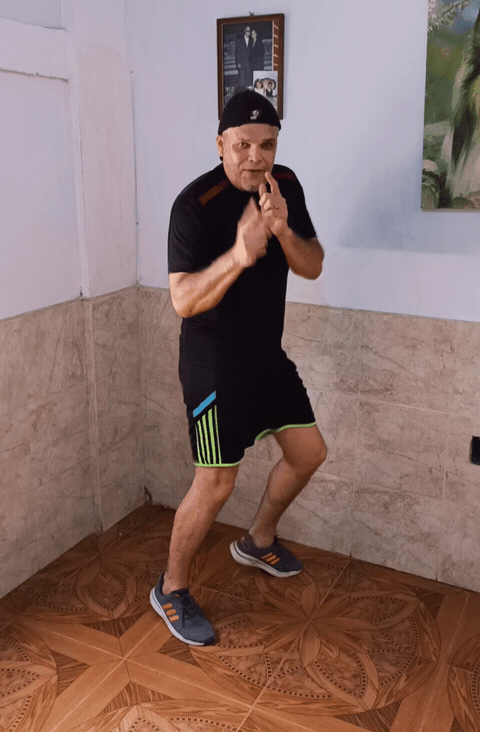 ...Thanks for visiting...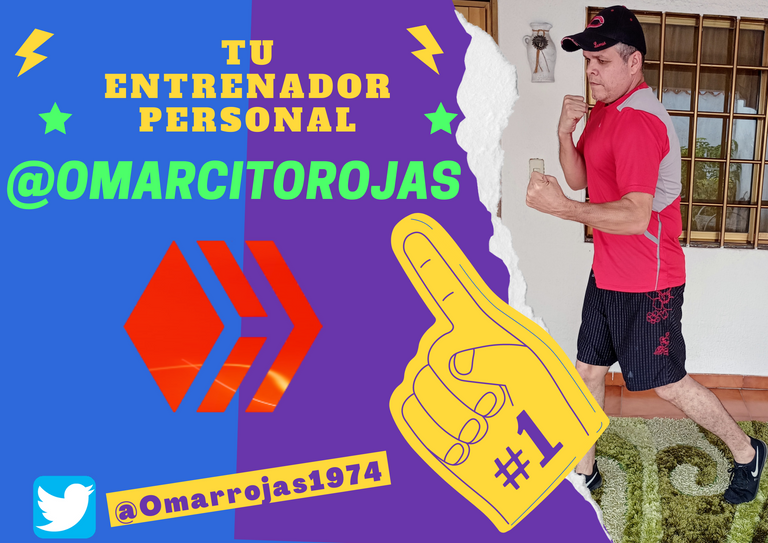 Imágenes y videos tomados por Ronmel Núñez.
Images and videos taken by Ronmel Nuñez
Sorry. English is not our native language. Therefore, a web translator is used for texts in English. (Spanishdict)
---
---