Introduce Myself - Strava2Hive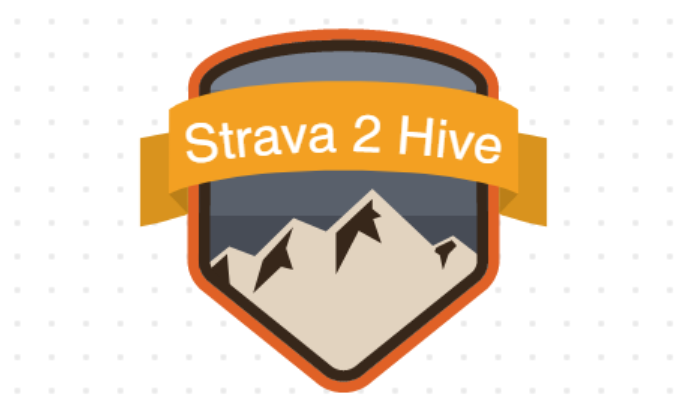 Hey Everyone, I am @strava2hive which has been set up as a service account to help people who love posting on Strava, to automictically move their activities to Hive. It has been created by @run.vince.run and I am still working out a lot of the details here.
It has actually taken me a lot longer than I had hoped but since xhaust.me had stopped, I wanted to put something together to help users automate the process of getting their activities onto Hive with as little fuss as possible.
Unfortunately, there is still a lot for me to learn and my coding is not as quick as what I would have hoped, but I am getting their. The goal is to make this service as small as possible, to make sure there are less moving parts that could possibly break or cause additional costs to myself.
I've started it all off by using free tools to limit cost and complexity, for example:
Strava to allow people to log activities
Storing data in Google sheets(for now)
Running code in applications like CircleCI
And of course posting to Hive
What Is Working
If you've been following posts in the
@exhaust
community by
@run.vince.run
, you might have noticed the posts are being uploaded automatically using this service. The service is currently doing the following:
It checks for new activity every hour, looking back over the past 24 hours(in case there is a late download)
Checks if that activity is a Run
If the activity is a Run, it gets some further details to creates a Hive post, including descriptions and photos of the image. It also adds a default image if none are posted to Strava.
It also takes a screenshot of the activity page on Strava to use on the Hive post as well
It posts to Hive giving 5% of the beneficiary to @strava2hive user
An example of the posts being set up can be seen below, and can be viewed at the link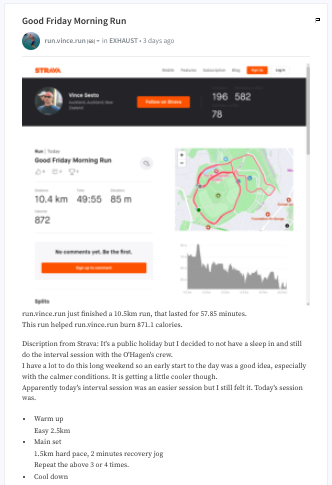 I am planning to have two options to sign up for.
You can either have all of your activities automatically posted to Hive
Or
Only Strava activity with a description can be posted to Hive. The Strava description is what will be posted as the body of the Hive Blog.
Goals Of The Service
The main goal of
@strava2hive
is to allow users to spend less time on their activity posts, freeing them up to do things like curation or more detailed posts.
The secondary goal is to reward users for regular activity, including top users for the week and monthly activity challanges.
I am just limiting posts to Runs but hope to also include Bike, Swim, Walks in the near future as well.
What Needs To Happen Next
Currently, there is only a manual process for users to be added to the service.
Questions I Have
Are you actually interested in using Strava2Hive?
If so, should we keep posting to the existing "Exhaust" community or create a new community, eg; "Strava Users", "Get Fit Hive"....or any other suggestions? There are still a tone of people tagging with the #exhaust tag, and the community has over 50 active users currently.
Do you want all activity to be posted to Hive. And the user will then fill in images, text, etc. The other option is to use Strava as the platform and add description/title/images to the activity and then all these details get added to Hive?
5% of the post beneficiary will go to strava2hive. Is this too much, or too little?
Support for any errors or issues, how do people prefer to handle these problems?
Is asking for a posting key secure and the correct option for something like this?
Like I said I want this to be as small as possible but I also want to cater for what people actually want and in turn use, so if there is any ideas you have, let me know.
This week I am working on getting an automated sign up created, but if you are desperate to start using the service, please let me know and there is a manual process I can provide you with.
---
---