Tonifica tus piernas y glúteos con esta rutina./ 🔥🔥Tone your legs and buttocks with this routine
---
Saludos querida amigos de hive, el día de hoy quiero compartir una excelente rutina para tonificar las piernas y glúteos y lo mejor que desde casa, solo necesitas sustituir una pesa con algún material que sirva de apoyo como por ejemplo un botellón de agua pequeña, trabaje 6 movimientos perfectos para reafirmar los cuádriceps; los isquiotibiales, glúteos, en 4 series de 20 repeticiones, cada movimiento se realiza de manera suave y preciso para sentir el trabajo en l musculo; así que los invito a ver el paso a paso de esta excelente rutina.
Greetings dear friends of hive, today I want to share an excellent routine to tone legs and buttocks and the best thing from home, you only need to replace a weight with some material that serves as support such as a small water bottle, work 6 perfect movements to reaffirm the quadriceps, hamstrings, buttocks, in 4 sets of 20 repetitions, each movement is performed smoothly and accurately to feel the work in l muscle, so I invite you to see the step by step of this excellent routine.
---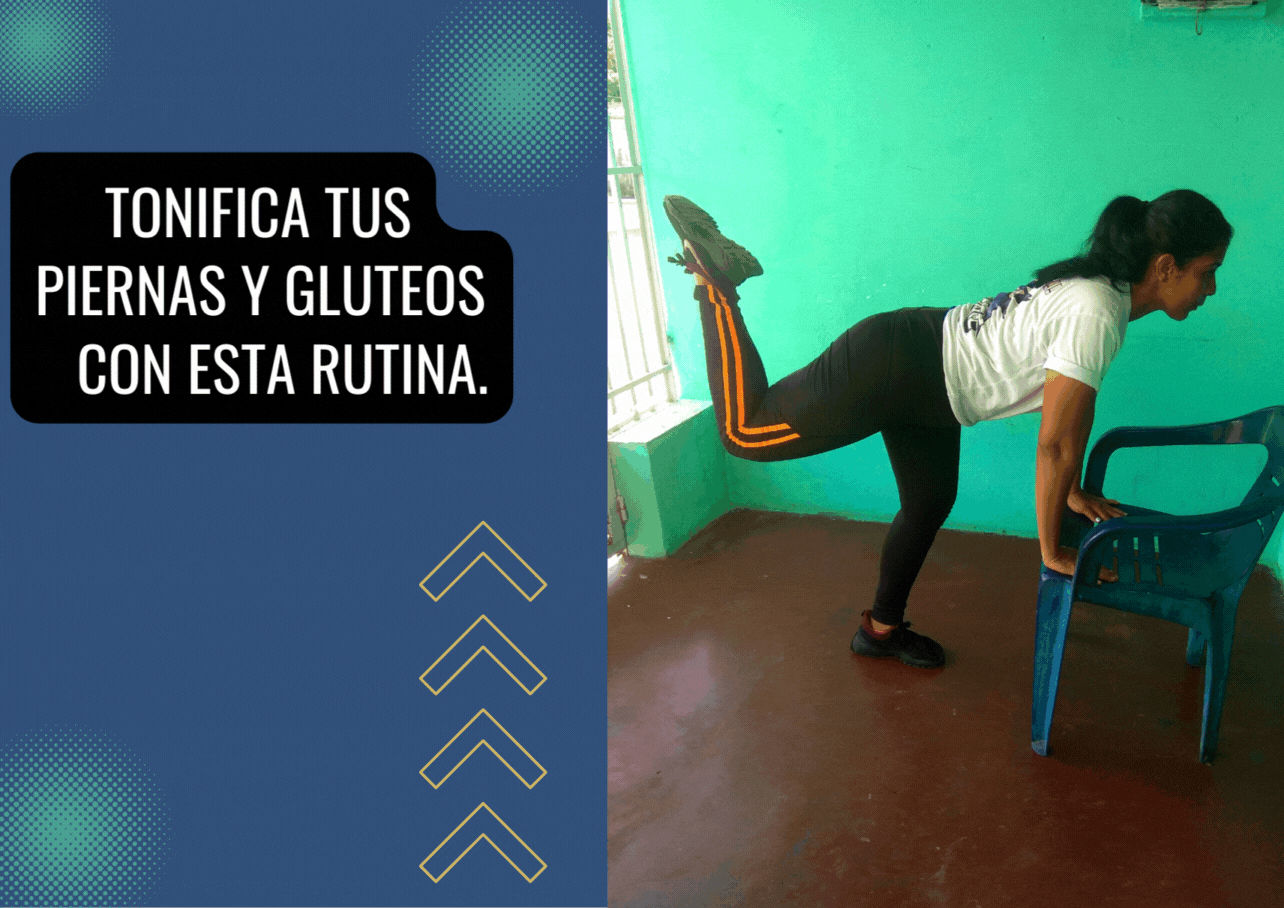 ---

---
Rutina de piernas y glúteos./ Leg and buttocks routine.
---
Patada posterior./ Rear kick.
---
Primer movimiento patada posterior con ayuda de una silla me agarre y extendí mi pierna hacia atrás luego comencé a elevar de arriba hacia abajo en repeticiones de 20 en cada pierna.
First movement back kick with the help of a chair I grabbed and extended my leg backwards then started to lift up and down in repetitions of 20 on each leg.
---
---
Saltos coordinados con toque en el pies./ Coordinated jumps with touch on the feet.
---
El segundo movimiento, son saltos coordinados con toque en el pie, este movimiento realice pequeño saltos con aducciones y a su vez me tocaba el pies.
The second movement, are coordinated jumps with touch on the foot, this movement I made small jumps with adductions and at the same time I touched my feet.
---
---
Patada en cuadrupedia./ Quadruped kick.
---
tercer movimiento tome apoyo de una silla y eleve mi pierna hacia atrás, con el pie en punta y le di movimiento a mi pierna de arriba hacia abajo en repeticiones de 20 en cada pierna.
Third movement I took the support of a chair and lifted my leg backwards, with the foot on tiptoe and moved my leg up and down in repetitions of 20 on each leg.
---
---
Sumo con peso./ Sumo with weight.
---
Siguiente movimiento sumo con peso, en este movimiento abrí mis piernas semi flexione, luego con un botellón use como pesa , baje suavemente hasta 90 grados así sucesivamente en repeticiones de 20.
Next movement sumo with weight, in this movement I opened my legs semi flexed, then with a bottle used as a weight, gently lowered to 90 degrees and so on in repetitions of 20.
---
---
Elevación de pelvis con peso./ Pelvis lift with weight.
---
Este movimiento utilice la silla, coloque mis hombro en la silla coloque el peso en mi pelvis y eleve mis caderas hacia arriba con un suave movimiento en repeticiones de 20.
This movement use the chair, place my shoulder on the chair place the weight on my pelvis and lift my hips up in a smooth motion in repetitions of 20.
---
---
Sentadilla a 90 grados con peso./Squat at 90 degrees with weight.
---
En el ultimo movimiento realice sentadillas con peso hasta 90° con movimiento suaves 20 repeticiones.
In the last movement perform weighted squats to 90° with smooth motion 20 repetitions.
---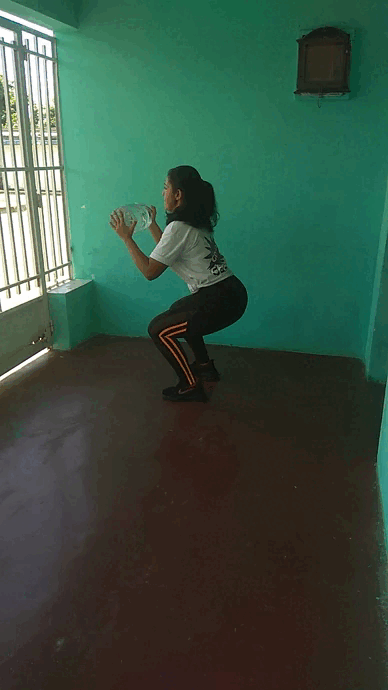 Mis queridos amigos de full deporte, este fue mi primer entrenamiento de la semana, trabaje mis piernas y glúteos, con movimientos muy sencillo pero efectivo para tonificar el tren inferior lo mejor es que se puede ejercitar desde a comodidad de su casa, nos estamos viendo en un próximo post.
My dear friends of full sport, this was my first workout of the week, I worked my legs and glutes, with very simple but effective movements to tone the lower body, the best thing is that you can exercise from the comfort of your home, see you in a future post.
---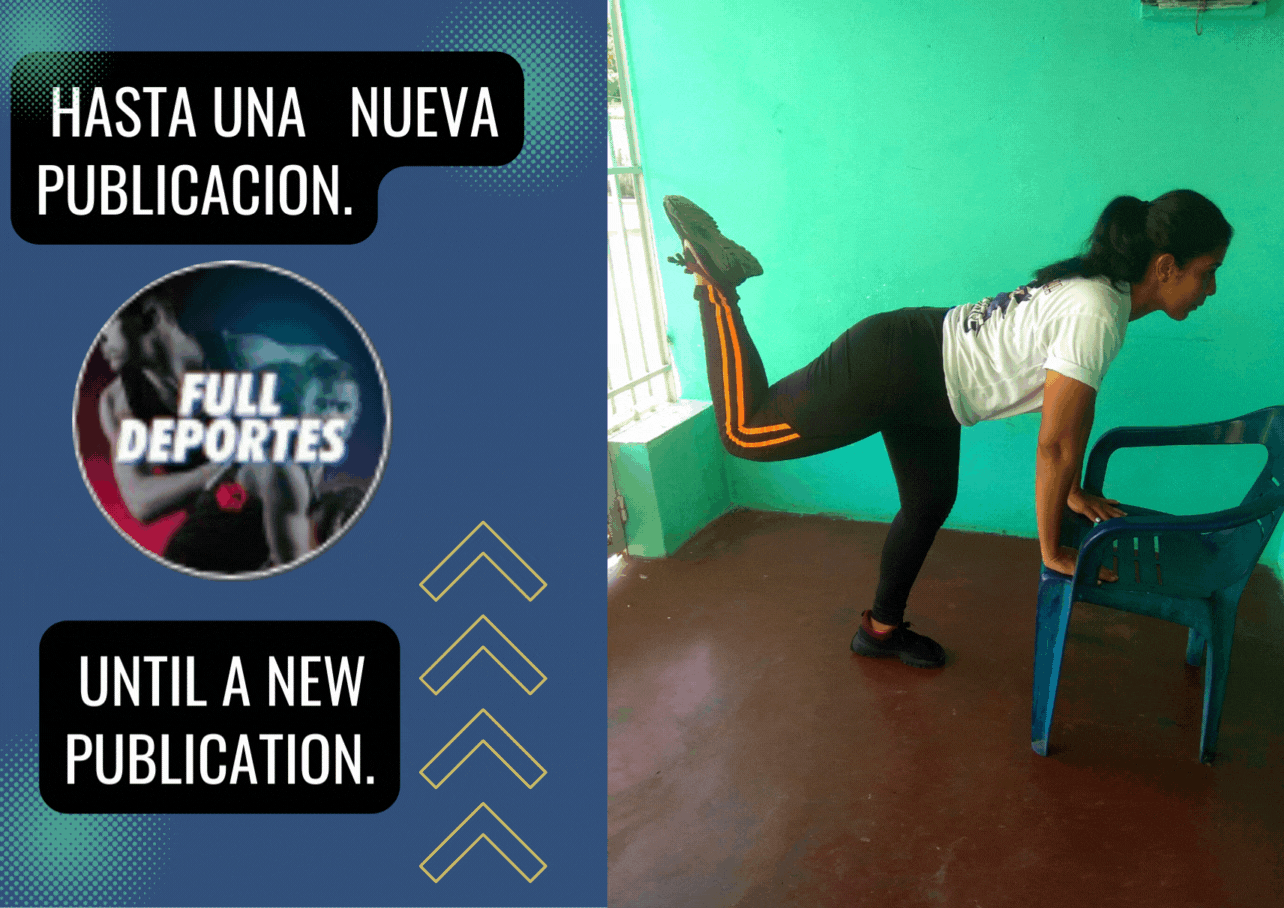 ---
Video realizado desde teléfono Alcatel idol. / Video made from Alcatel idol phone.
Videos convertidos en gifs enlace
Separadores y ediciones hechas en Canva. / Separators and editions made in Canva.
---

---
---