Season 9 Pre-qualifiers - results after 2 days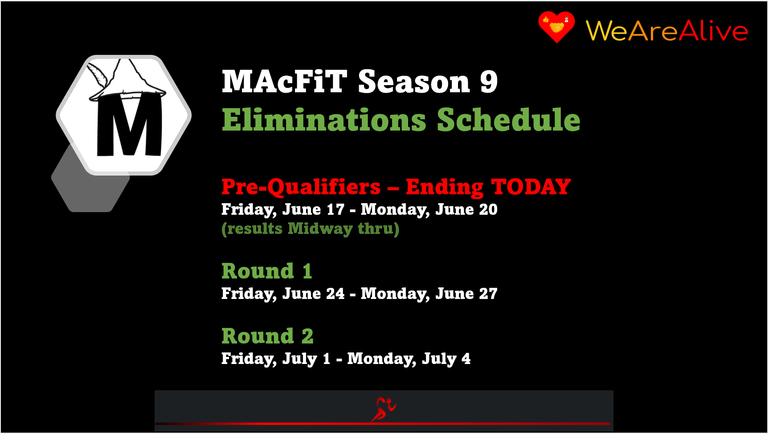 Hello,
Unnoticed by major sports newspapers, pre-qualifiers into Season 9 are halfway through. Here's the standings after two (out of 4) days of competition. The Total score includes bonuses applied for participation in earlier @macfit seasons and also for being active in the tournaments run by @poliac and @poprzeczka.
Top 8 players will advance to Champions League Eliminations and the next 16 (pos. 9 thru 24) will play in Consolation Cup Eliminations.
Players who fail to publish at least two report during the prequalification period, will be disqualified and their bonuses will not be taken into account.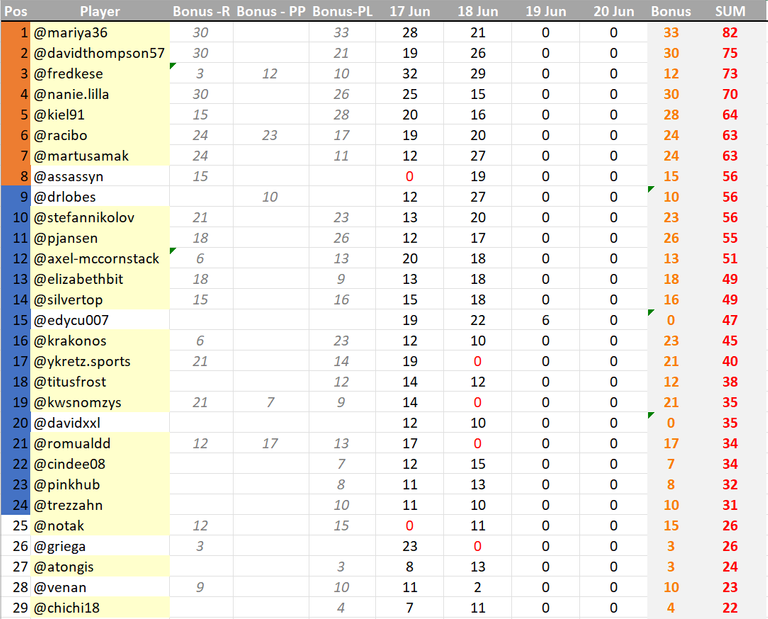 Note: disregard the yellow highlights - these are players who compete in the current @poliac, which makes it so much easier for me to collect results.
Again, this is halfway through. If we ended the qualifiers today, the following would play in Champions League Eliminations:
... and the following would play in Consolation Cup Eliminations:
Players:
can still improve their positions.
Finally, the last group are players who haven't posted any report so far and need to post for Sunday and Monday to be taken into account:
Season 9 Schedule
Pre-qualifiers
Friday, June 17 - Monday, June 20
TODAY (Monday) is the last day!
Round 1 of Qualifiers
Friday, June 24 - Monday, June 27
Round 2 of Qualifiers
Friday, July 1 - Monday, July 4
Main Season Kick-off
Friday, July 8 - Monday, July 11
Season 9 Starting List
Direct access to Group Phase
6 slots
Guaranteed:
Round 2:
Friday, July 1 - Monday, July 4:
Seeded players:
Round 1:
Friday, June 24 - Monday, June 27
Seeded players:
Beneficiaries
All Season 9 @MAcFiT updates will have Season 8 Winners as beneficiaries:
---
---