5 Ejercicios para trabajar los Hombros 💪🔥 || 5 Exercises to work the Shoulders [Esp-Eng]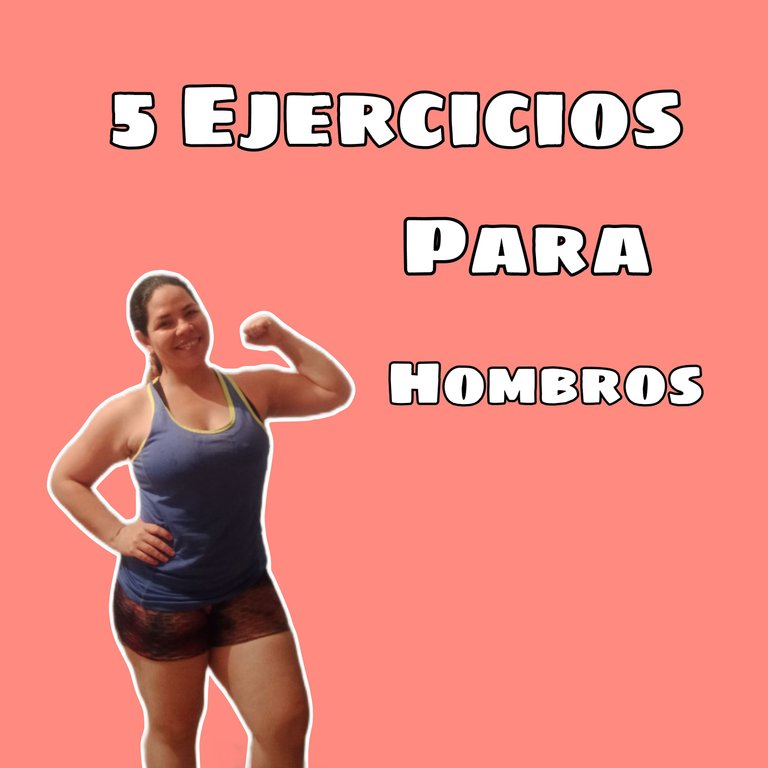 Que tal amigos de @fulldeportes nuevamente por aca. Gracias a Dios!! En los ultimos dos dias no me habia sentido tan bien de salud, pero ya hoy estoy mejor, y no podia dejar de entrenar!! A pesar de que mi cuerpo necesitaba descansar, quise hacer algo suave y sencillo!!
Howdy friends from @fulldeportes here again. Thank God! In the last two days I haven't been feeling so good, but today I'm feeling better, and I couldn't stop training! Even though my body needed to rest, I wanted to do something soft and easy!!!!

Muchas veces nos sobre entrenamos y en momentos como este donde un resfriado ataca, solo necesitamos descansar, es verdad, hay que aprender a oir nuestro cuerpo, pero yo hoy lo ignoré un poco😂😩 necesito recuperarme al 100% pero si no entrenaba al menos algo sencillo iba a estar mas amargada de lo normal😂😂 asi que les dejo esta rutina de 5 sencillos ejercicios para trabajar nuestros hombros!! Como siempre recordándoles que deben calentar antes de esta y cualquier otra rutina💪💪 y ahora si, a la accion
Many times we over train and in moments like this where a cold attacks, we just need to rest, it's true, we must learn to listen to our body, but today I ignored it a little😂😩 I need to recover 100% but if I didn't train at least something simple I was going to be more bitter than normal😂😂😂 so I leave you this routine of 5 simple exercises to work our shoulders!!! As always reminding you to warm up before this and any other routine💪💪 and now yes, to the action.

PRIMER EJERCICIO || FIRST EXERCISE
Vamos a comenzar con uno muy muy basico para trabajar los hombros, y es encogimiento de hombros, cabe destacar que yo usé mis super pesas de botellas de 2 litros llenas con agua, si ustedes tienen pesas reales, mejor todavia ☺️☺️ vamos a encoger los hombros lo maz que podamos, los relajamos y repetimos hasta hacerlo por un minuto seguido
Let's start with a very very basic one to work the shoulders, and that is shrugs, it is worth mentioning that I used my super weights from 2 liter bottles filled with water, if you have real weights, even better ☺️☺️ let's shrug the shoulders as much as we can, relax them and repeat until we do it for a minute straight.

SEGUNDO EJERCICIO || SECOND YEAR
Vamos a realizar elevaciones frontales, nada dificil de explicar, elevamos nuestros brazos sin flexionarlos, hacia el frente, a nivel de nuestros hombros, igual haremos el movimiento 1 minuto seguido
We are going to perform frontal raises, nothing difficult to explain, we raise our arms without bending them, towards the front, at the level of our shoulders, we will do the same movement for 1 minute in a row.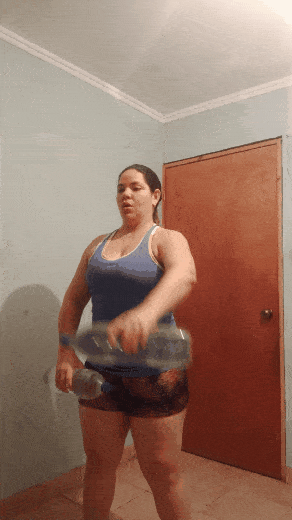 TERCER EJERCICIO || THIRD YEAR
Para el tercer ejercicio vamos a hacer elevaciones en V, flexionando un poco los codos , vamos a subir a nivel de nuestros hombros. Este es de mis favoritos por siempre, lo haremos durante un minuto
For the third exercise we are going to do V-lifts, bending our elbows a little bit, we are going to go up to the level of our shoulders. This is one of my all-time favorites, we'll do it for one minute.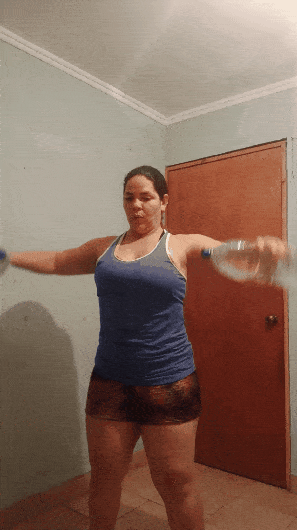 CUARTO EJERCICIO || FOURTH YEAR
Aca seguimos con las elevaciones, pero en este caso seran laterales, igual como en el primer ejercicio pero esta vez será hacia los lados,
Y sin flexionar los codos como en el pasado, bajamos lento para sentir aun mas el movimiento, un minuto de ejecución
Here we continue with the lifts, but in this case they will be lateral, the same as in the first exercise but this time it will be to the sides,
And without bending the elbows as in the past, we lower slowly to feel the movement even more, one minute of execution.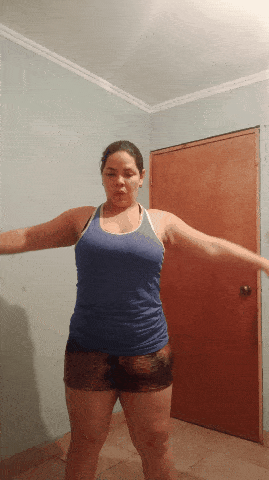 QUINTO EJERCICIO || FIFTH YEAR
Vamos a finalizar con una rotacion, o mejor conocido como "Vuelta al mundo" Vamos a colocar nuestras manos juntas, dejando las palmas hacia afuera y vamos a elevar los brazos por sobre nuestra cabeza, las palmas siempre estaran hacia afuera, realizamos el movimiento un minuto tambien y asi finalizamos nuestra ronda
We are going to finish with a rotation, or better known as "Around the world" We are going to place our hands together, leaving the palms facing outwards and we are going to raise our arms above our head, the palms will always be facing outwards, we will perform the movement for one minute and we will finish our round.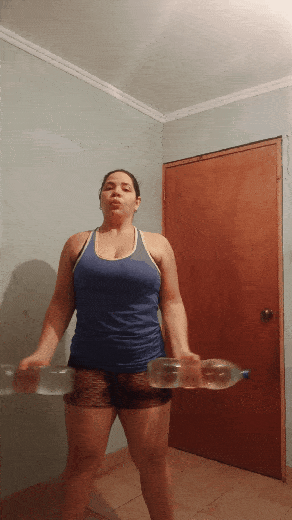 Yo realicé 4 rondas seguidas para quedar con los brazos ARDIENDOOOOO 😂😂 de verdad!! Pero estuco suave en comparacion a otros dias 💪💪 lo importante es que se le dio!! Recuerda tu hacerlo siempre a tu ritmo, pero HAZLO 🔥🔥
I did 4 rounds in a row to get my arms ARDENDOOOOOOO 😂😂 for real!!!! But stuco smooth compared to other days 💪💪 the important thing is that you got it!!!! Remember your always do it at your own pace, but DO IT 🔥🔥.

HASTA LA PROXIMA RUTINA AMIGOS😎 || UNTIL THE NEXT ROUTINE FRIENDS😎

Todos los videos los grabé con mi Redmi 9
Gifs realizados en GifShop
Portada editada en PicsArt
All videos were recorded with my Redmi 9
Gifs made in GifShop
Cover edited in PicsArt
---
---