Piernas en Salto... Fuerza y Poder Inferior [Esp/Eng]
Seguimos indetenibles con una nueva rutina, una nueva motivación con mucha ganancia de resistencia, fuerza y energía. Así es amigos míos, porque hoy es día de piernas, pero no haremos los ejercicios clásicos para tal fin, claro está y como es lógico, haremos unas sentadillas pero con variantes explosivas que harán de éstos movimientos una manera de divertirnos mientras entrenamos. Que nadie se quede atrás, que nadie se límite, sin embargo, emito una recomendación para aquellas personas que sufren de las rodillas, porque la rutina consta de sentadillas en saltos, lo que implica cierto impacto en éstas articulaciones. Por ello les sugiero realizar los ejercicios sin saltos para que vayan tomando fuerza y resistencia. Es una recomendación, claro está que cada quien es dueño de sus actos.
En tal sentido, ¿que buscamos con la ejecución de éstos movimientos?. Bueno, con ello podemos adquirir fortaleza en todo el sistema esquelético, articular, muscular y cardíaco. Además de desarrollar potencia y resistencia muscular, todo ello solo con el uso de nuestro cuerpo y su peso. Ahora, tomando en cuenta el trabajo corporal nos vamos con las articulaciones para dar movimiento a los tobillos, rodillas y pelvis. Viajando hacia los músculos le damos acción a los cuádriceps (muslos), los isquiotibiales (parte trasera del muslo), los abdominales, el transverso del abdomen, los flexores de cadera (ayudan a flexionar la pierna y la rodilla) y los erectores espinales (músculos que extienden la columna).
Ya se habrán dado cuenta de todos los beneficios que pueden obtener al realizar estos movimientos. Así que amigos míos vamos todos a la acción, ya saben con precaución y poco a poco si están comenzando. Nunca olvidemos que debemos cumplir una fase de calentamiento para que el cuerpo se ponga a tono. A los hermanos que tienen dificultades de cadera y rodilla, hagan los ejercicios sin realizar los saltos hasta que sus extremidades puedan soportar su peso sin ejercer ningún daño sobre ellas. No se diga más y vamos directo a la acción porque esto está muy bueno. Activos.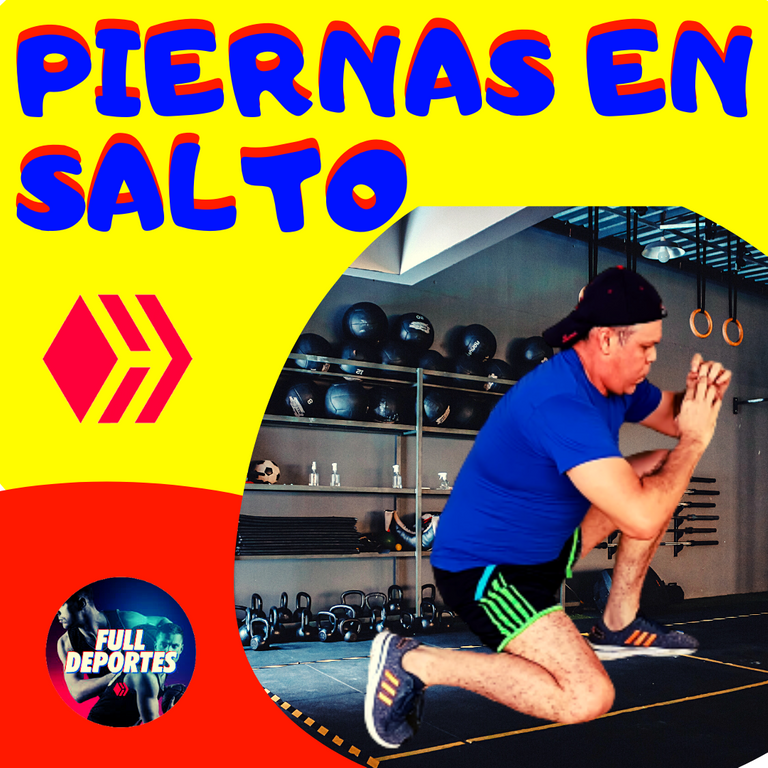 Imagen de mi Autoría Editada por/Image of my Authorship Edited by Canva
Gifs creados en la aplicación/Gifs created in the application HD Video To Gif Converter
Logos propiedad de/ logos owned by @hiveio, @fulldeportes
We continue unstoppable with a new routine, a new motivation with a lot of endurance, strength and energy gain. That's right my friends, because today is leg day, but we will not do the classic exercises for this purpose, of course and as is logical, we will do some squats but with explosive variants that will make these movements a way to have fun while training. No one is left behind, no one is limited, however, I issue a recommendation for those who suffer from knees, because the routine consists of squats in jumps, which implies some impact on these joints. Therefore, I suggest performing the exercises without jumps to gain strength and endurance. It is a recommendation, of course everyone is the owner of his actions.
In that sense, what are we looking for with the execution of these movements? Well, with it we can acquire strength throughout the skeletal, joint, muscular and cardiac system. In addition to developing power and muscular endurance, all with the use of our body and its weight. Now, taking into account the body work we go with the joints to give movement to the ankles, knees and pelvis. Traveling to the muscles we give action to the quadriceps (thighs), hamstrings (back of the thigh), abdominals, transverse abdominis, hip flexors (help flex the leg and knee) and spinal erectors (muscles that extend the spine).
By now you have probably realized all the benefits you can get from performing these movements. So my friends let's all get into action, you know with caution and little by little if you are just starting out. Let's never forget that we must fulfill a warm-up phase so that the body gets in tune. To the brothers who have hip and knee difficulties, do the exercises without doing the jumps until your limbs can support your weight without exerting any damage on them. Say no more and let's get right to the action because this is so good. Active.

Calentamiento Corporal
Patadas frontales cortas.
Giro alterno de pierna con rodilla elevada.
Sentadillas con apertura en salto, dejando y tomando rocas.
Caminata del pato con giro en salto.
Sentadillas con aperturas diagonales en salto + torsión oblicua.
Relajación Corporal
Body Warming

Short front kicks.
Alternating leg twist with elevated knee.
Squats with jumping opening, leaving and taking rocks.
Duck walk with jumping twist.
Squats with diagonal openings in jump + oblique twist.
Body Relaxation

Calentar antes de entrenar
Dinámica: En circuito
Trabajo por ejercicio: entre 10 Y 20 (se indica) repeticiones.
Series: 4 por circuito completo.
Descanso entre ejercicios: de 10 a 20 segundos.
Descanso entre series: de 1 a 2 minutos.
Warm up before training
Dynamics: In circuit
Work per exercise: between 10 and 20 (indicated) repetitions.
Series: 4 per complete circuit.
Rest between exercises: 10 to 20 seconds.
Rest between series: 1 to 2 minutes.

Calentamiento Corporal
Desde mi punto de vista, los ejercicios de calentamiento proporcionan beneficios corporales importantes antes de realizar cualquier acción fuerte. Esta es una fase que debe y tiene que ser obligatoria para cualquier atleta y para los no atletas también, ya que esto conlleva a que los músculos se flexibilizen, el ritmo cardíaco y la temperatura corporal se incrementen; en general, aquí el cuerpo se pone totalmente a tono para la acción poderosa que nos espera. Jamás olvides este paso porque con ello nos alejamos de lesiones molestas que pudieran truncar nuestra actividad física. Vamos.
Body Warming

From my point of view, warm-up exercises provide important body benefits before performing any strong action. This is a phase that should and must be mandatory for any athlete and for non-athletes as well, since this leads to the muscles to become more flexible, the heart rate and body temperature to increase; in general, here the body is fully tuned for the powerful action that awaits us. Never forget this step because with it we stay away from nagging injuries that could truncate our physical activity. Let's go.

Patadas frontales cortas
Con este ejercicio iniciamos los calentamientos, dándole acción a las piernas que serán las estrellas de hoy. Vamos
Estando de pie, ubicamos las manos en la cintura, separando las piernas al ancho de la cadera.
Una vez ubicados en la posición deseada, damos patadas cortas y suaves al frente de forma alterna.
Ejecutamos el ejercicio durante 3 minutos.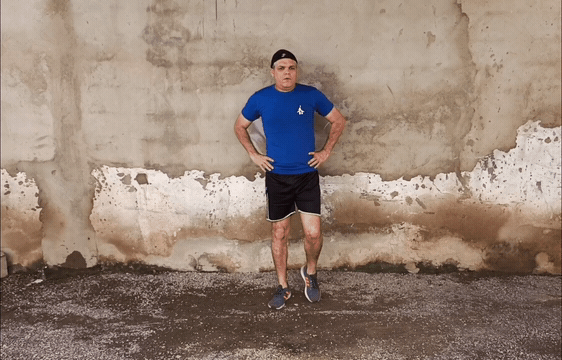 Short Front Kicks

With this exercise we start the warm-ups, giving action to the legs that will be the stars of today. Let's go
Standing, we place our hands on our waists, spreading our legs hip-width apart.
Once located in the desired position, we give short and soft kicks to the front alternately.
We execute the exercise for 3 minutes.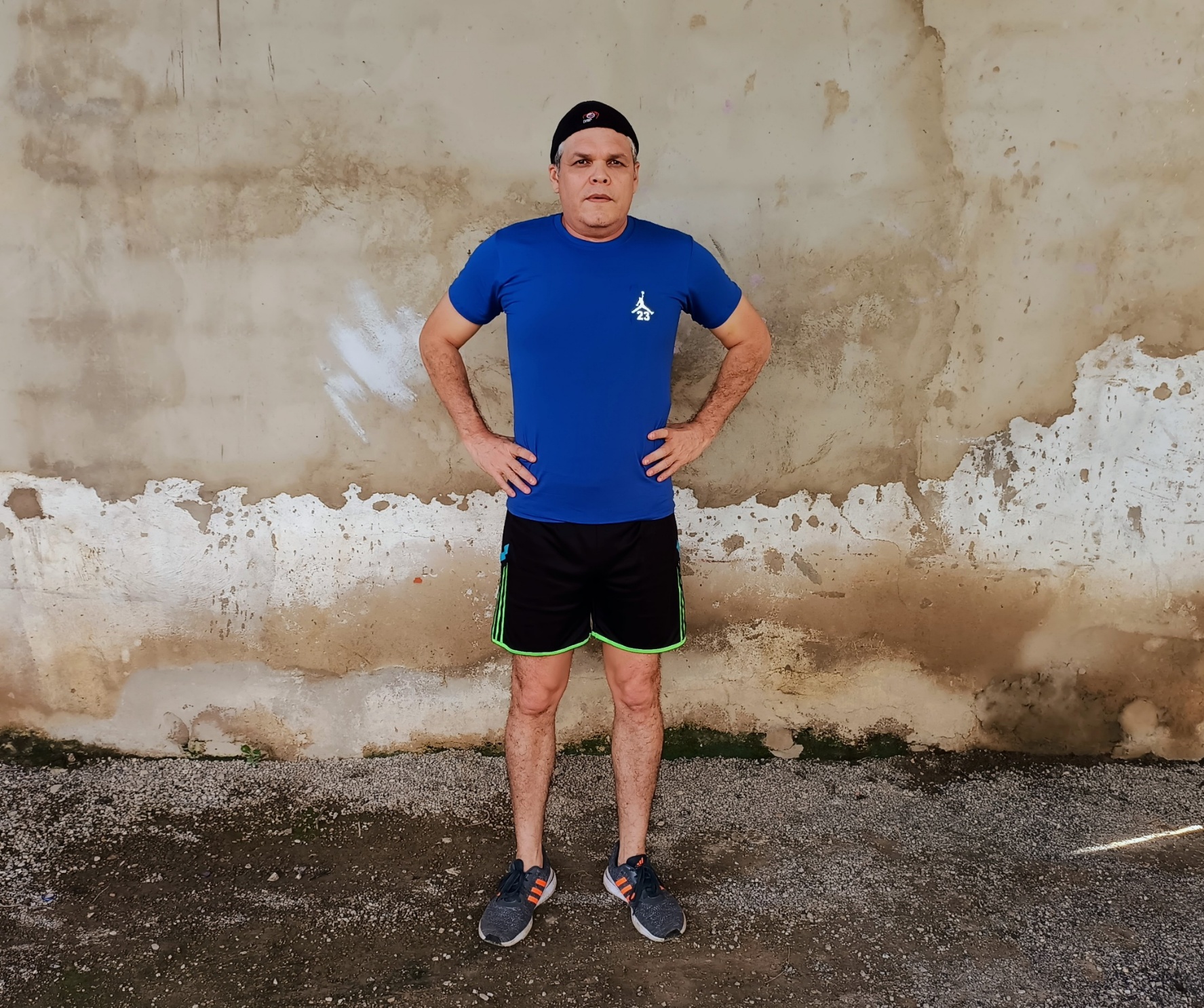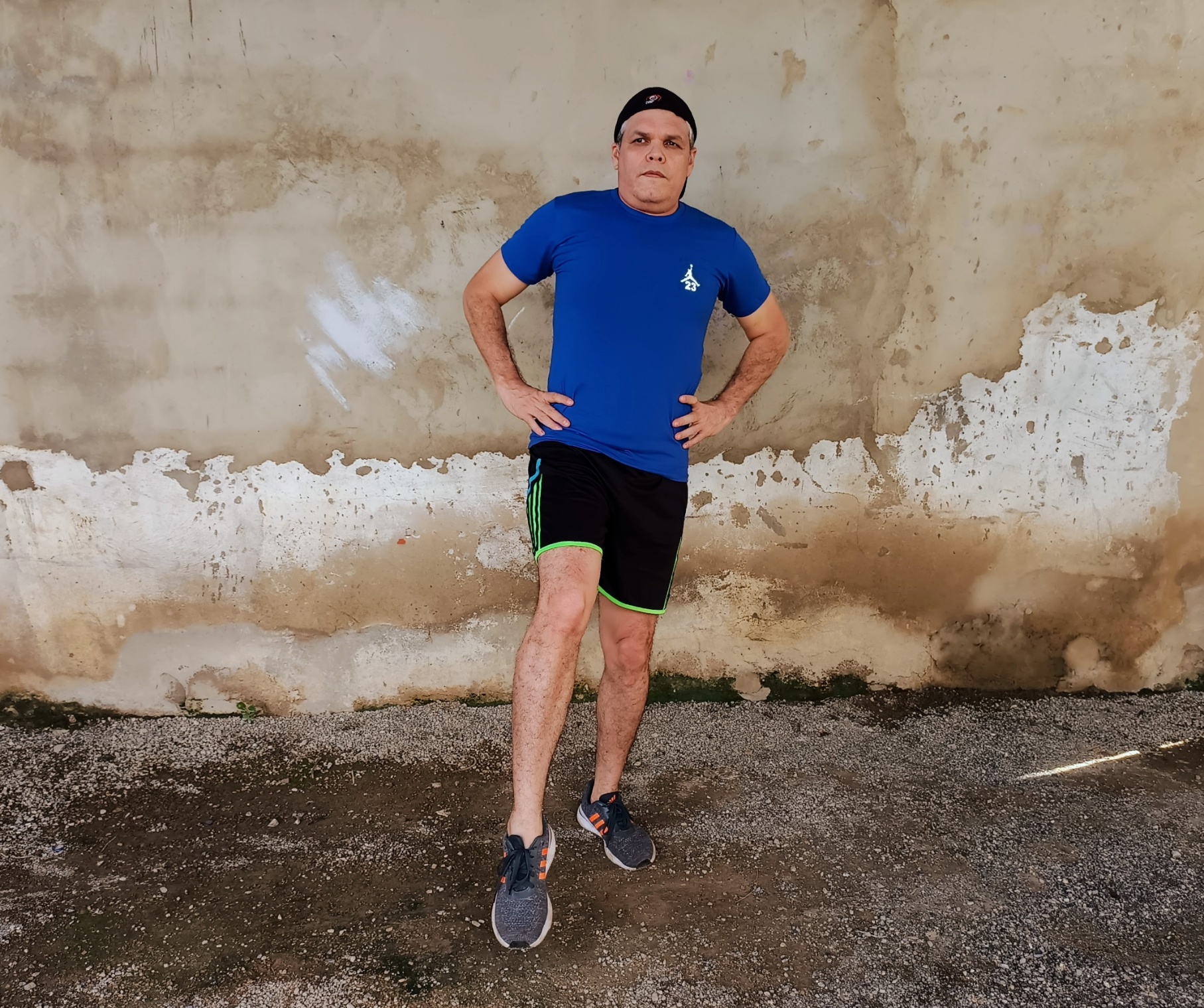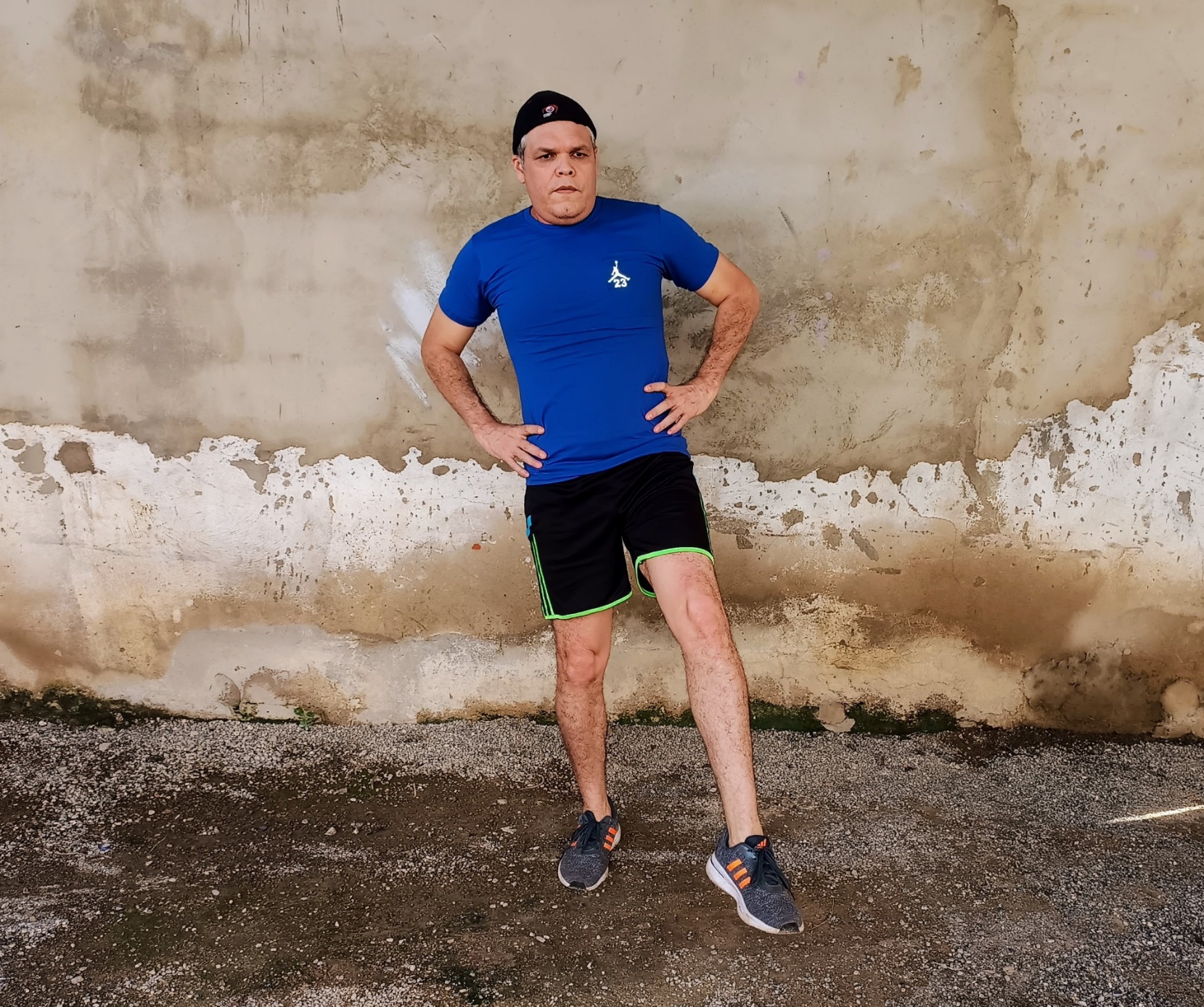 Giro alterno de pierna con rodilla elevada
Continuamos con la actividad corporal para elevar los niveles de temperatura y ritmo cardíaco. Vamos a activarnos todos.
Nuevamente de pie con brazos al frente y codos flexionados. Piernas separadas al ancho de la cadera.
Ya en posición, elevamos una rodilla flexionándola girando la pierna hacia un lado. Regresamos a la posición incial, para luego realizar el mismo movimiento del lado opuesto. Cuando elevamos la rodilla, el brazo del mismo lado baja y se extiende, mientras el otro se mantiene arriba y flexionado.
Ejercicio a realizar por 3 minutos continuos.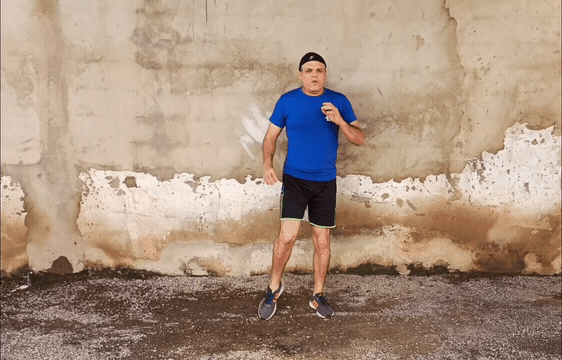 Alternating leg twist with knee elevated

We continue with body activity to raise temperature and heart rate levels. Let's get all of us active.
Again standing with arms in front and elbows bent. Legs hip-width apart.
Once in position, raise one knee by bending it and turning the leg to one side. Return to the initial position, and then perform the same movement on the opposite side. When we raise the knee, the arm on the same side goes down and extends, while the other arm stays up and flexed.
Exercise to be performed for 3 continuous minutes.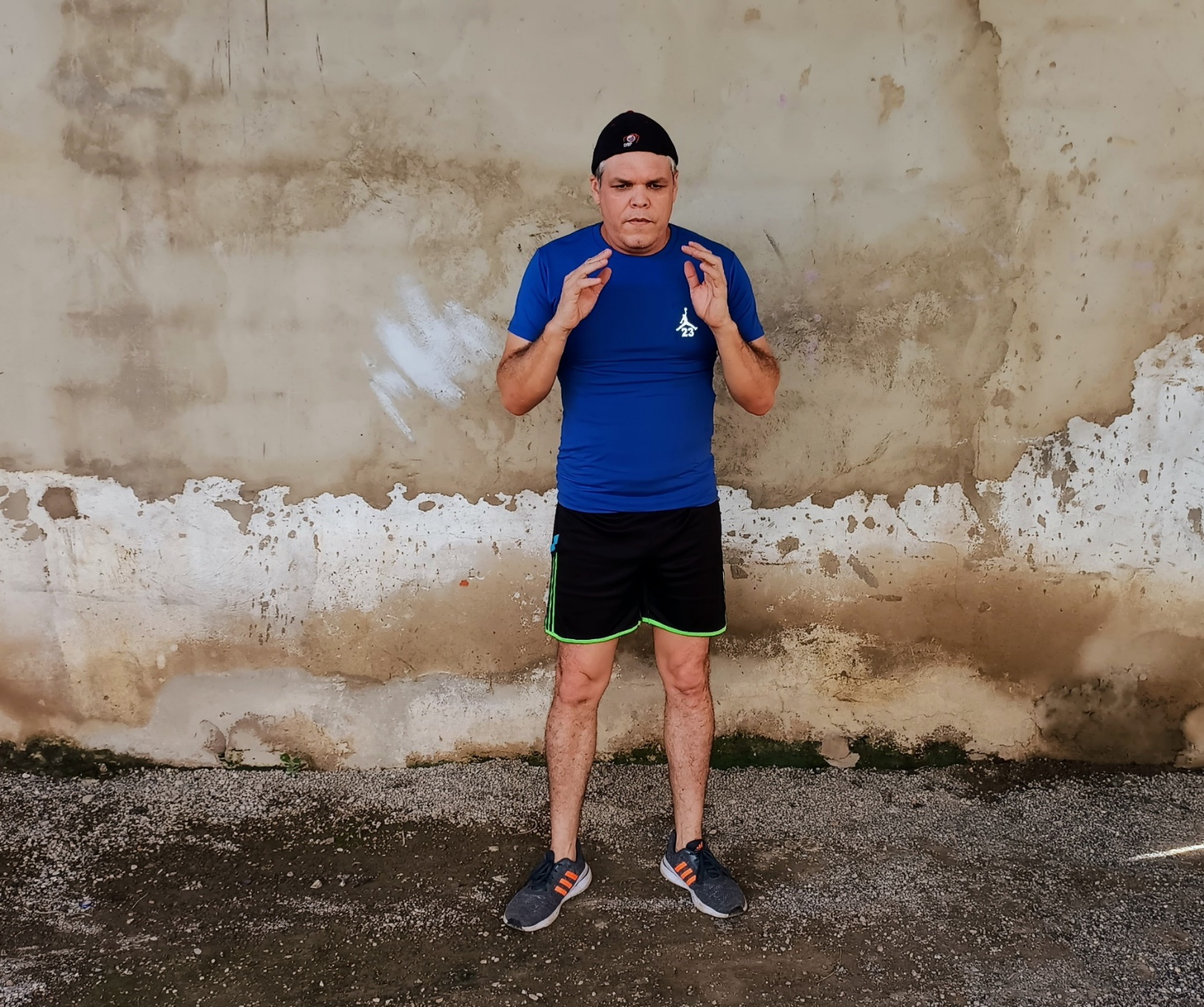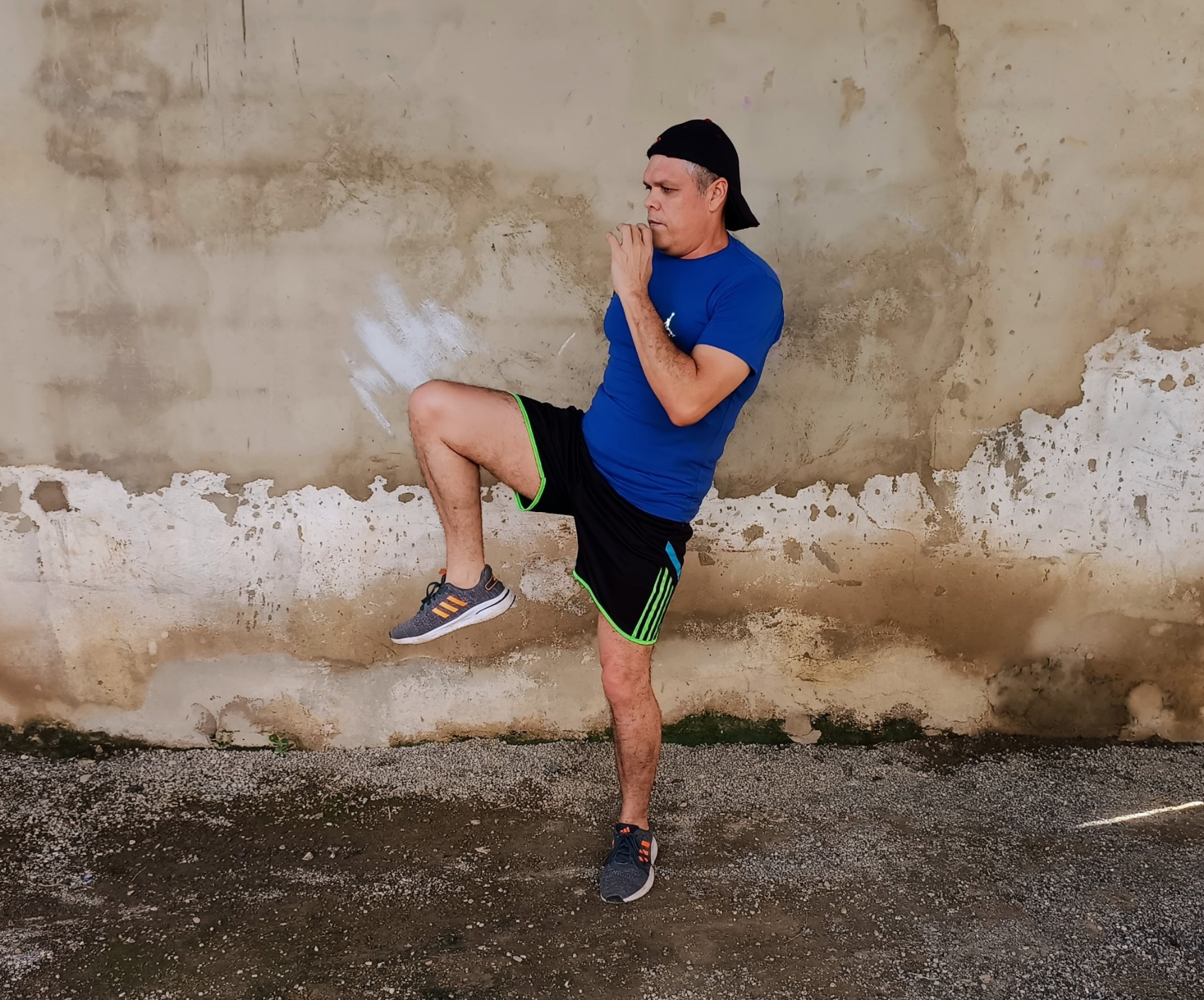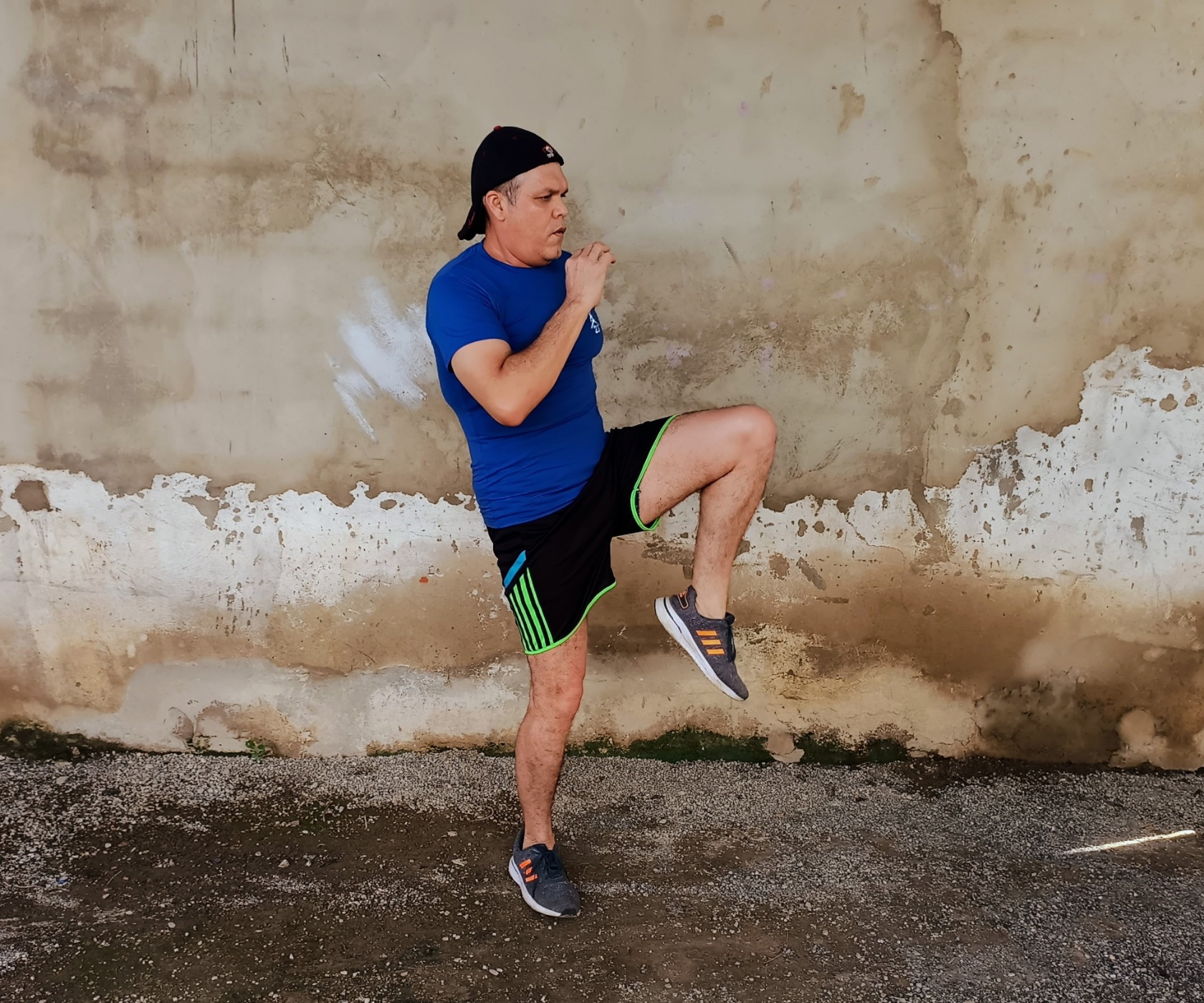 Iniciamos el circuito constituido por tres estaciones. Avanzamos, sí y solo sí, nuestro cuerpo está en las condiciones esperadas luego del calentamiento. Recordando siempre que los movimientos deben ser ejecutados de acuerdo a la condiciones físicas de cada uno de nosotros, no es obligatorio que realicen la rutina tal cual como se las indica, sino está en ustedes hacerlo de esa forma. Cada uno puede ir a su ritmo hasta que vayan dominando los movimientos. Recuerden que no estamos apurados. Vamos.
We start the circuit consisting of three stations. We move forward, if and only if our body is in the expected conditions after the warm-up. Always remembering that the movements must be executed according to the physical conditions of each one of us, it is not mandatory to perform the routine as indicated, but it is up to you to do it that way. Each one of you can go at your own pace until you master the movements. Remember that we are not in a hurry. We are not in a hurry.

Sentadillas con apertura en salto, dejando y tomando rocas
En este ejercicio tenemos una particularidad, porque vamos a utilizar unas piedras o rocas relativamente pesadas. Todo ello para sustituir las pesas en caso de no tenerlas en casa. Aquí, aparte del trabajo total en el tren inferior, también le damos acción al abdomen y brazos. Activos.
Cómo en los ejercicios anteriores iniciamos de pie. Piernas juntas, brazos a los lados y extendidos hacia abajo, tomando en cada mano una piedra.
Ya en la posición deseada, ejecutamos un salto separando las piernas y cayendo en sentadilla. En la acción dejamos las piedras en el suelo.
Ahora, con otro salto volvemos a la posición inicial pero con las manos libres de las piedras. Seguidamente, viene otro salto, abrimos piernas y caemos nuevamente en sentadilla. Rápidamente agarramos las piedras para regresar en salto a la posición inicial.
Realizamos el ejercicio en 20 repeticiones por 4 series.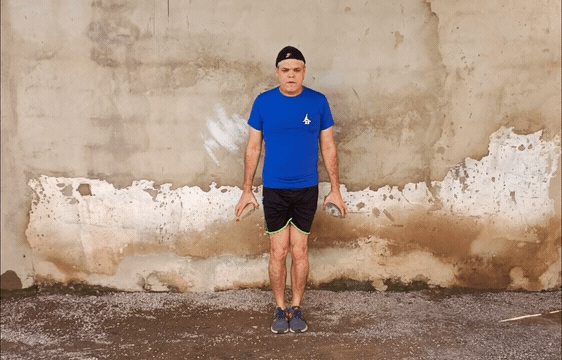 Squats with jumping opening, leaving and taking rocks

In this exercise we have a particularity, because we are going to use some relatively heavy stones or rocks. All this to replace the weights in case you do not have them at home. Here, apart from the total work on the lower body, we also give action to the abdomen and arms. Assets.
As in the previous exercises, we start standing. Legs together, arms at the sides and extended downwards, taking a stone in each hand.
Once in the desired position, we perform a jump, separating the legs and falling into a squat. In the action we leave the stones on the floor.
Now, with another jump we return to the initial position but with our hands free of the stones. Next comes another jump, we open our legs and drop back into a squat. We quickly grab the stones to jump back to the starting position.
We perform the exercise in 20 repetitions for 4 series.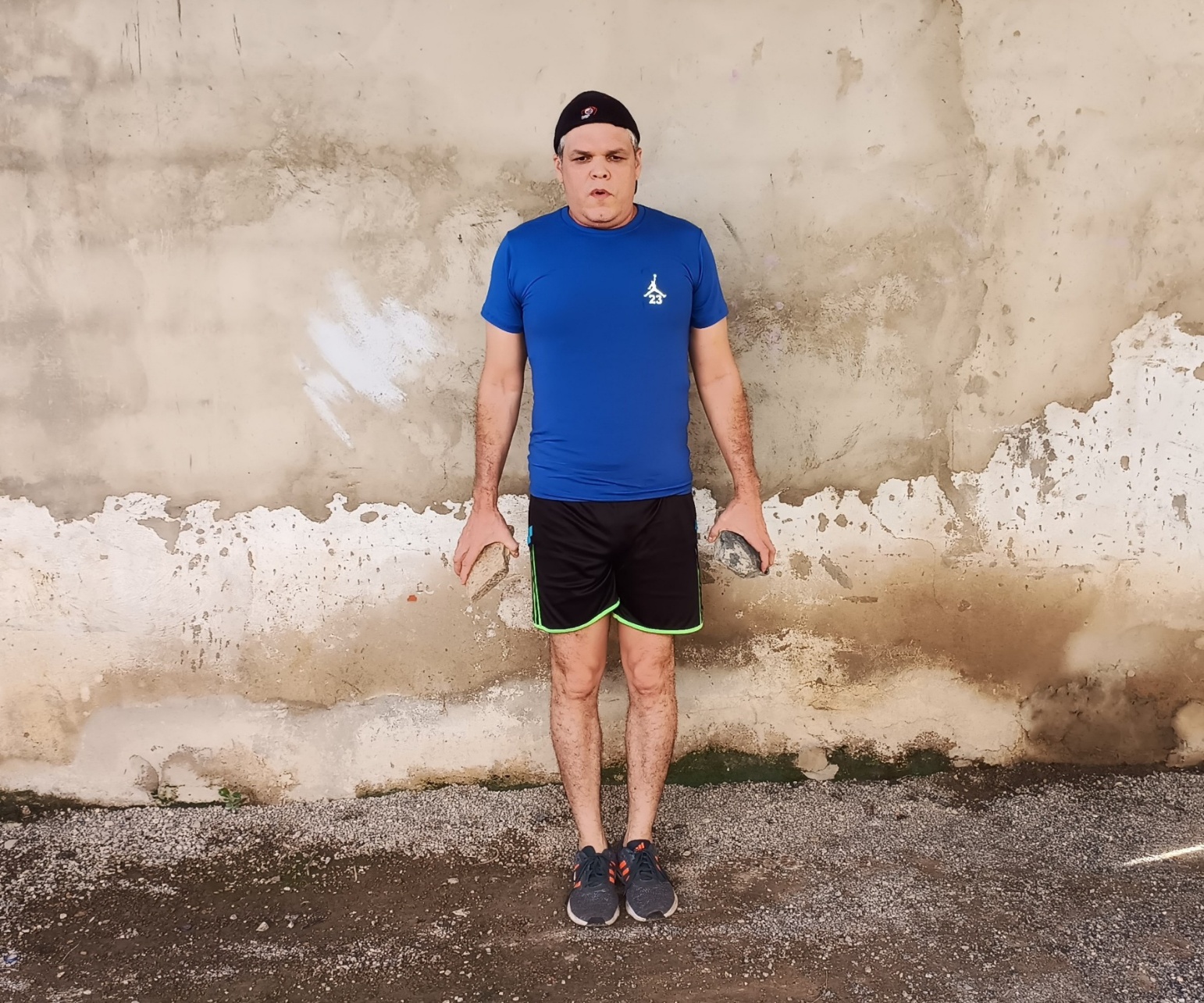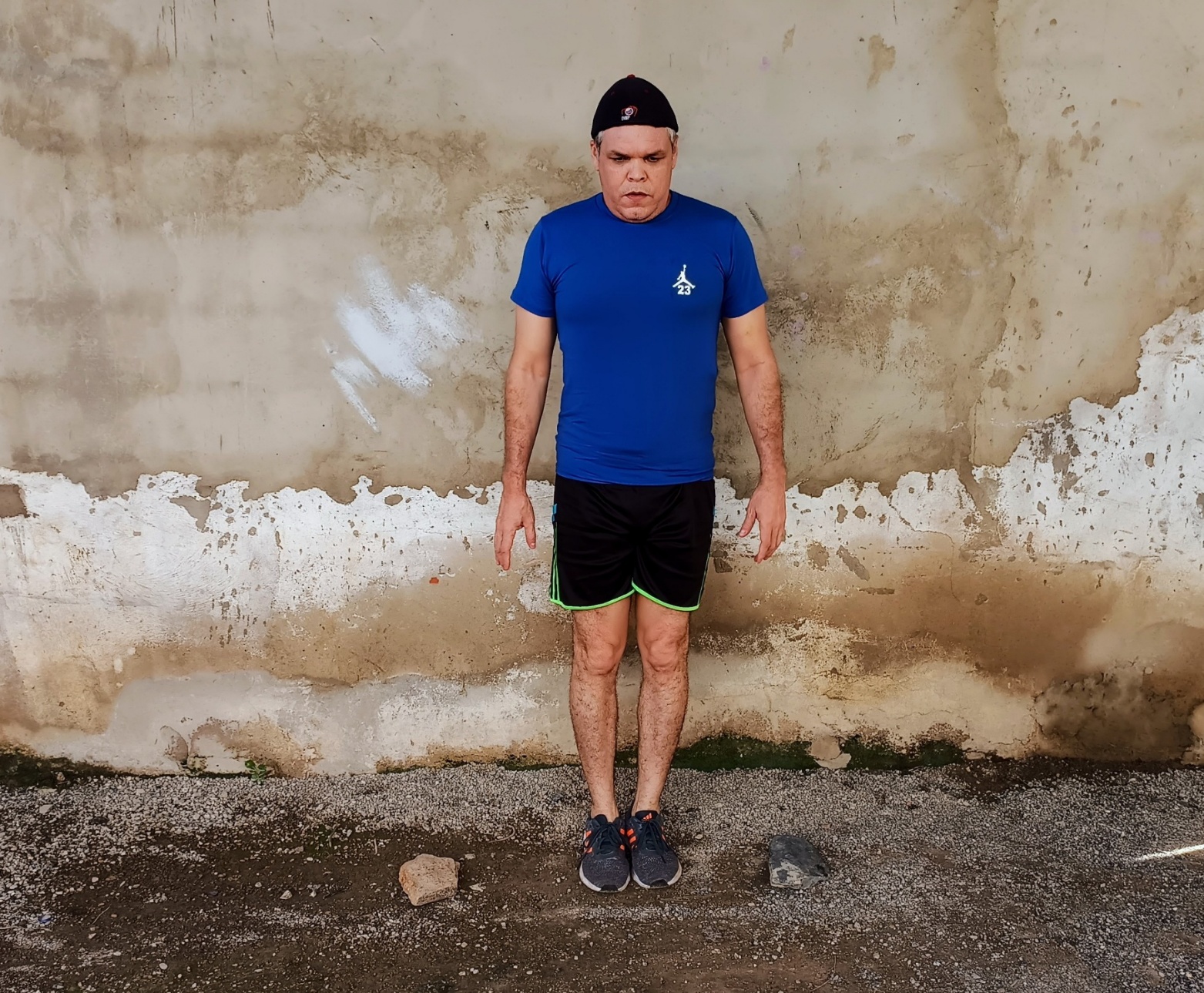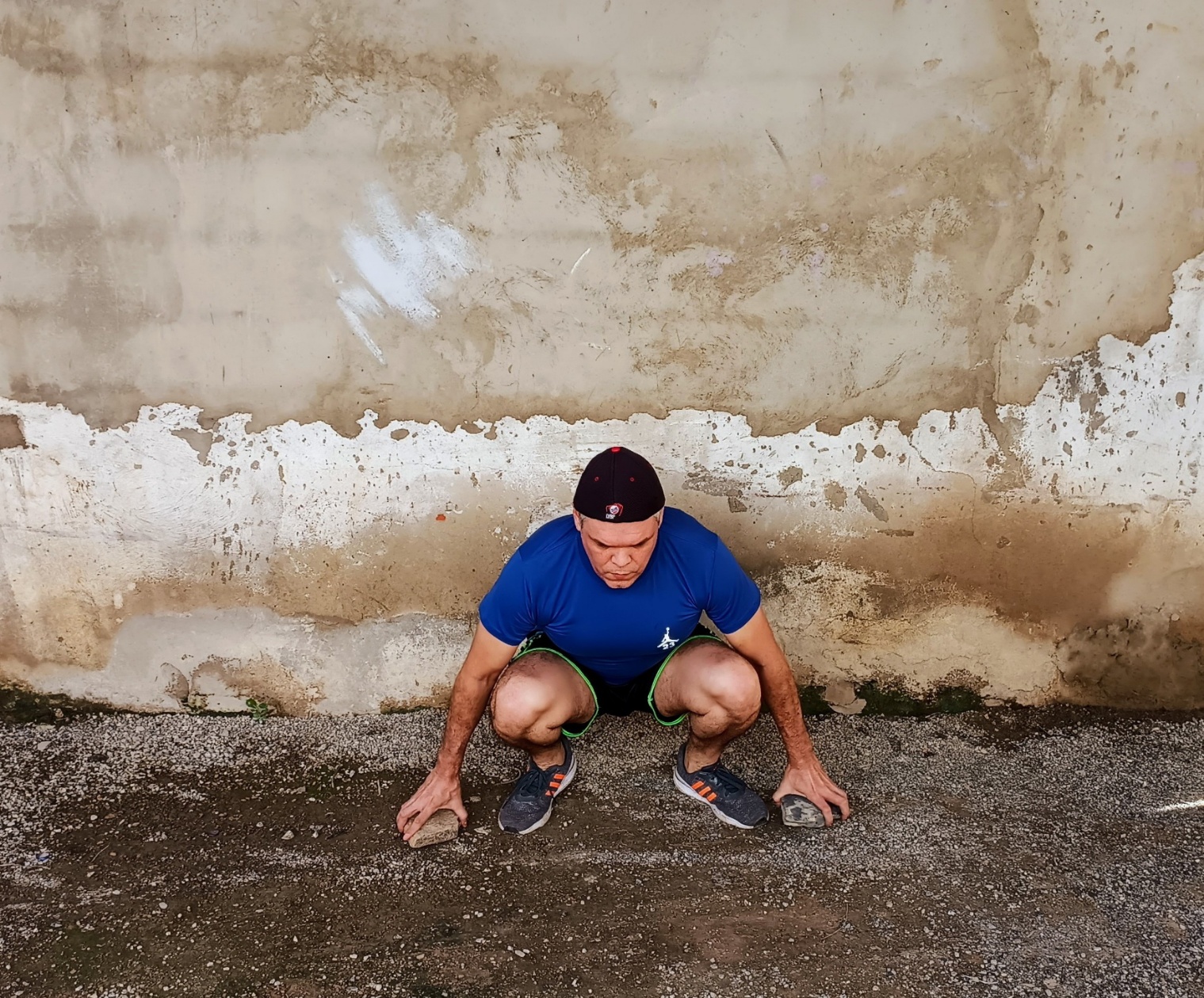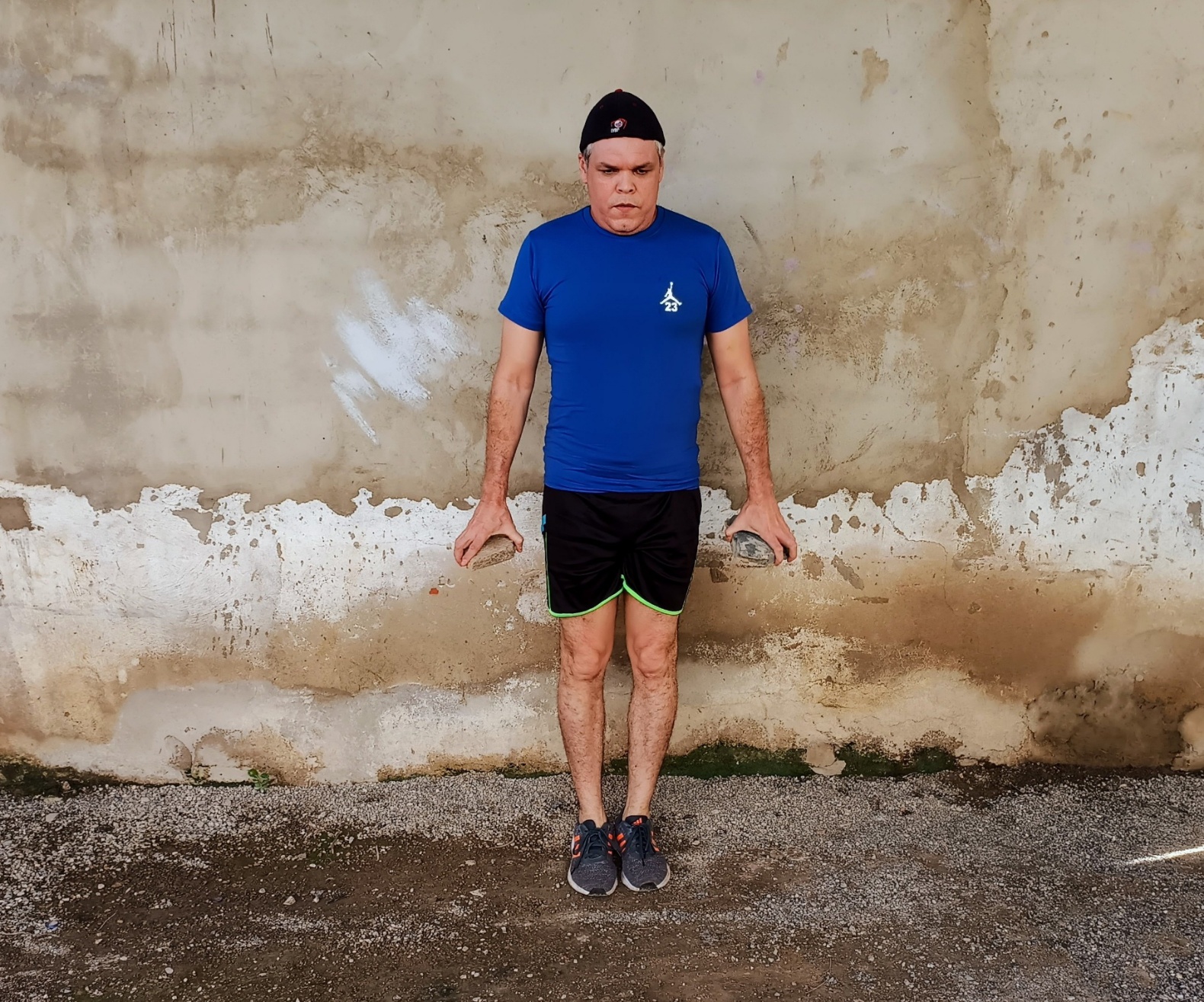 Caminata del pato con giro en salto
Este ejercicio implica caminar en cuclillas, utilizando los músculos de las caderas, glúteos, muslos y la parte inferior de las piernas como sistema estabilizador. Puro poder, vamos.
Aquí nos ubicamos en cuclillas o sentadilla profunda, separando las piernas más allá del ancho de la cadera. Brazos arriba con codos flexionados.
Activada la posición, ejecutamos cuatro pasos en avance, al terminar damos un giro con salto de 180° para iniciar la marcha nuevamente por cuatro pasos más.
Continuamos con el ejercicio hasta cumplir 20 repeticiones totales, es decir, cuenten la ida como una repetición y la vuelta como la segunda repetición. Todo el ciclo en 4 series. Sabemos que este ejercicio es súper candente.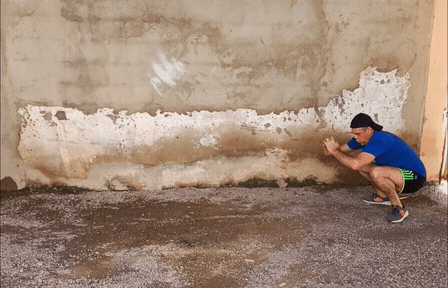 Duck walk with jumping twist

This exercise involves walking squat, using the muscles of the hips, glutes, thighs and lower legs as a stabilizing system. Pure power, come on.
Here we squat, or deep squat, with legs apart beyond hip-width apart. Arms up with elbows bent.
Once the position is activated, we execute four steps forward, at the end we make a turn with a 180° jump to start the march again for four more steps.
We continue with the exercise until we complete 20 total repetitions, that is to say, count the first repetition as one repetition and the return as the second repetition. The whole cycle in 4 sets. We know this exercise is super hot.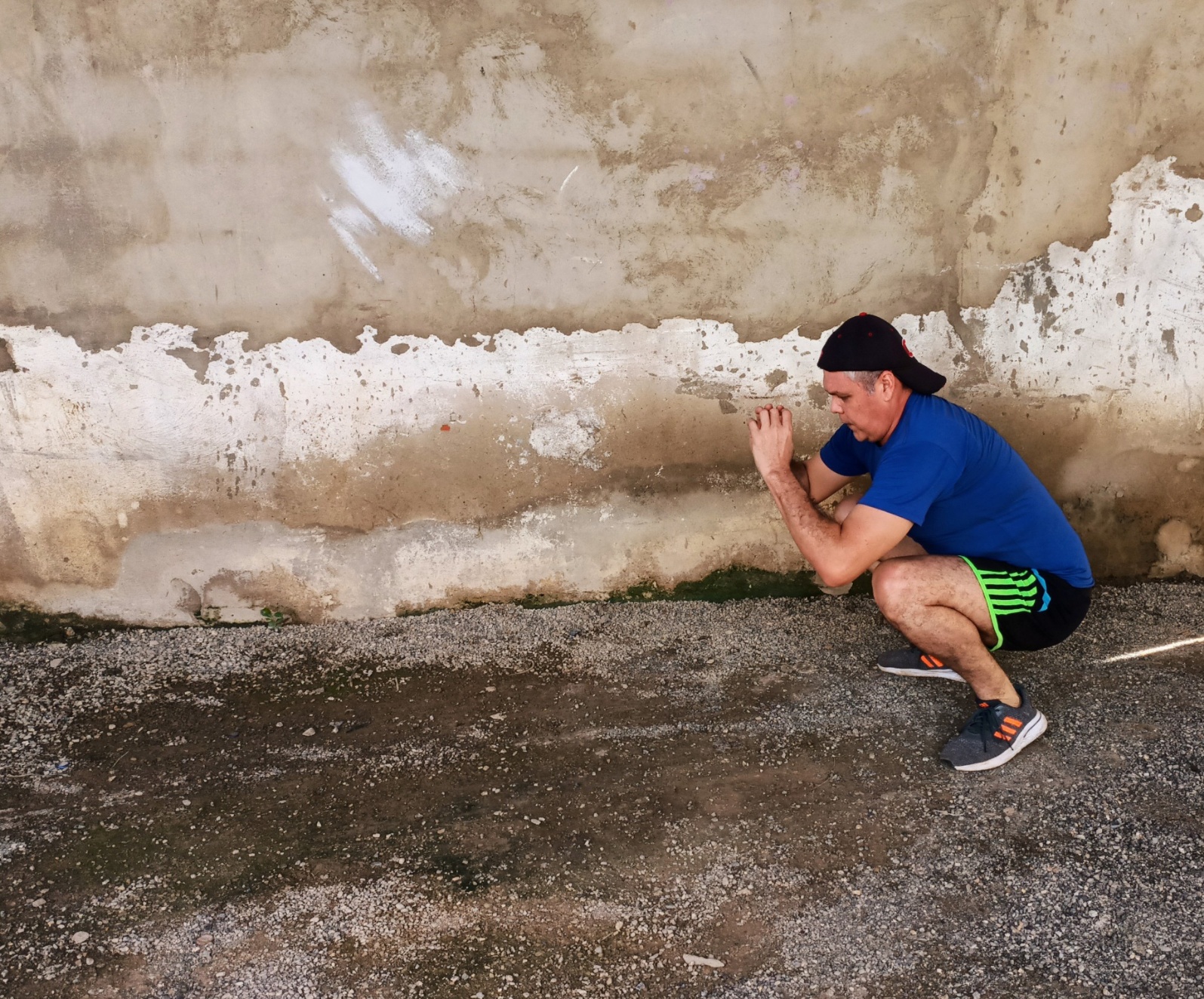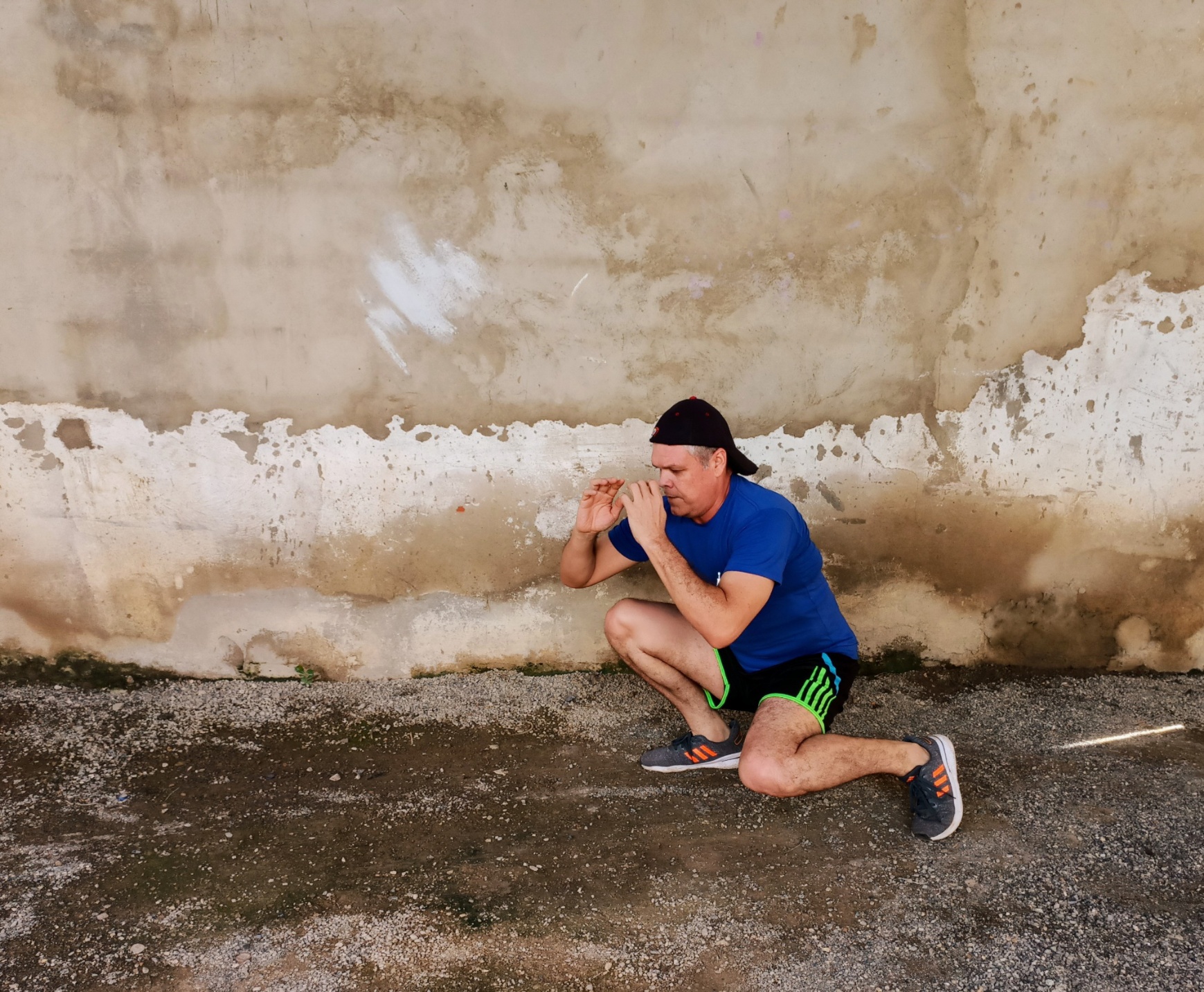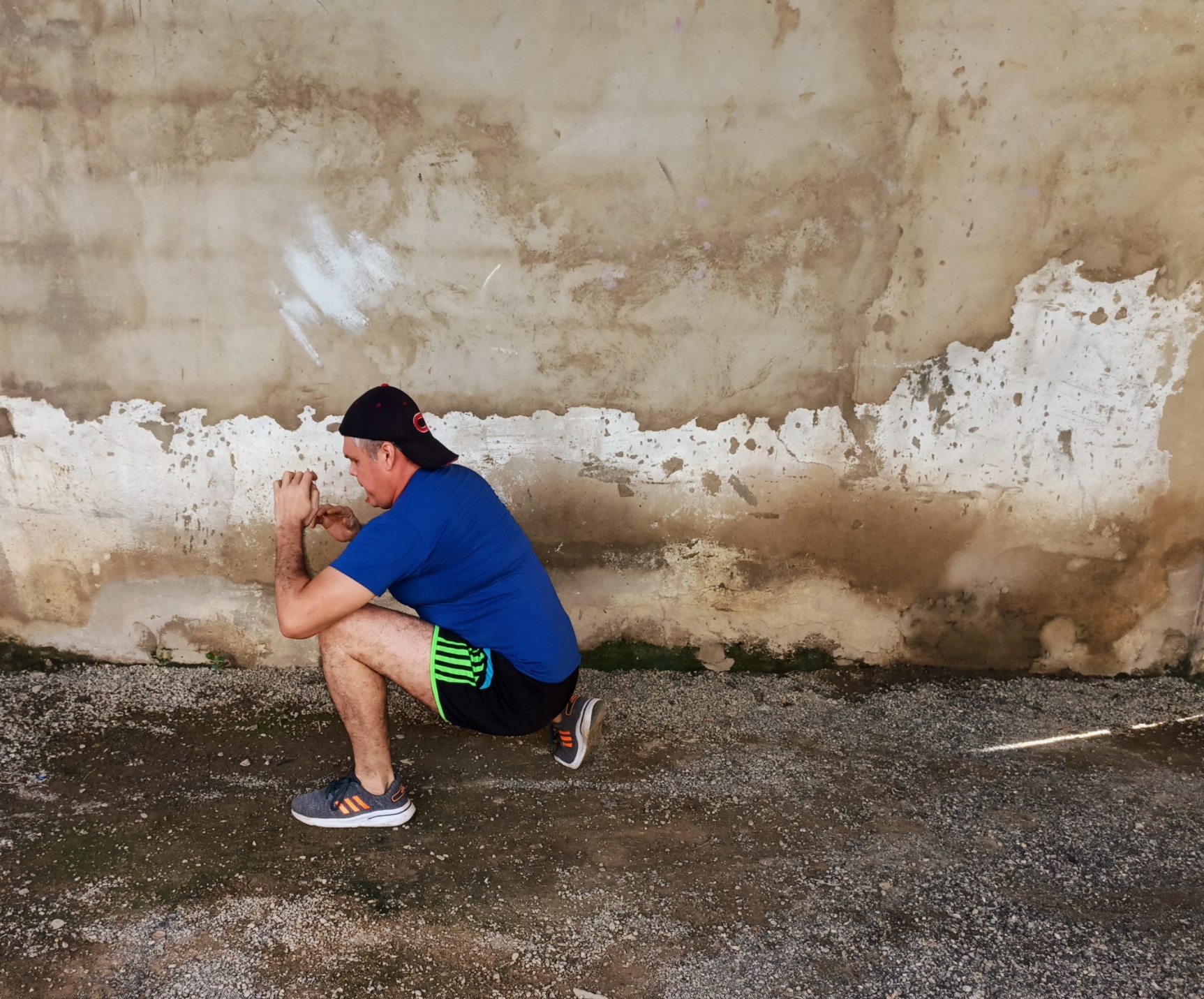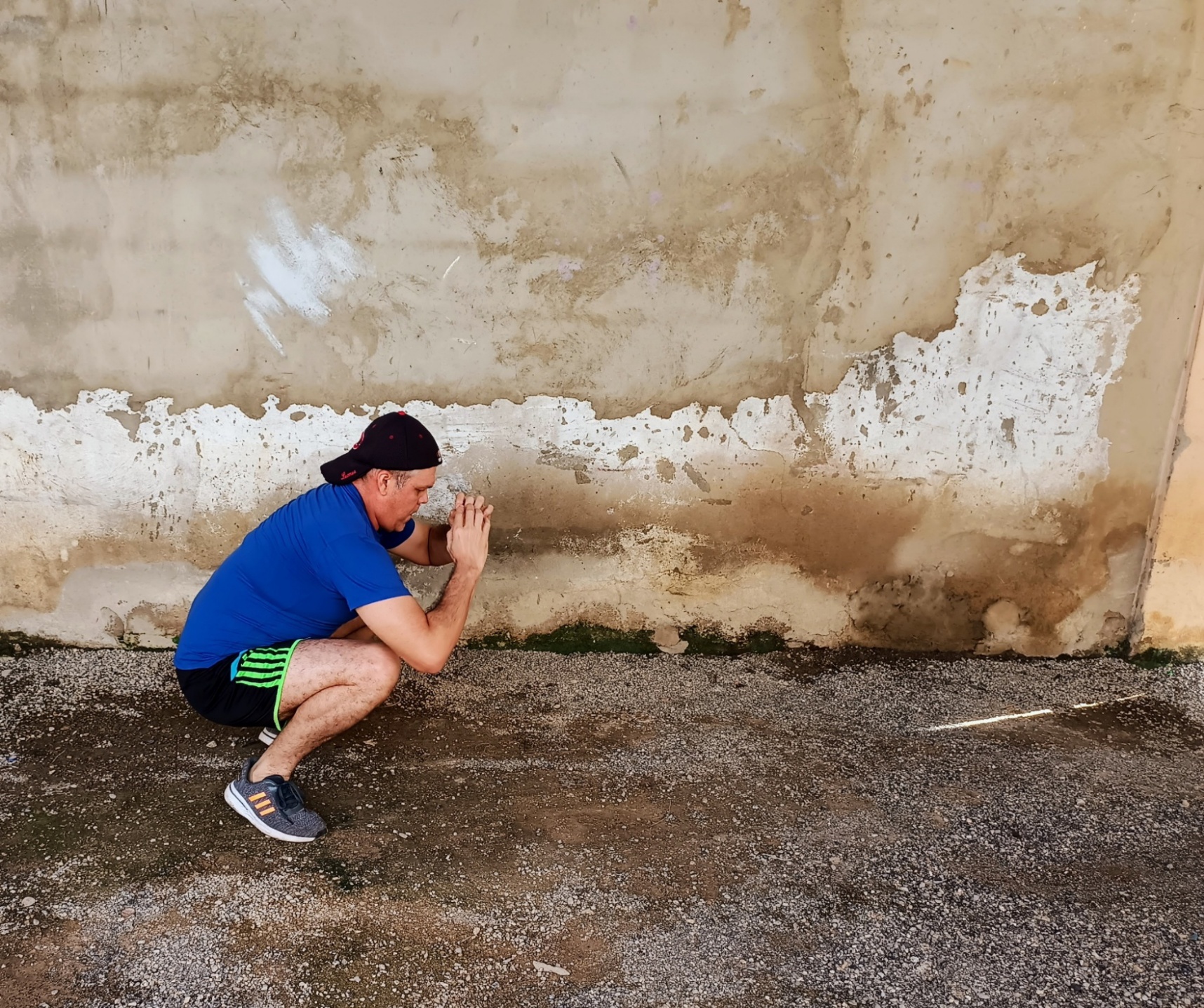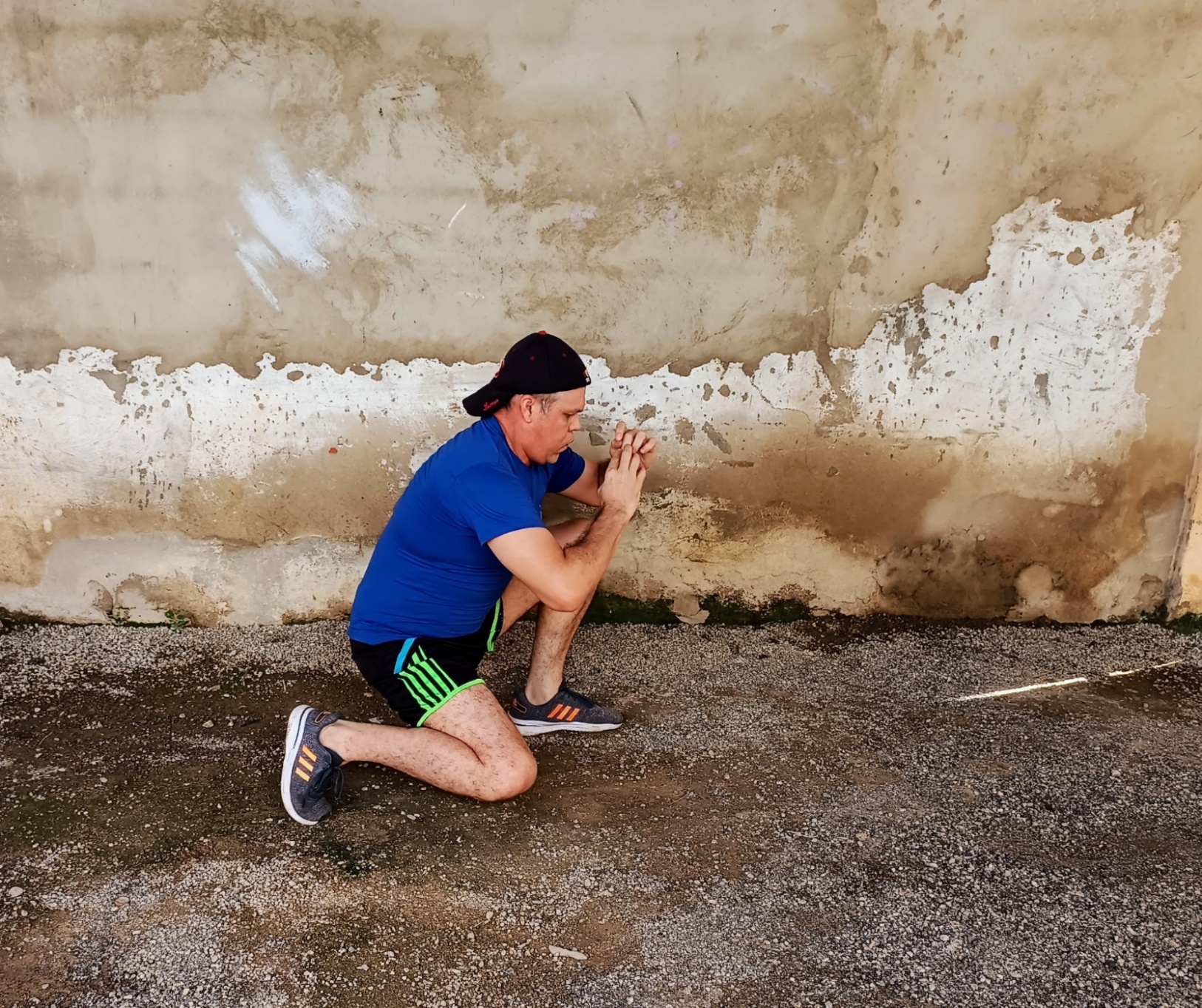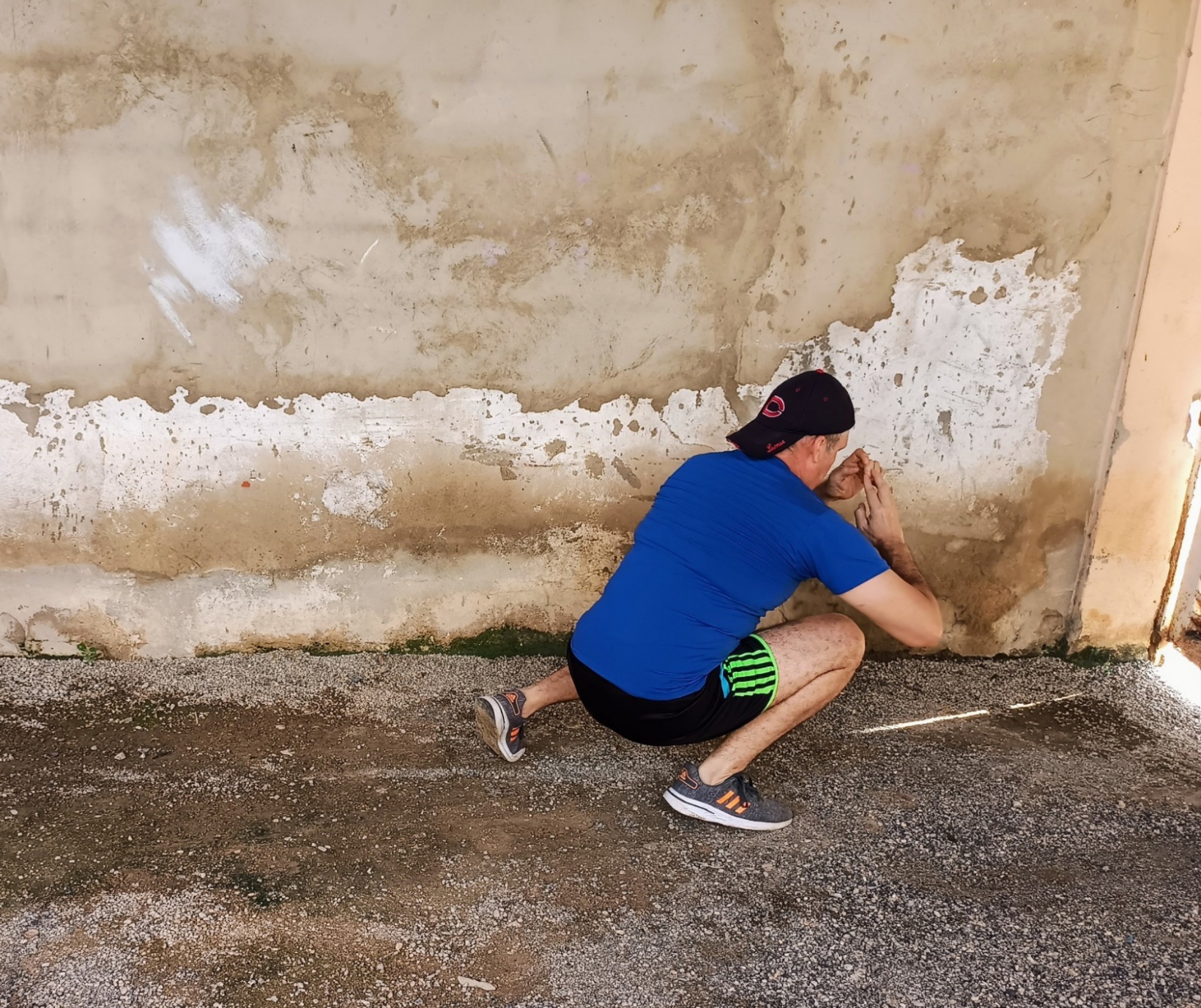 Sentadillas con aperturas diagonales en salto + torsión oblicua
Sin duda alguna un ejercicio para el desarrollo del tren inferior y los abdominales oblicuos. Los saltos le dan esa tensión adicional al movimiento.
Partimos en posición de pie con piernas juntas y brazos a los lados con codos flexionados.
Una vez ubicados en la posición correcta y siempre con los brazos en la misma posición. Damos un salto cayendo en sentadilla diagonal, nos quedamos en esa posición y de inmediato flexionamos el torso de lado a lado.
Viene otro salto para volver a la posición incial, para que en acto seguido saltemos al lado opuesto, caemos en otra en sentadilla diagonal, flexionando nuevamente el torso a ambos lado.
Acción continua en 20 repeticiones totales por 4 series. Cuerpo en llamas.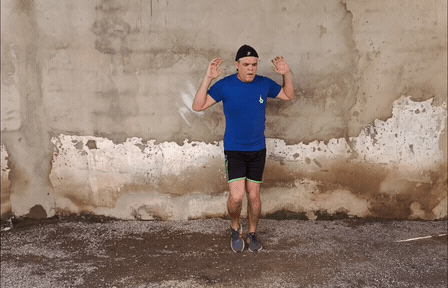 Squats with jumping diagonal openings + oblique twist

Definitely an exercise for lower body and oblique abdominal development. The jumps give that extra tension to the movement.
We start in a standing position with legs together and arms at our sides with elbows bent.
Once in the correct position and always with arms in the same position. We jump into a diagonal squat, stay in that position and immediately flex the torso from side to side.
Another jump comes to return to the initial position, and then we jump to the opposite side, we fall into another diagonal squat, bending the torso again on both sides.
Continuous action in 20 total repetitions for 4 series. Body on fire.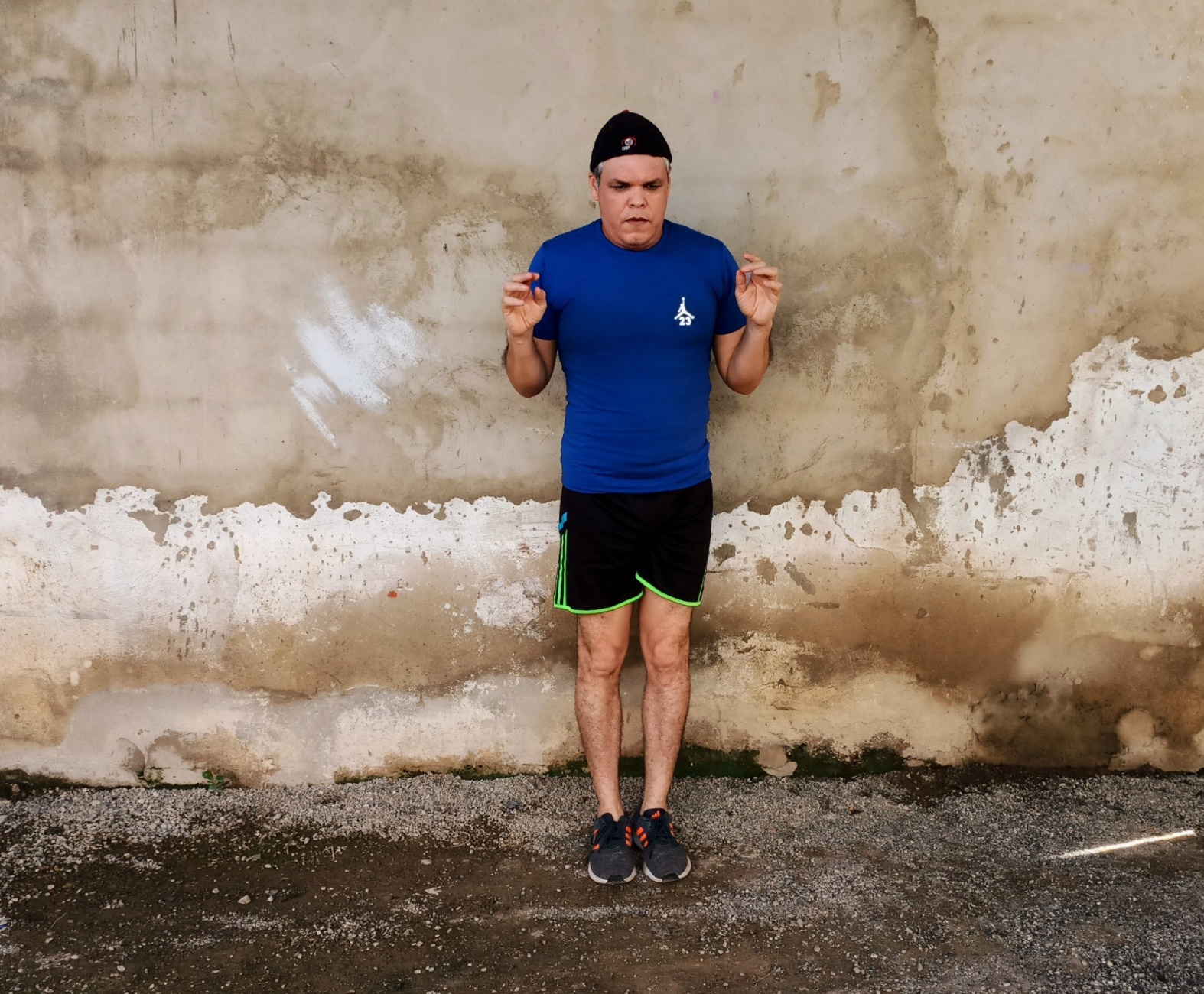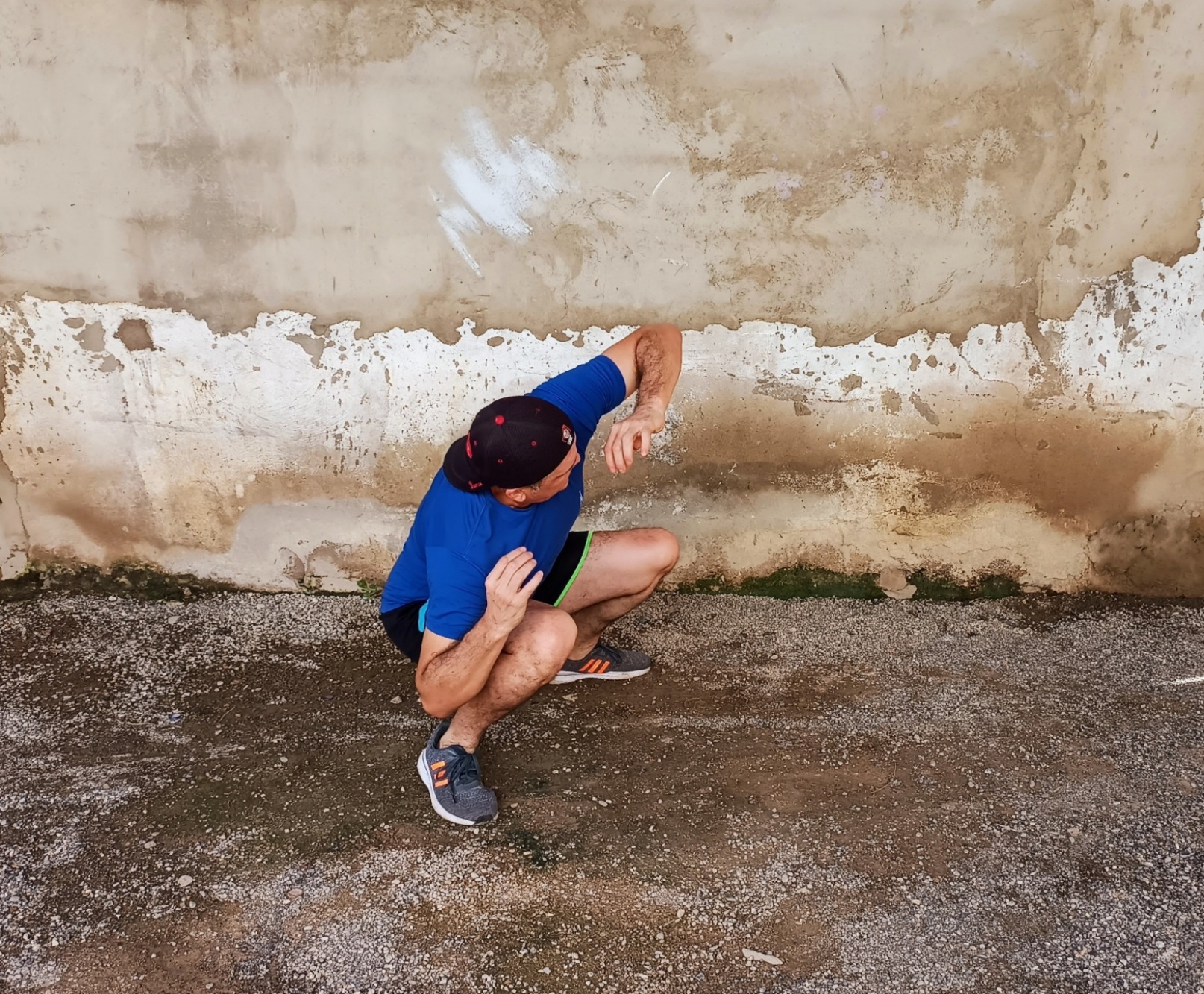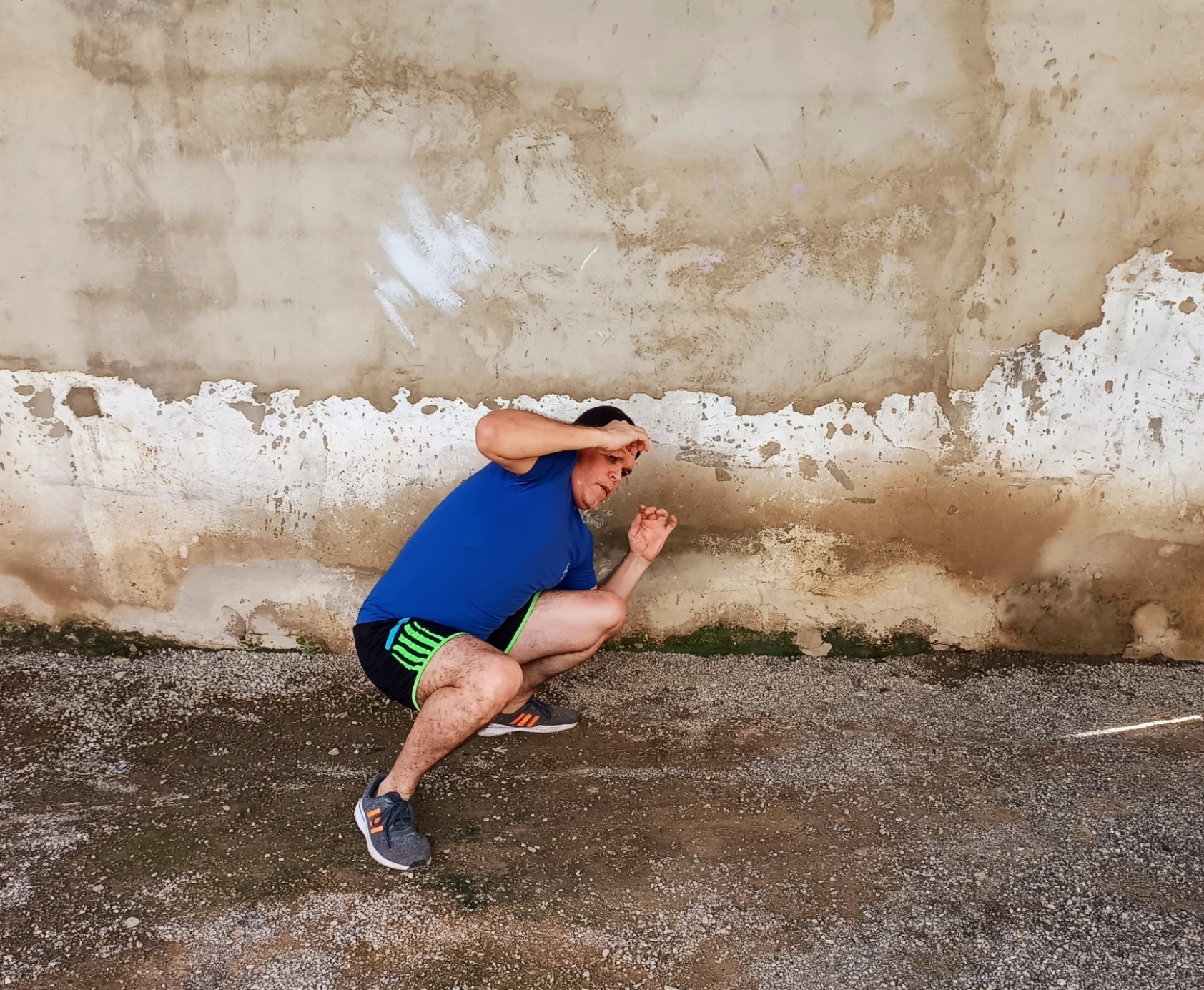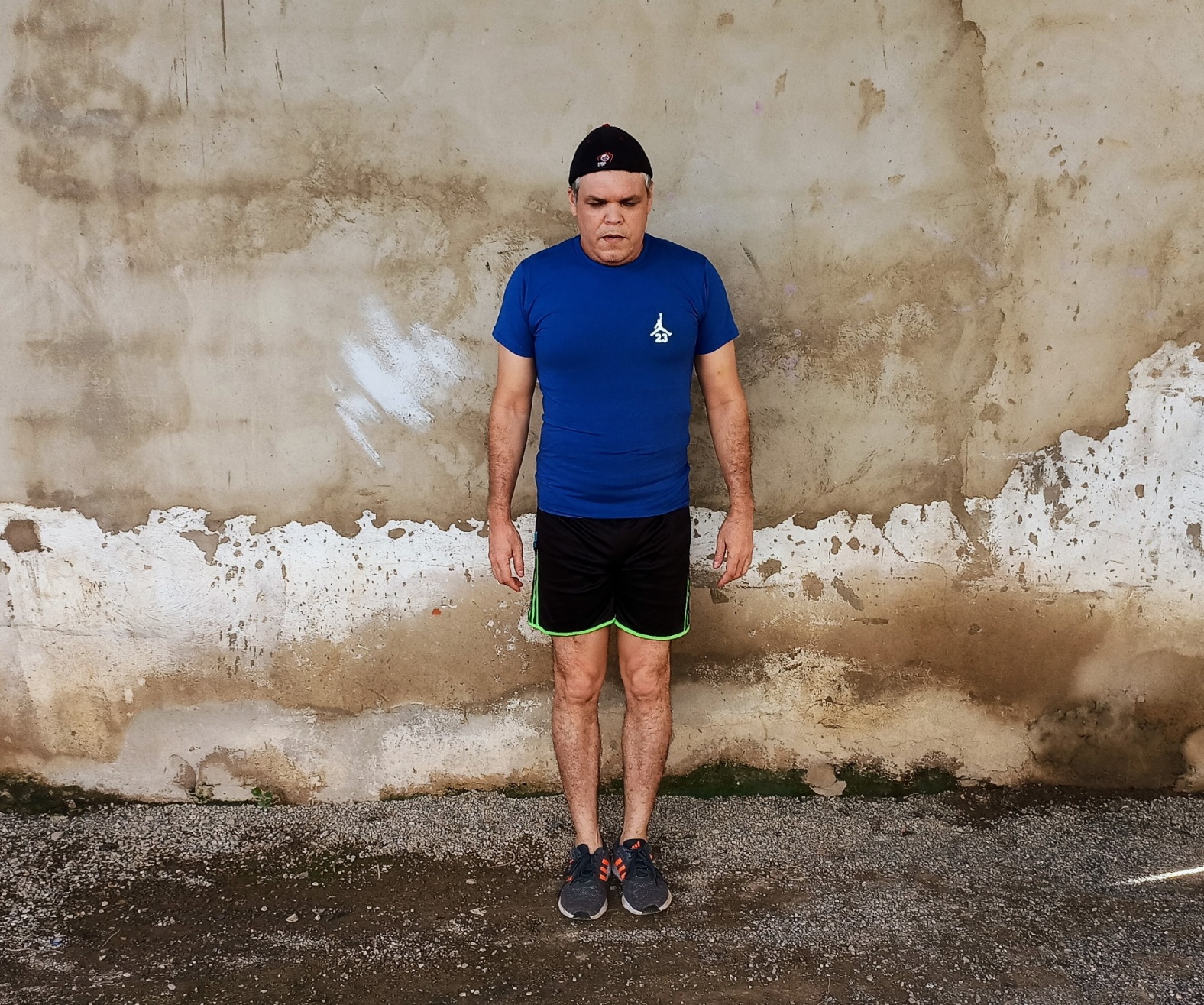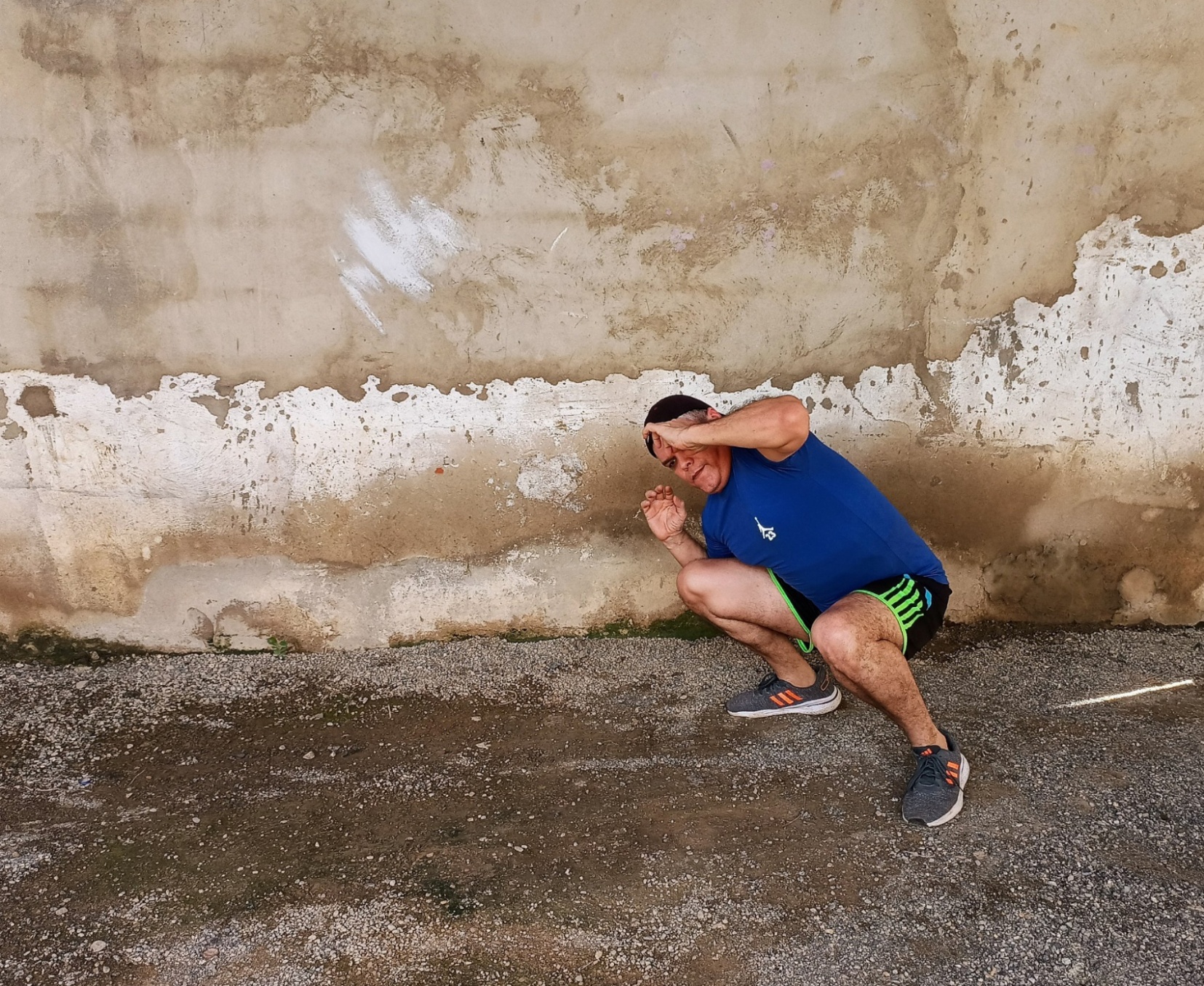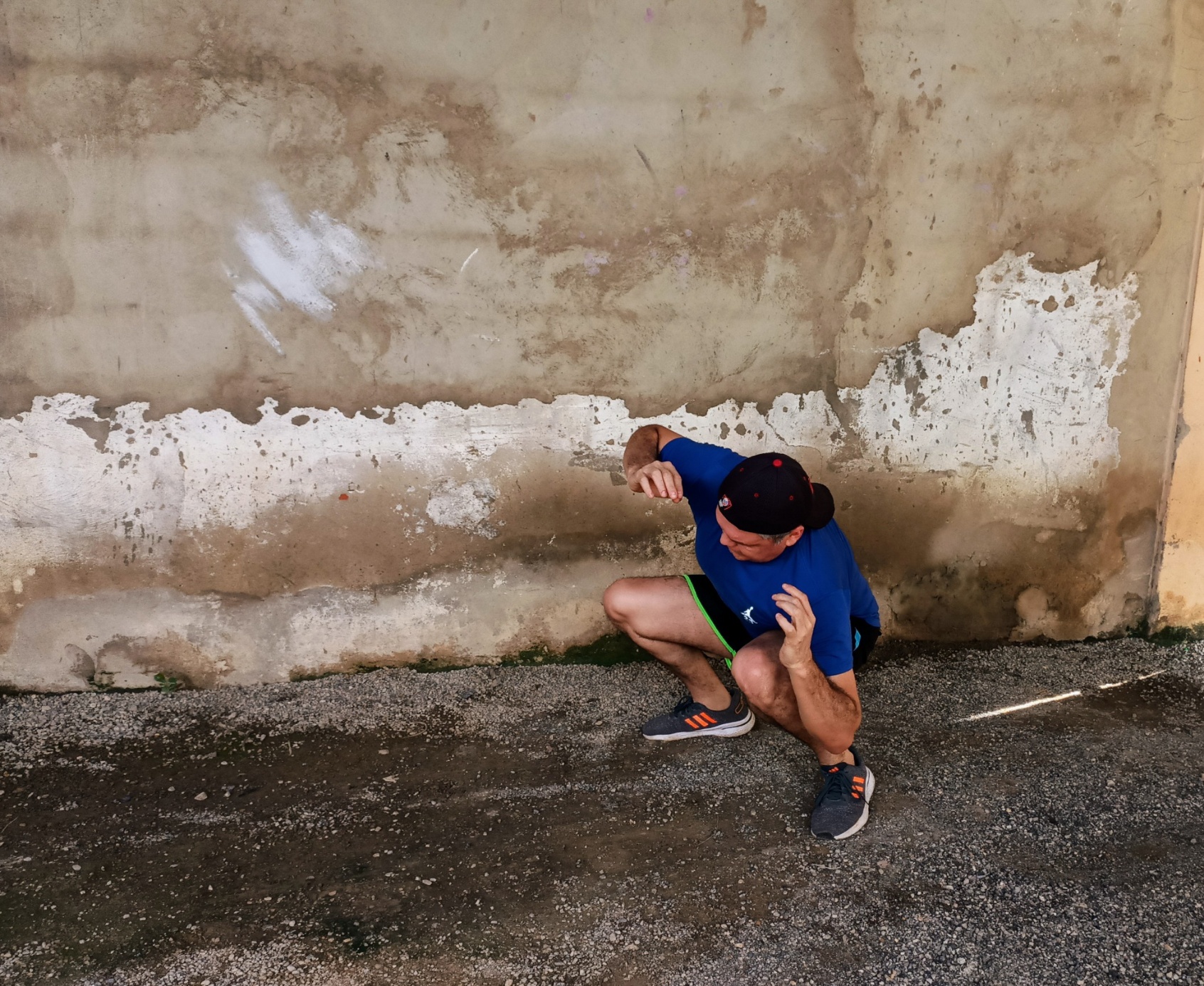 Relajación Corporal
Luego de estos poderosos movimientos, ha llegado el momento de la relajación corporal. Un espacio de paz para llevar al cuerpo a su estado incial.
Body Relaxation
After these powerful movements, the time has come for body relaxation. A peaceful space to bring the body to its initial state.

Rodillas al abdomen
Estando de pie, separamos un poco las piernas, flexionamos una rodilla llevando la pierna contra el abdomen, haciendo presión leve con ambas manos.
Volvemos a la posición inicial repitiendo el movimiento con la pierna opuesta.
Realizamos los movimientos por 3 minutos.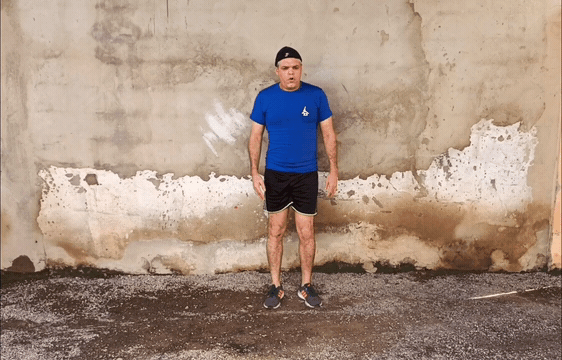 Knees to abdomen
Standing up, we separate our legs a little, bend one knee, bringing the leg against the abdomen, making slight pressure with both hands.
Return to the initial position, repeating the movement with the opposite leg.
Perform the movements for 3 minutes.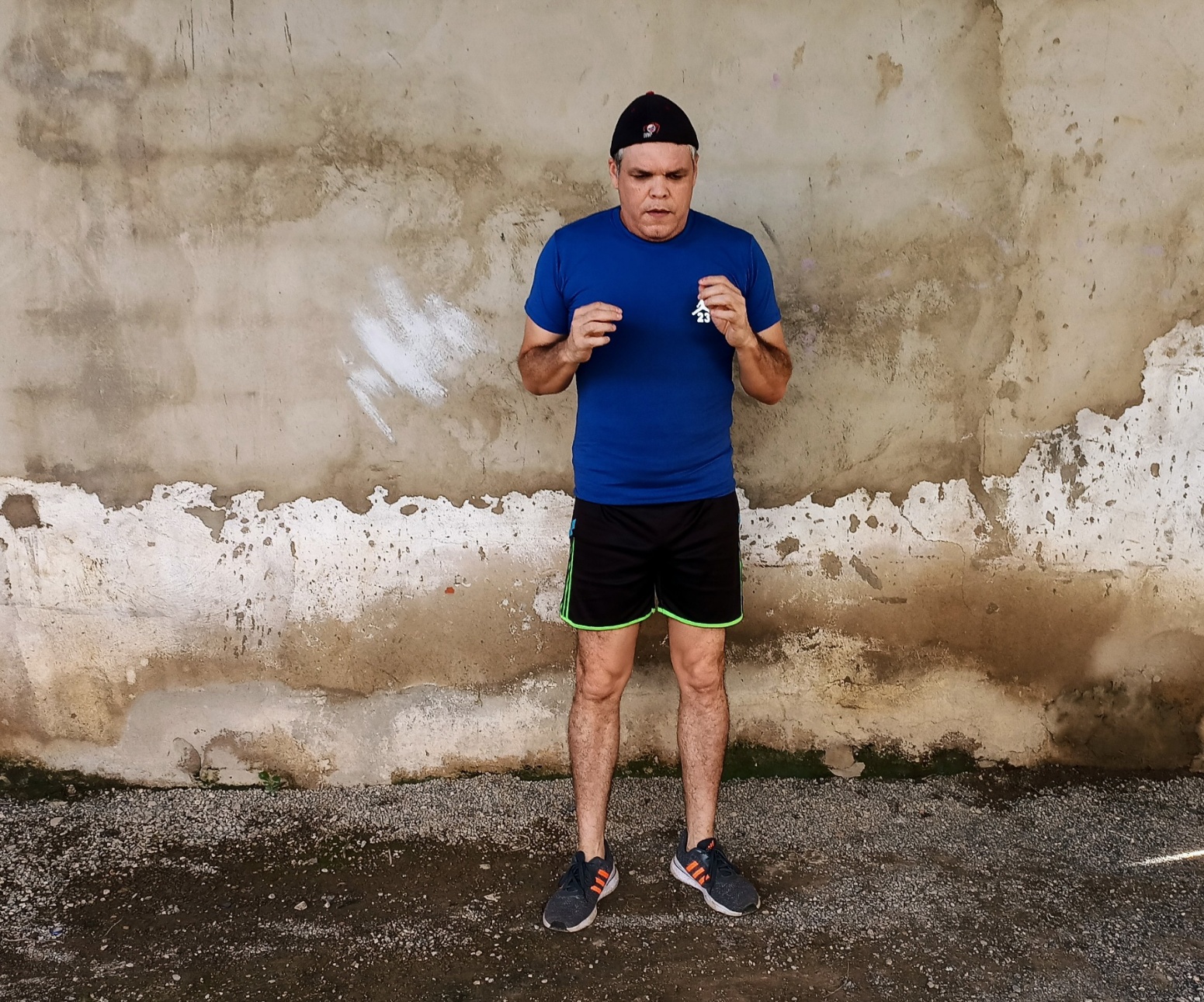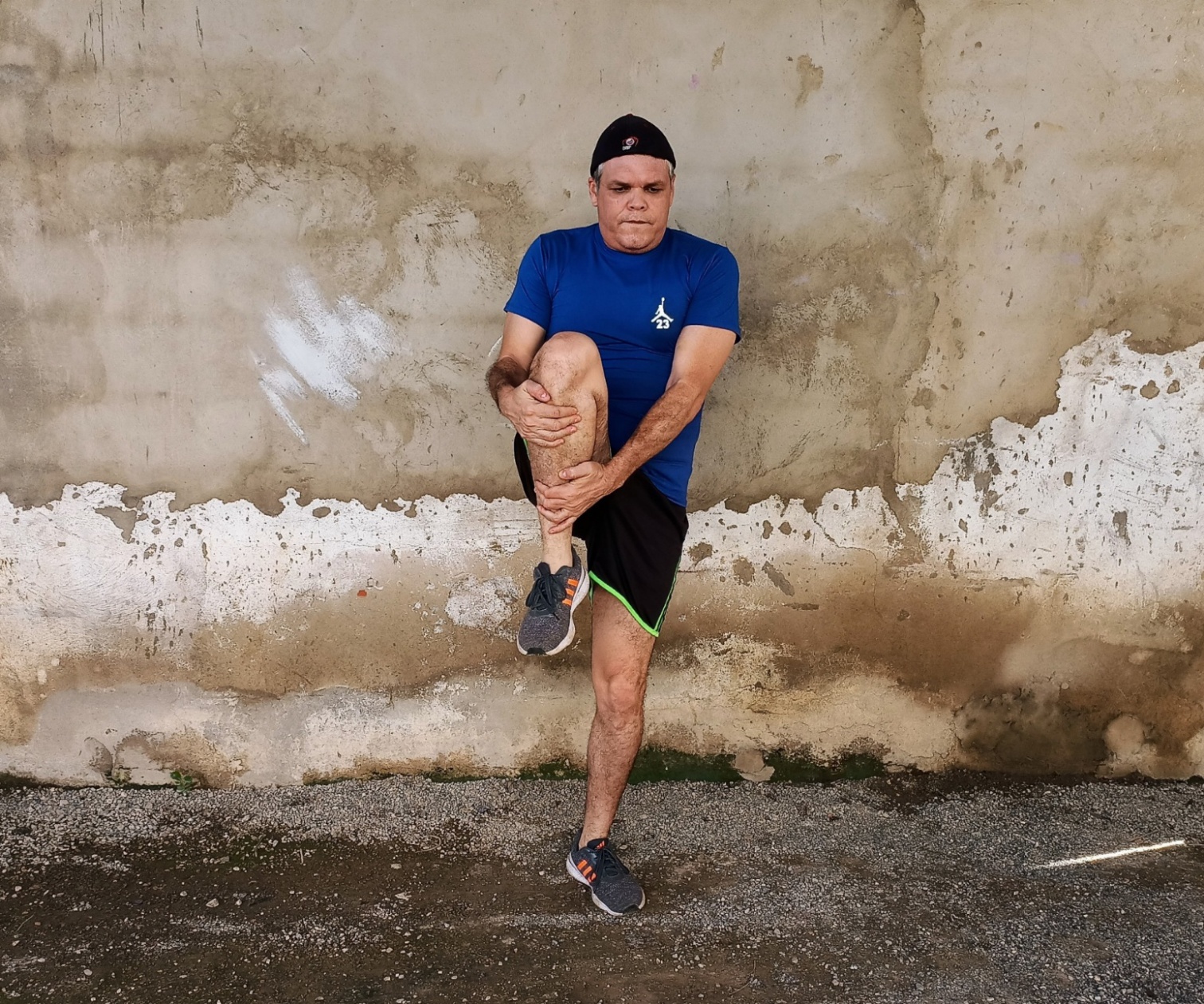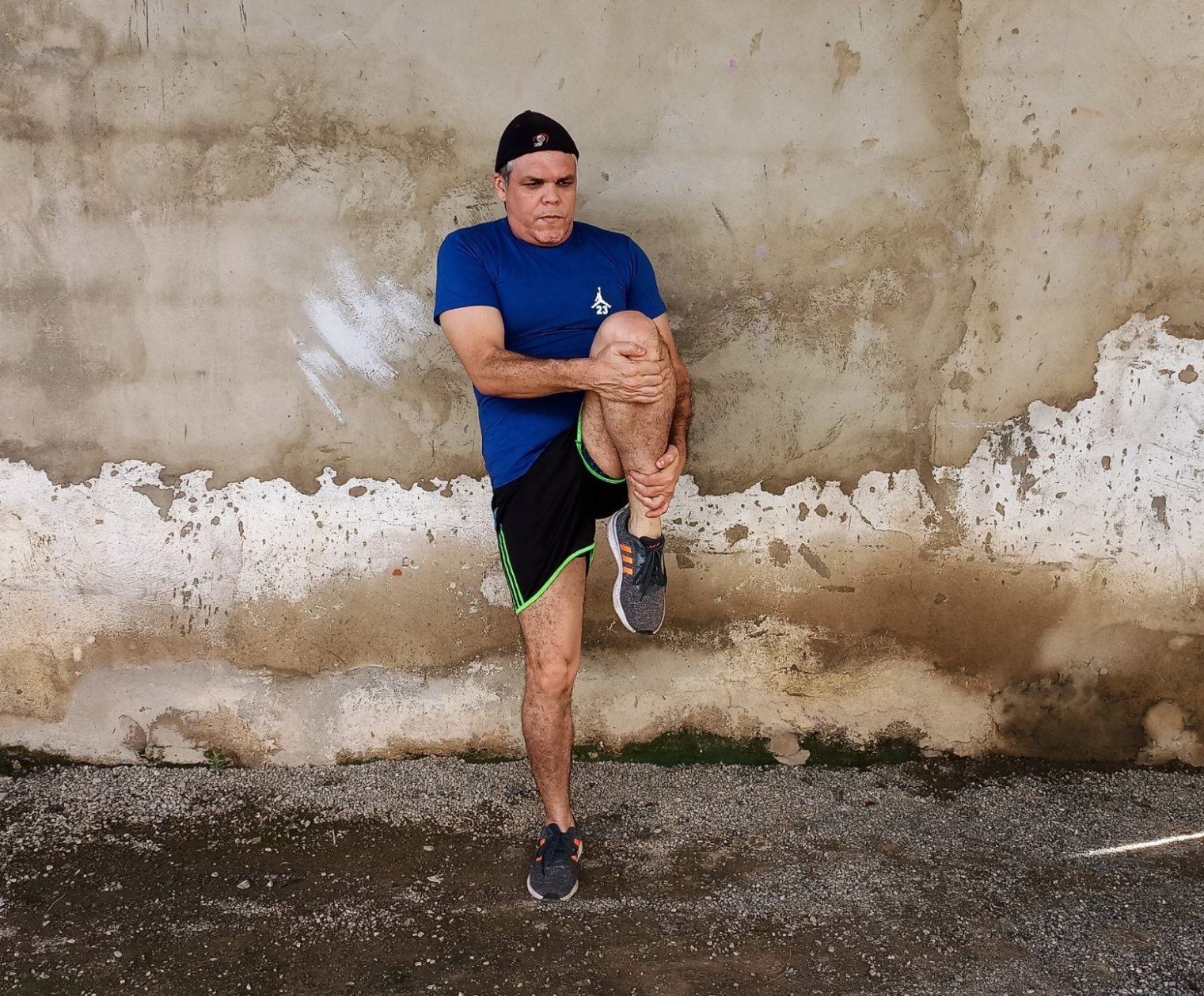 Amigos míos, hemos quedado con el tren inferior extenuado pero con beneficios corporales sensacionales. Nuestro sistema muscular, articular, esquelético y circulatorio han sido los grandes ganadores de la jornada de hoy. Estamos llenos de energía, salud y alejamos de nosotros el estrés de la tensión diaria. Nos vemos en otra sesión poderosa de ejercicios; saludos y abrazos a todos. Recuerden, aquí nadie se rinde.
My friends, we have been left with an exhausted lower body but with sensational body benefits. Our muscular, articular, skeletal and circulatory system have been the big winners of today's day. We are full of energy, health and we have taken the stress of daily tension away from us. See you in another powerful exercise session; greetings and hugs to all. Remember, no one gives up here.
...Gracias Por Visitar...
...Thanks for visiting...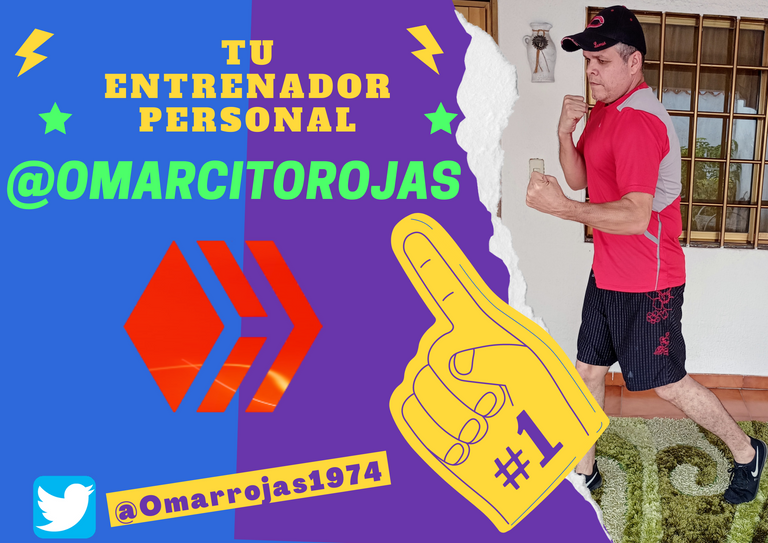 Imágenes y videos tomados por mi hijo Miguel Rojas
Images and videos taken by My Son Miguel Rojas
Sorry. English is not our native language. Therefore, a web translator is used for texts in English. (Spanishdict)
---
---