Acondicionemos con un full body. / 💪🔥Let's condition with a full body.
---
Feliz día querida comunidad de full deportes, les quiero compartir un excelente full body, en el cual me enfoque mucho en trabajar el tren superior realice varios movimientos efectivos para quemar grasa y tonificar el cuerpo completo; esta rutina la realice en 4 series de 20 repetición en cada movimientos; primero como es de costumbre acondicione mi cuerpo con un escalador lateral, buscando acondicionar para evitar lesiones, luego comencé mi rutina en el cual invito para que puedan apreciar sin extenderme más acompañeme.
Happy day dear community of full sports, I want to share an excellent full body, in which I focus a lot on working the upper body perform several effective movements to burn fat and tone the entire body; this routine was performed in 4 sets of 20 repetitions in each movement; first as usual condition my body with a lateral climber, looking to condition to avoid injury, then I started my routine in which I invite you to appreciate without extending more accompany me.
---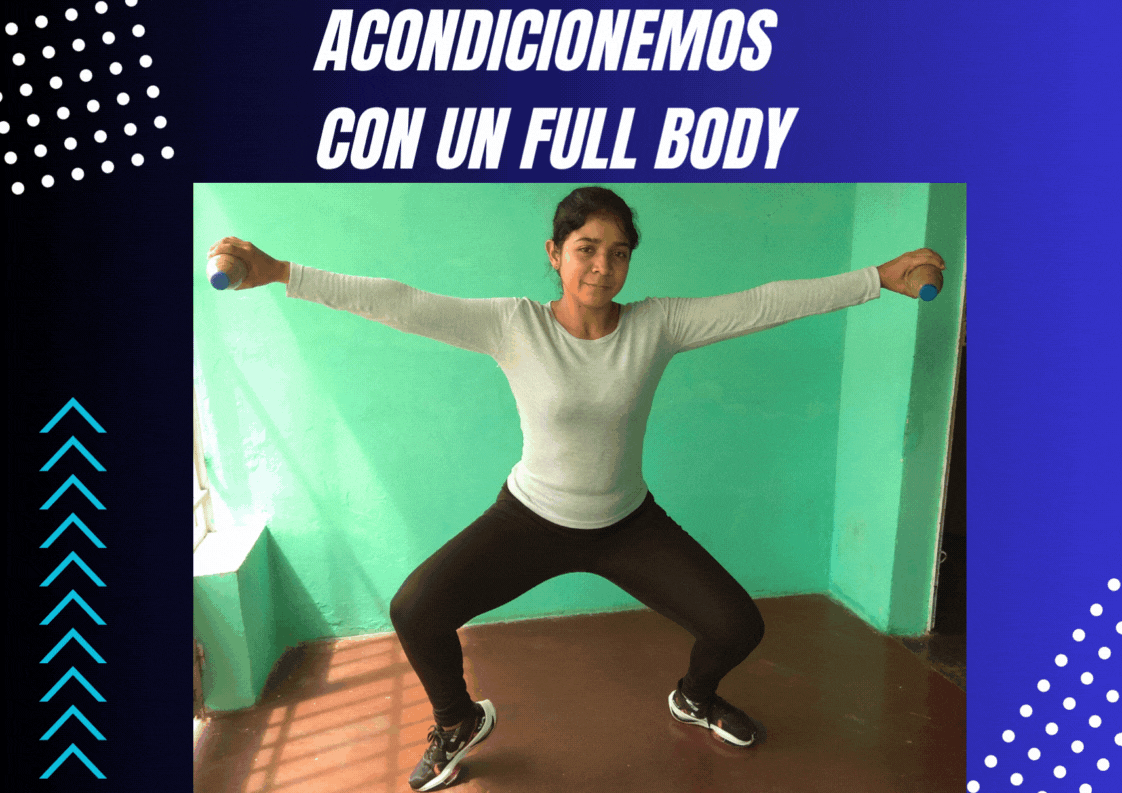 ---

---
Calentamiento./Heating.
---
Escalador lateral./Side climber.
---
En el siguiente calentamiento, realice escalador lateral ejercicio que me ayuda acondicionar todo mi cuerpo, y tiene mucho enfoque en al parte abdominal, lo realice en 3 series de 45 segundos.
In the next warm up, I did a lateral scalder exercise that helps me condition my whole body, and has a lot of focus on the abdominal part, I did it in 3 sets of 45 seconds.
---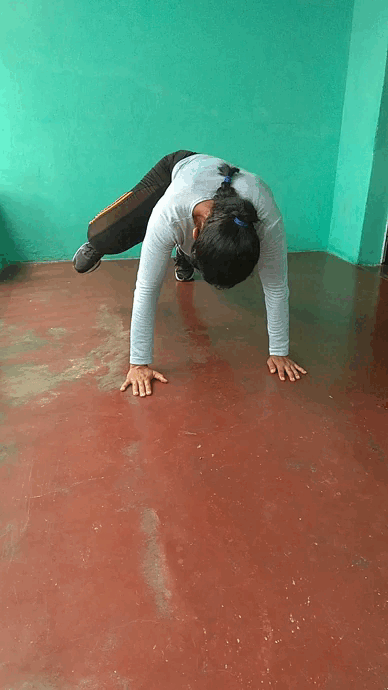 ---
Rutina./ Routine.
---
Sentadilla profunda + apertura. /Deep squat + opening
---
Primer ejercicio, realice sentadilla combinado con apertura, buenísimo para acondicionar y reafirmar tanto el tren superior como el inferior, lo realice en 4 series de 20 repetición.
First exercise, perform squat combined with opening, great for conditioning and reaffirming both the upper and lower body, performed in 4 sets of 20 repetitions.
---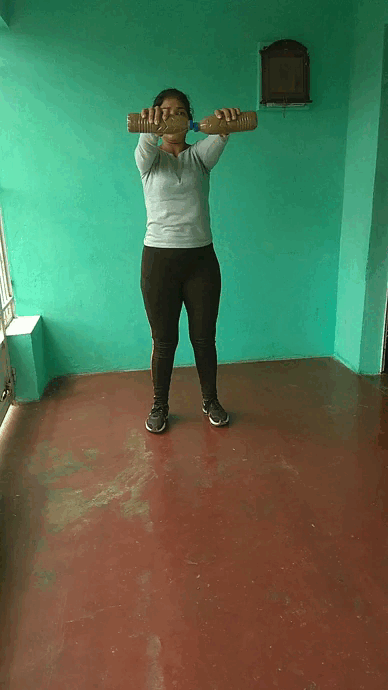 ---
Zancada + curl biceps. /Lunge + biceps curl.
---
Segundo ejercicio; realice zancada más curl biceps con apoyo de pesitas improvisadas, para realizar mi movimiento en el cual lleve un poco el torso hacia adelante para presionar mis glúteos y tener más efectividad, lo realice en 4 series de 20 repetición.
Second exercise; perform stride plus biceps curl with the support of improvised weights, to perform my movement in which I carry my torso forward a little to press my glutes and be more effective, I did it in 4 sets of 20 repetitions.
---
---
Aductores + elevación de pierna lateral./Adductors + lateral leg raise.
---
Tercer ejercicio, realice aductores más elevación de pierna lateral, movimiento que me ayuda a tonificar los oblicuos, y aductores, lo realice en 4 series de 20 repetición.
Third exercise, perform adductors plus lateral leg raise, a movement that helps me to tone my obliques and adductors, performed in 4 sets of 20 repetitions.
---
---
Apertura + sumo y elevación de pies./Opening + sumo and foot lift.
---
Cuarto ejercicio; realice 3 movimientos en 1 buenismo para tonificar el cuerpo sobre todo la parte expectorar, pantorrillas, lo realice en 4 series de 20 repetición.
Fourth exercise; perform 3 movements in 1 good movement to tone the body especially the expectorar part, calves, perform it in 4 series of 20 repetitions.
---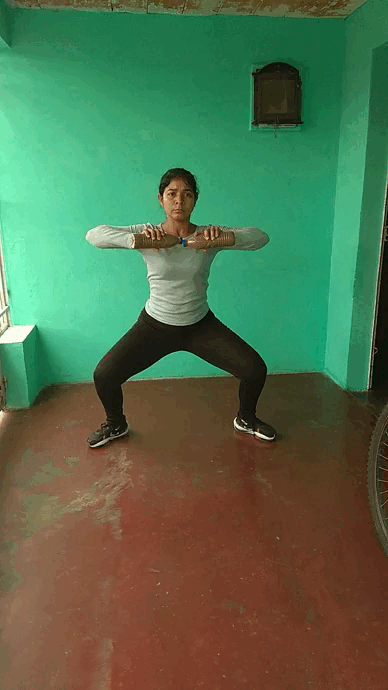 ---
Estocada + estiramiento de brazos hacia adelante con peso. /Lunge + forward arm stretch with weight.
---
Quinto ejercicio; seguimos trabajando los brazos con pesitas, en esta ocasión lo combine con estocada llevando mis brazos hacia adelante, de manera de estirar los brazos mientras realizo la estocada; lo realice en 4 series de 20 repetición.
Fifth exercise; we continue working the arms with weights, this time I combined it with a lunge by bringing my arms forward, in order to stretch my arms while performing the lunge; I did it in 4 sets of 20 repetitions.
---
---
Estocada + apertura. /Lunge + opening.
---
Sexto ejercicio; realice por último un movimiento parecido al anterior, se trata de estocada más apertura con peso, en el cual se enfoca mucho en los cuádriceps, glúteos, espalda, lo realice en 4 series de 20 repetición.
Sixth exercise; perform finally a movement similar to the previous one, it is a lunge plus opening with weight, which focuses a lot on the quadriceps, glutes, back, perform it in 4 sets of 20 repetitions.
---
---

Me despido compartiendo esta excelente rutina, buenismo para trabajar todo el cuerpo en especial; el tren superior busque combinar todos los movimientos con actividad en mis brazos con apoyo de pesitas, ideal para tonificar gran parte de mis bíceps, espalda, pecho y por supuesto en tren inferior sobre todo cuádriceps y glúteos, estos movimientos lo realice en 4 series de 20 repetición cada ejercicio; comenzando con un breve calentamiento no está de más recordar combinar cada rutina de ejercicios con una dieta balanceada, sin decir más nos vemos en otra oportunidad.
I say goodbye sharing this excellent routine, good to work the whole body especially; the upper body look to combine all the movements with activity in my arms with support of weights, ideal for toning much of my biceps, back, chest and of course in lower body especially quadriceps and glutes, these movements I performed in 4 sets of 20 repetitions each exercise; starting with a brief warm up is not too much to remember to combine each exercise routine with a balanced diet, without saying more see you another time.
---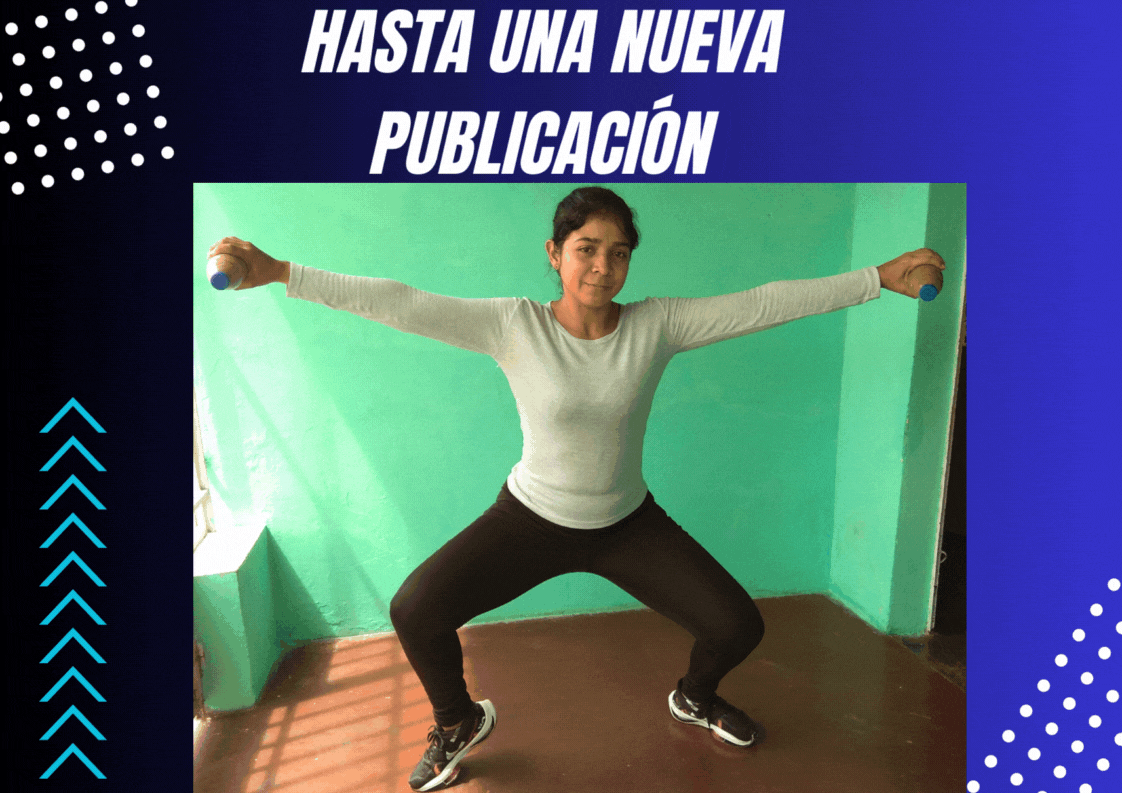 Video realizado desde teléfono Alcatel idol. / Video made from Alcatel idol phone.
Videos convertidos en gifs enlace
Separadores y ediciones hechas en Canva. / Separators and editions made in Canva.
---

---
---