Cuerpo y Mancuernas... Siente el Poder [Esp/Eng]
---
Cuerpo y Mancuernas... Siente el Poder. Estamos de vuelta, iniciando el 2023 con una nueva rutina para la comunidad donde está la gente de acero, donde se siente el poder de volar como Superman. Hoy nos vamos con una serie de movimientos combinados, donde le damos acción a todo el cuerpo. Es cierto que en cada ejercicio se activan músculos particulares, pero cuando vean el #video se darán cuenta que en segundo plano trabajan otros grupos musculares. Ustedes saben que en #hive está lo mejor en rutinas de ejercicios.
Para cada movimiento central vamos a utilizar un material construido de forma casera, hemos elaborado un par de mancuernas con cemento y tubos de aguas blancas. Claro está, este material lo utilizo para esta rutina, pero si ustedes no tienen mancuernas pueden usar las famosas botellas plásticas llenas de agua, arena, o simplemente usen cualquier material que tenga un poco de peso. No se pierdan ningún detalle de esta rutina, que de verdad está muy buena y tonificadora. Vamos todos; y a los que aún están acostados, les mando toda mi energía. Activos.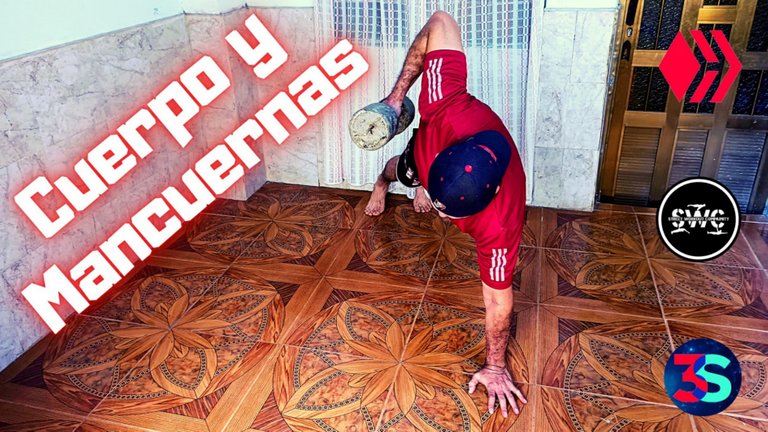 Imagen de mi Autoría Editada en/Image of my Authorship Edited in Canva
Video Editado en/Video Edited in CapCut
Gifs creados en la aplicación/Gifs created in the application HD Video To Gif Converter
Visita mi canal de/Visit my channel 3speak
Logos propiedad de/ logos owned by @hiveio, SWC, @threespeak
Body and Dumbbells... Feel the Power. We're back, kicking off 2023 with a new routine for the community where it's people of steel, where you feel the power to fly like Superman. Today we go with a series of combined movements, where we give action to the whole body. It's true that in each exercise particular muscles are activated, but when you watch the #video you'll notice that in the background other muscle groups are working. You know that in #hive is the best in exercise routines.
For each core movement we are going to use a homemade material, we have made a pair of dumbbells with cement and white water pipes. Of course, I use this material for this routine, but if you don't have dumbbells you can use the famous plastic bottles filled with water, sand, or simply use any material that has a little weight. Don't miss any detail of this routine, which is really good and toning. Come on everyone; and to those of you who are still lying down, I send you all my energy. Active.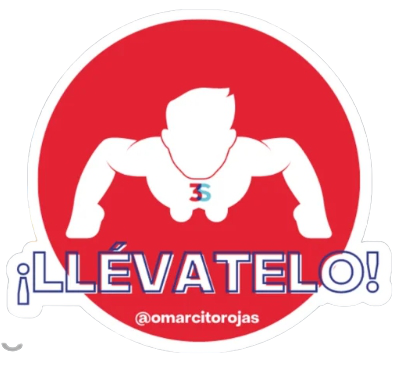 Nos vamos con los ejercicios de calentamiento, una etapa obligatoria que todo atleta, y los no muy atletas deben activar de forma obligatoria. Con esta etapa evitamos lesiones. Ahora, activos con el calentamiento 1, giro alterno de hombros. Nos vamos con el calentamiento 2, trote más golpes frontales. Por nada del mundo dejes de ejecutar esta fase.
Cada movimiento de calentamiento se ejecuta por 3 minutos. Es muy importante determinar que si el cuerpo aún no se encuentra activo para la acción fuerte, debes calentar un poco más. No olvides tomar descansos de 20 segundos entre ejercicios, y de 1 a 2 minutos entre series; la hidratación es sumamente importante para reponer los fluidos y las sales perdidas durante la acción.
We go with the warm-up exercises, a mandatory stage that every athlete, and not very athletes must activate in a mandatory way. With this stage we avoid injuries. Now, active with the warm-up 1, alternating shoulder rotation. We go with warm-up 2, trot plus front punches. Do not miss this phase at all.
Each warm-up movement is executed for 3 minutes. It is very important to determine that if the body is not yet active for the strong action, you should warm up a little more. Do not forget to take 20-second breaks between exercises, and 1 to 2 minutes between sets; hydration is extremely important to replenish fluids and salts lost during the action.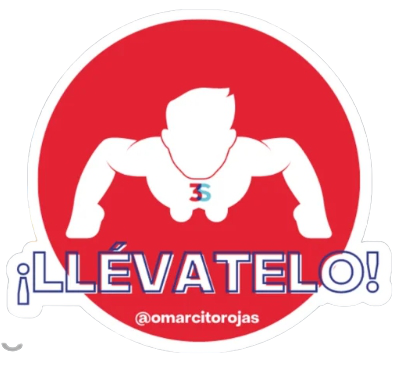 Una vez ejecutada la fase de calentamiento y que el cuerpo esté apto para la acción fuerte, nos vamos con los ejercicios centrales, nos vamos con el circuito constituido por tres estaciones. Vamos, activos
Estación 1, elevación frontal, más sentadillas, más rodillas al piso. Usamos ambas mancuernas. Un ejercicio potente para la activación de muñecas, antebrazos, hombros y trapecios. Además la acción inferior permite el desarrollo y tonificación de todos sus músculos. El abdomen también se ve implicado en todo momento, ya que lo tenemos contraídos. Nos vamos con 20 repeticiones en 4 series.
Estación 2, flexiones más remo. Aquí utilizamos una sola mancuerna, la cual debe desplazarse a los lados al momento de realizar las flexiones. En esta estación le damos acción a los músculos del tren superior, los dorsales y a los abdominales oblicuos. El tren inferior como soporte, se activa en segundo plano. Igualmente realizamos 20 repeticiones en 4 series.
Estación 3, Balanceo de torso. En el video indico balanceo de abdomen, sin embargo, el torso completo se balancea. aquí usamos las dos mancuernas. En este ejercicio se da énfasis a los músculos abdominales y los cuádriceps. Los glúteos se mantienen contraídos al igual que el abdomen, para mayor efectividad del movimiento. Las pantorrillas también se mantienen en tensión en cada balanceo. Lógicamente los músculos del tren superior, por el peso de las mancuernas se activan plenamente. Aquí también ejecutamos 20 repeticiones en 4 series. Acción integral.
Luego de realizar las acciones anteriores, llega el momento de la relajación con solo respiraciones. 3 minutos de acción. Gracias por preferir nuestro canal de @threespeak. Recuerda que debes tomar descansos de calidad, hidratarte y alimentarte sanamente. Hasta la próxima.
Once the warm-up phase has been completed and the body is ready for the strong action, we move on to the central exercises, the circuit consisting of three stations. Let's go, assets
Station 1, front raise, plus squats, plus knees to the floor. We use both dumbbells. A powerful exercise for wrist, forearm, shoulder and trapezius activation. Plus the lower action allows for development and toning of all your muscles. The abdomen is also involved at all times, as we have it contracted. We go with 20 repetitions in 4 sets.
Station 2, flexions plus rowing. Here we use a single dumbbell, which should move to the sides as we perform the push-ups. In this station we give action to the muscles of the upper body, the dorsals and the oblique abdominals. The lower body, as a support, is activated in the background. We also perform 20 repetitions in 4 sets.
Station 3, Torso Swing. In the video I indicate abdominal swing, however, the entire torso is swung. Here we use both dumbbells. In this exercise emphasis is given to the abdominal muscles and the quadriceps. The buttocks are kept contracted as well as the abdomen, for greater effectiveness of the movement. The calves are also kept under tension in each swing. Logically, the upper body muscles are fully activated by the weight of the dumbbells. Here we also perform 20 repetitions in 4 sets. Integral action.
After performing the previous actions, it is time for relaxation with breaths only. 3 minutes of action. Thank you for liking our @threespeak channel. Remember to take quality breaks, hydrate and eat healthy. See you next time.
...Gracias Por Visitar...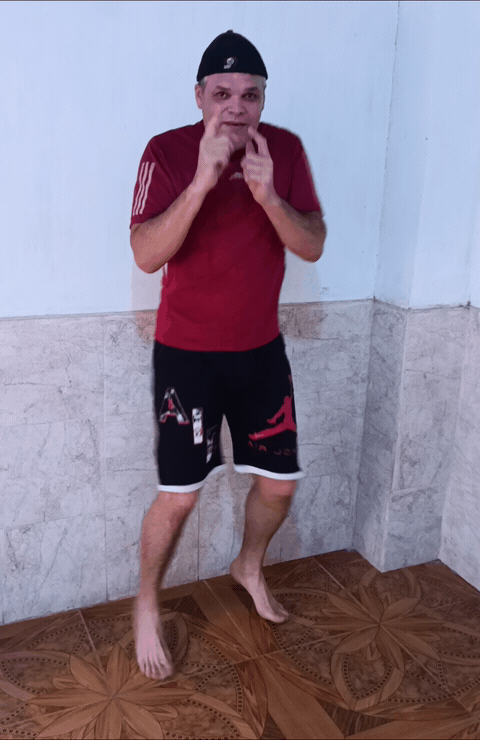 ...Thanks for visiting...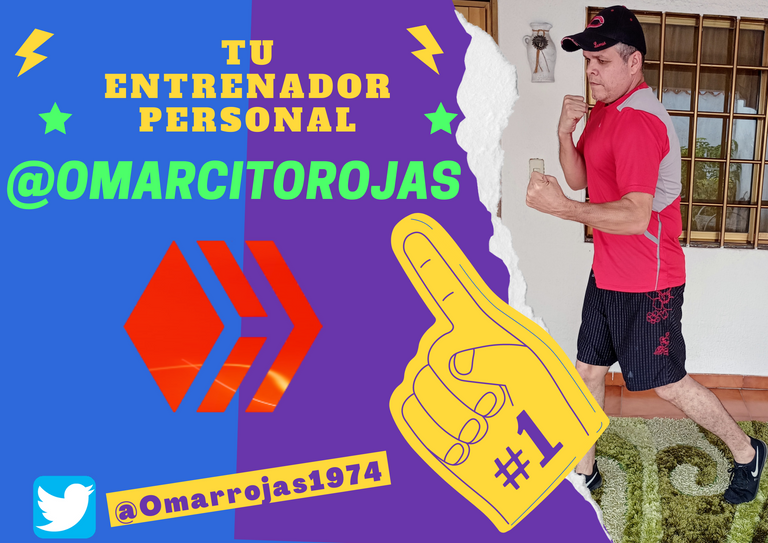 Video e imágenes tomados por Ronmel Núñez
Video and image taken by Ronmel Nuñez
Video Intro Pixabay Futurista. Autor Creative Worlds99
Pixabay Futuristic Video Intro. Author Creative Worlds99
Sorry. English is not our native language. Therefore, a web translator is used for texts in English. (Spanishdict)
---
▶️ 3Speak
---
---