En Elevación... Debes Vivir la Experiencia [Esp/Eng]
Hey hermanos míos, hoy es un día muy especial, potente y explosivo. Hoy ponemos el cuerpo en elevación, o mejor dicho lo despegamos del piso para activarlo nuevamente de forma completa. Cada movimiento nos pondrá a vibrar siempre con miras a la obtención de resultados increíbles, con una total ejecución de ejercicios dinámicos, variados y que nos alejan del aburrimiento. Lógicamente, estoy consciente de que los movimientos pueden ser complicados para muchas personas, por ello, cada quien debe realizarlos a su ritmo. En el caso de realizada la sentadilla no puedes saltar y despegarte del suelo, simplemente haces la sentadillas y extiendes las rodillas, vamos poco a poco hasta dominar los ejercicios.
Nuestro objetivo no será otro que la quema de calorías a montón, sudamos y oxidamos grasas para que ese abdomen explote de emoción. Hoy las piernas serán las protagonistas principales en la mayoría de los casos, los brazos tambien se activarán, es decir, todo el cuerpo estará activo totalmente, se me olvidaba que para el ejercicio 2 usaremos una silla. Entonces no lo pienses más y vente con nosotros, vivamos juntos la experiencia de poner el cuerpo en elevación. La energía que se liberará es increíble y los beneficios corporales, como siempre irán en ascenso. No te puedes perder esta sesión, tampoco puedes dejar que te lo cuenten, porque una cosa es que te lo digan y otra es que lo vivas en carne propia. Actívate.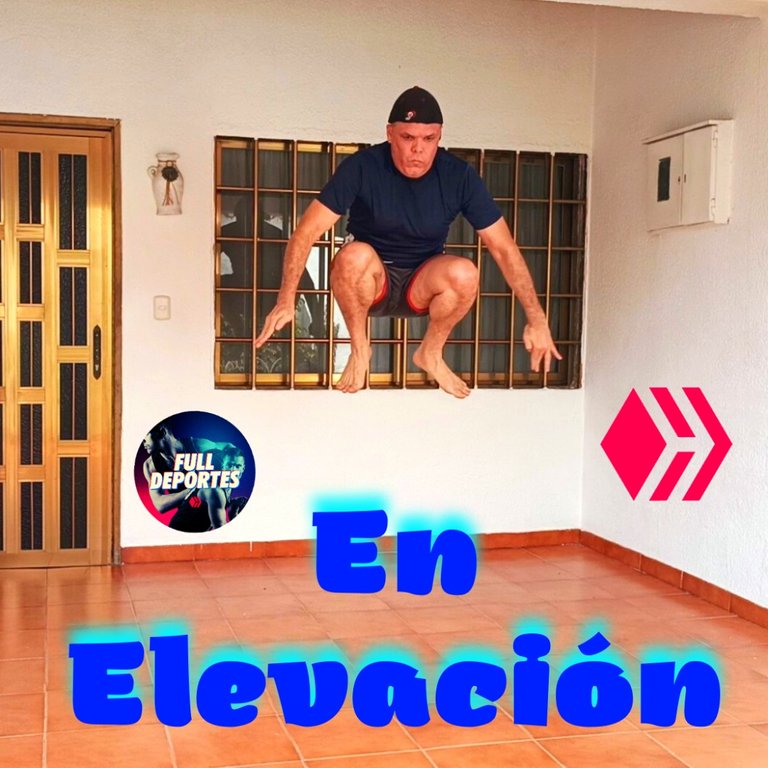 Imagen de mi Autoría Editada por/Image of my Authorship Edited by Canva
Gifs creados en la aplicación/Gifs created in the application HD Video To Gif Converter
Logos propiedad de/ logos owned by @hiveio, @fulldeportes
Hey my brothers, today is a very special, powerful and explosive day. Today we put the body in elevation, or rather we take it off the floor to activate it again in a complete way. Each movement will make us vibrate always with a view to obtaining incredible results, with a total execution of dynamic exercises, varied and that keep us away from boredom. Logically, I am aware that the movements can be complicated for many people, therefore, everyone must perform them at their own pace. In the case of performing the squat you can not jump and get off the ground, just do the squat and extend your knees, we go little by little to master the exercises.
Our goal will be none other than burning calories a lot, we sweat and oxidize fat so that the abdomen explodes with excitement. Today the legs will be the main protagonists in most cases, the arms will also be activated, that is, the whole body will be fully active, I forgot that for exercise 2 we will use a chair. So don't think about it anymore and come with us, let's live together the experience of putting the body in elevation. The energy that will be released is incredible and the body benefits, as always, will be on the rise. You can not miss this session, you can not let them tell you, because one thing is that they tell you and another is that you live it in the flesh. Get active.

Material a utilizar
En la sesión de hoy solo vamos a utilizar una silla para activarnos en la segunda estación del circuito. Todos tenemos una silla en casa, sin embargo, pueden también usar un banco, un mueble, lo que deseen. También es válido realizarlo desde el piso directamente. Que nadie se límite, que nadie rinda, para atrás ni para agarrar impulso.
Material to use

In today's session we are only going to use a chair to activate us in the second station of the circuit. We all have a chair at home, however, you can also use a bench, a piece of furniture, whatever you wish. It is also valid to do it from the floor directly. No one should limit themselves, no one should give up, neither backwards nor to gain momentum.

Calentamiento Corporal
Girar el volante más flexión lateral de torso.
Apertura y cierre de piernas en salto + extensión y flexión inferior de codos.
Sentadillas + elevación de rodillas en despegue.
Flexiones inclinadas con despegue en silla.
Plancha + salto alterno frontal en una pierna.
Relajación Corporal
Giro de pierna con rodilla elevada.
Body Warming

Turning the steering wheel plus lateral flexion of the torso.
Opening and closing of legs in jump + extension and lower flexion of elbows.
Squats + knee raises with take-off.
Incline push-ups with chair take-off.
Plank + front alternating jump on one leg.
Body Relaxation

Leg twist with knee elevated.

Calentar antes de entrenar
Dinámica: En circuito
Trabajo por ejercicio: entre 10 Y 20 (se indica) repeticiones.
Series: 4 por circuito completo.
Descanso entre ejercicios: de 10 a 20 segundos.
Descanso entre series: de 1 a 2 minutos.
Warm up before training
Dynamics: In circuit
Work per exercise: between 10 and 20 (indicated) repetitions.
Series: 4 per complete circuit.
Rest between exercises: 10 to 20 seconds.
Rest between series: 1 to 2 minutes.

Calentamiento Corporal
Estar alejados de lesiones, simplemente significa que debemos realizar una sesión de estiramiento y calentamiento. Los estiramientos fueron realizados detrás de bastidores para flexibilizar un poco los músculos. Ahora nos activamos con la etapa obligatoria de calentamiento. En tal sentido, si usted aprecia su cuerpo, debe saber que al iniciar cualquier actividad física el mismo está frío, los músculos están rígidos, y eso significa una sola cosa, que te puedes lesionar. Todo atleta, y los que no lo son tienen que estar conscientes que esta fase es primordial. Así que vamos todos a calentar para aumentar la temperatura, el ritmo cardíaco y en fin, para que el cuerpo esté totalmente a tono. Vamos.
Body Warming

Staying away from injury simply means that we must perform a stretching and warm-up session. Stretching was done backstage to make the muscles a little more flexible. Now we activate with the mandatory warm-up stage. In that sense, if you appreciate your body, you should know that when you start any physical activity it is cold, the muscles are stiff, and that means only one thing, that you can get injured. Every athlete, and non-athletes have to be aware that this phase is paramount. So let's all warm up to increase the temperature, the heart rate and in short, to get the body fully in tune. Let's go.

Girar el volante más flexión lateral de torso
Este ejercicio permite ir activando poco a poco los brazos, el torso y el tren inferior. Que la temperatura se eleve, activos.
Nos colocamos de pie con las piernas separadas más allá del ancho de la cadera. Flexionamos un poco las rodillas y extendemos, no en su totalidad, los brazos al frente con las manos empuñadas como si estuviéramos agarrando un volante.
Una vez en posición, giramos los brazos lado a lado flexionando siempre el torso hacia el lado donde giran los brazos. Los brazos no deben estar totalmente extendidos.
Al mismo tiempo que se realiza el movimiento, siempre debemos hacer pulso con las piernas, recuerden que las rodillas están un poco flexionadas.
Realizamos el ejercicio durante 3 minutos.
Wheel twist plus lateral torso flexion

This exercise allows you to gradually activate your arms, torso and lower body. Let the temperature rise, active.
We stand with our legs apart beyond hip width. We bend our knees slightly and extend, not fully, our arms in front of us with our hands clasped as if we were gripping a steering wheel.
Once in position, we turn our arms side to side, always bending our torso towards the side where the arms turn. The arms should not be fully extended.
At the same time that the movement is performed, we must always pulse with the legs, remember that the knees are a little bent.
We perform the exercise for 3 minutes.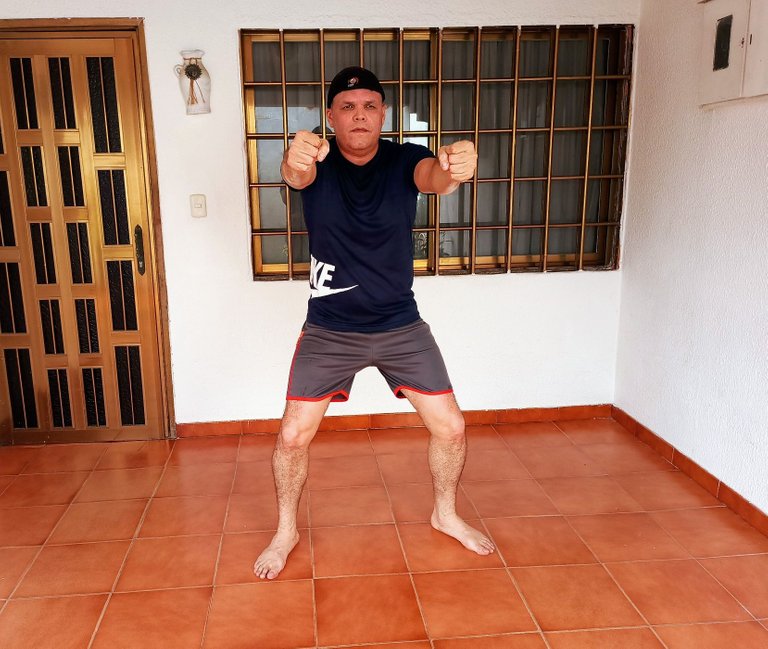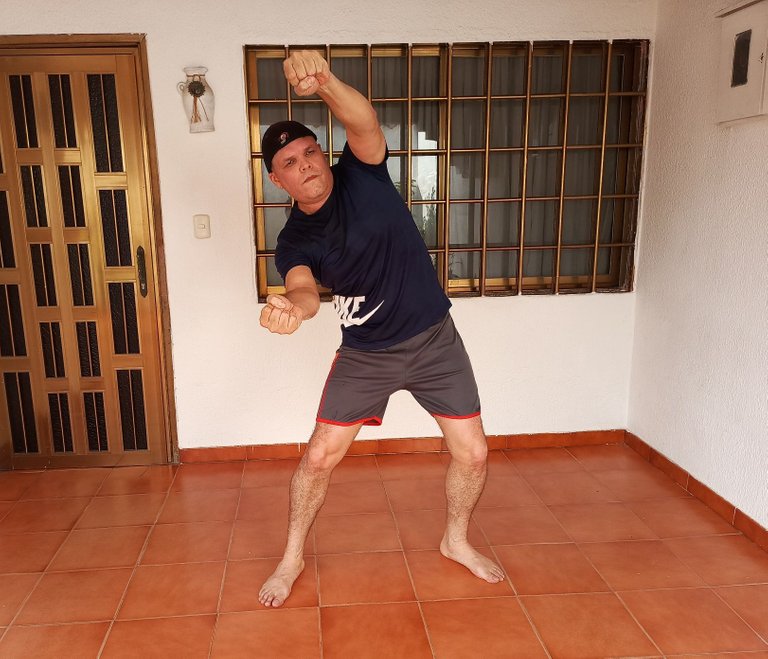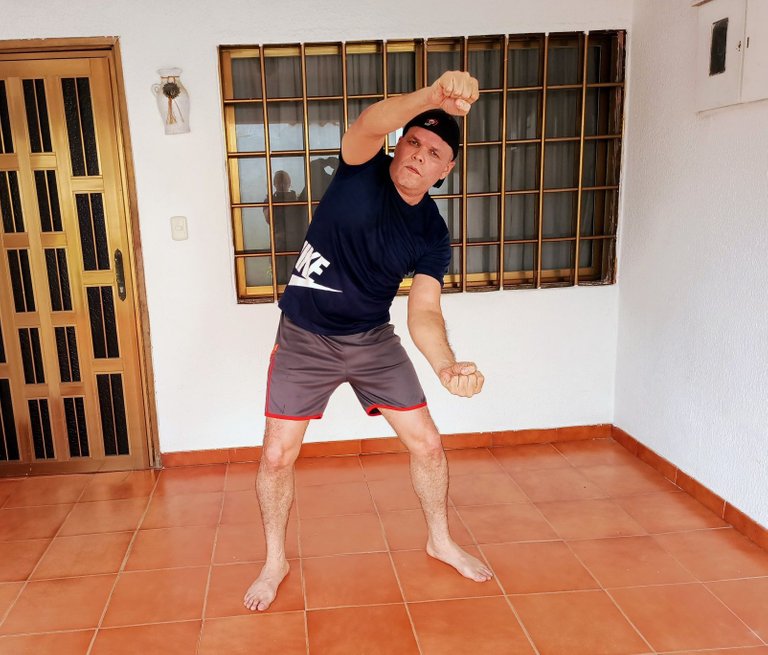 Apertura y cierre de piernas en salto + extensión y flexión inferior de codos
Este ejercicio es una variante de las tijeras. Aquí la temperatura ya va en ascenso y con este movimiento se eleva mucho más. El cuerpo está agarrando tono. Vamos.
Ubicados de pie con piernas juntas. Codos flexionados con los brazos a los lados y las manos a nivel de la cabeza.
Ya en posición y a través de pequeños saltos, abrimos y cerramos piernas, y al mismo tiempo extendemos los codos llevando las manos hacia abajo y hacia arriba. Cuando las piernas abren, los codos se extienden, cuando las piernas cierran, los codos se flexionan.
Ejercicio a realizar por 3 minutos continuos.
Jumping leg openers and closers + lower elbow extension and flexion

This exercise is a variant of the scissors. Here the temperature is already rising and with this movement it rises much higher. The body is getting in tone. Let's go.
Standing with legs together. Elbows bent with arms at your sides and hands at head level.
Already in position and through small jumps, we open and close legs, and at the same time we extend the elbows bringing the hands down and up. When the legs open, the elbows extend, when the legs close, the elbows bend.
Exercise to be performed for 3 continuous minutes.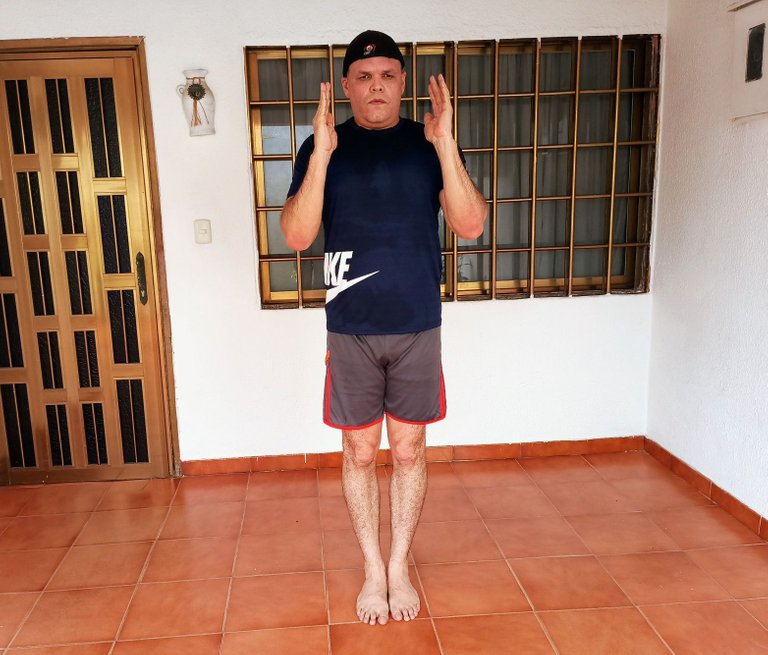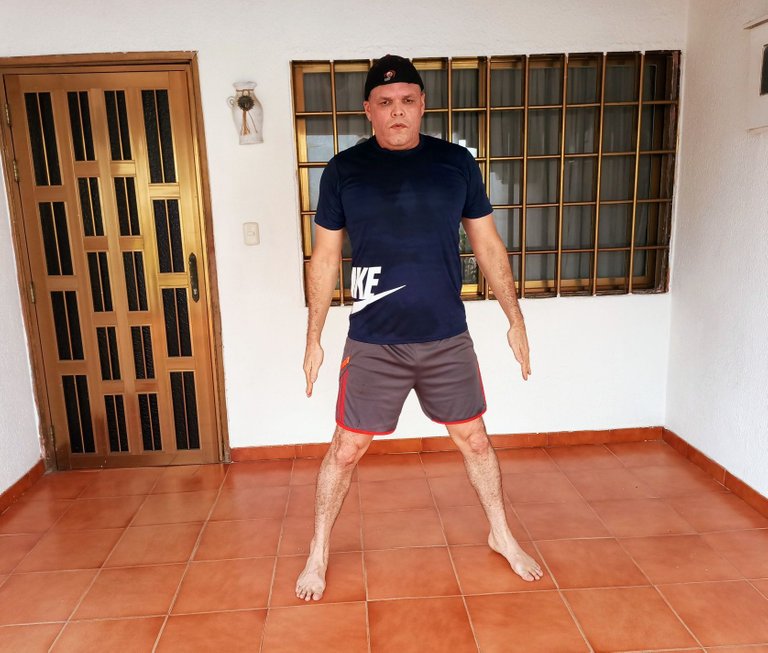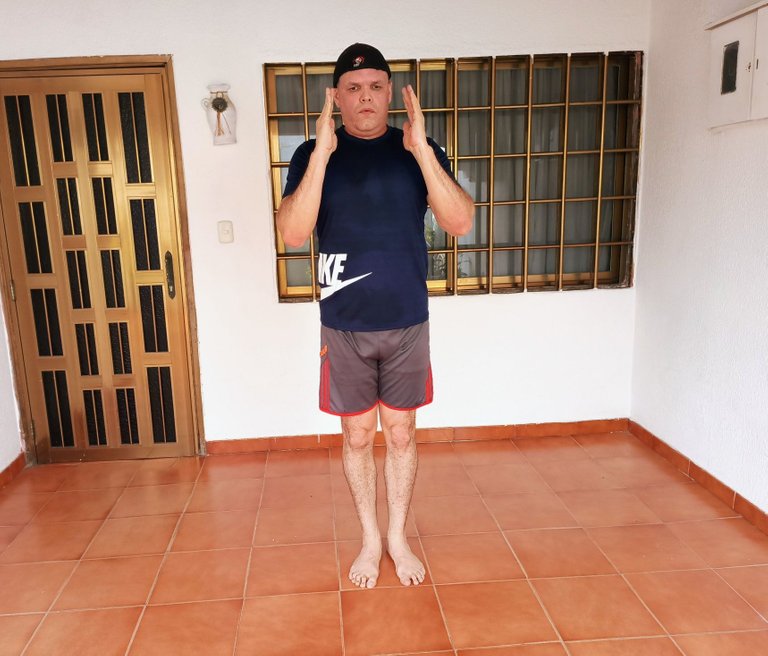 Para este momento el cuerpo ya debe estar en las condiciones esperadas para avanzar a la siguiente etapa, de no ser así tenemos que esperar y calentar un poco más, recuerden que debemos estar totalmente a tono para la acción fuerte, no olviden que debemos tener abdomen y glúteos contraídos en todo momento. vamos.
By this time the body should already be in the expected conditions to advance to the next stage, if not we have to wait and warm up a little more, remember that we must be fully in tune for the strong action, do not forget that we must have abdomen and buttocks contracted at all times. let's go.

Sentadillas + elevación de rodillas en despegue
Sin duda alguna este ejercicio me gustó un mundo y es totalmente explosivo. Aunque las piernas son el centro de atención, como es sabido, el cuerpo en su totalidad será activado, recuerden que para elevarnos tenemos que tomar fuerza del abdomen para el despegue. Para tomar la fotografía en elevación, se tuvieron que realizar varias tomas para escoger la mejor. Sin embargo, les voy a colocar varias, todo fue muy intenso. Vamos.
Iniciamos de pie con las piernas separadas más allá del ancho de la cadera, y los pies viendo hacia afuera de forma diagonal. Los codos se flexionan llevando los brazos a los lados y las manos al nivel de la cabeza.
Una vez en posición ejecutamos la sentadilla, esperamos un segundo para explotar hacia arriba tomando impulso y fuerza con el abdomen, los brazos bajan, las rodillas se flexionan y se elevan. Es decir, nos despegamos totalmente del suelo. Al bajar, las rodillas igualmente se flexionan cayendo en sentadilla.
Este ejercicio lo podemos realizar en 10 repeticiones por 4 series, de verdad que es explosivo y muy dinámico.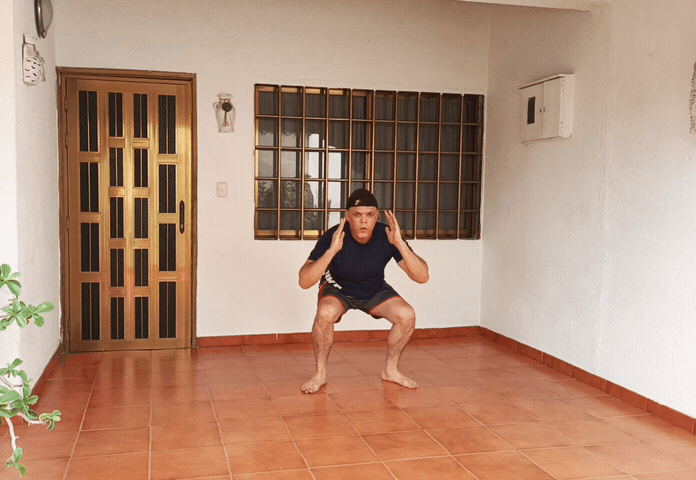 Squats + knee lifts at take-off

Without a doubt I loved this exercise and it's totally explosive. Although the legs are the focus, as is well known, the body as a whole will be activated, remember that to elevate we have to take strength from the abdomen for takeoff. To take the elevation photograph, several shots had to be taken to choose the best one. However, I am going to post several, it was all very intense. Let's go.
We start standing with legs apart beyond hip width, and feet facing outward diagonally. The elbows are bent bringing the arms to the sides and the hands at head level.
Once in position we execute the squat, we wait a second to explode upwards taking impulse and strength with the abdomen, the arms go down, the knees flex and rise. In other words, we get completely off the ground. On the way down, the knees also bend, falling into a squat.
This exercise can be performed in 10 repetitions for 4 series, it is really explosive and very dynamic.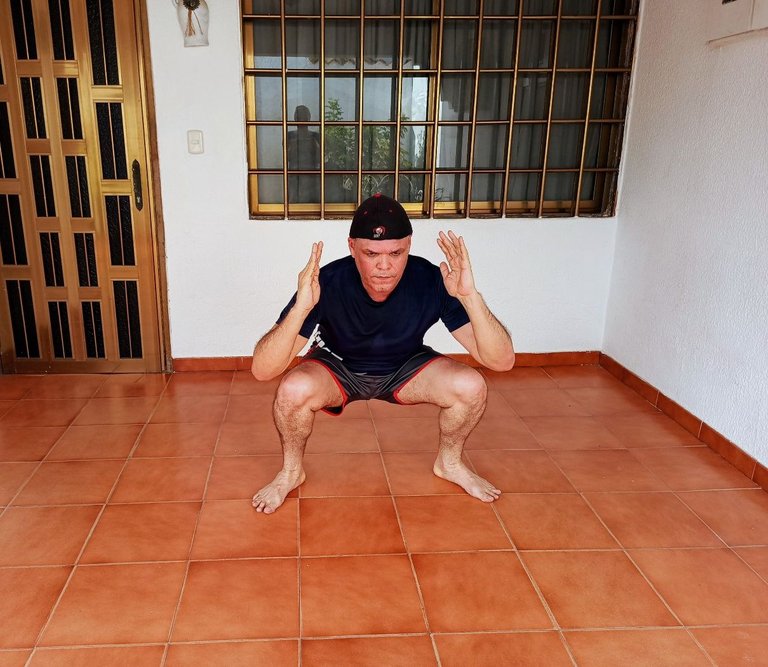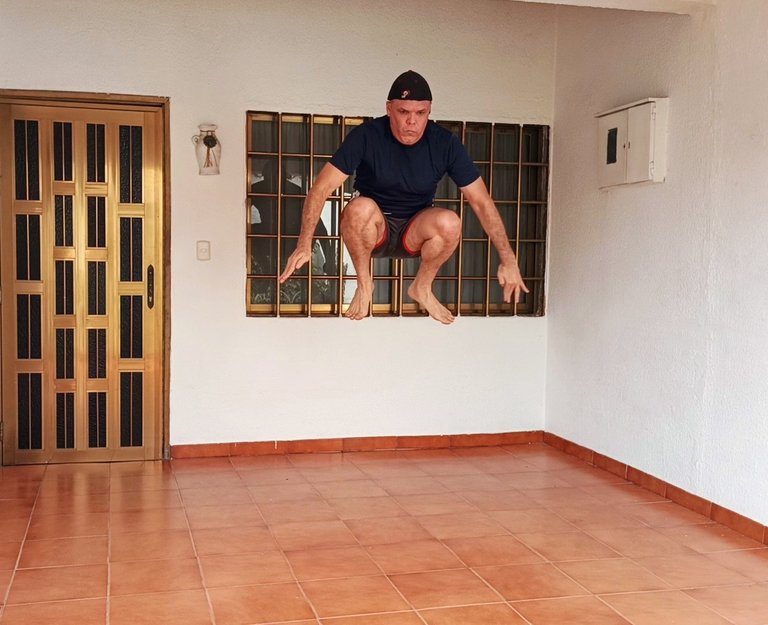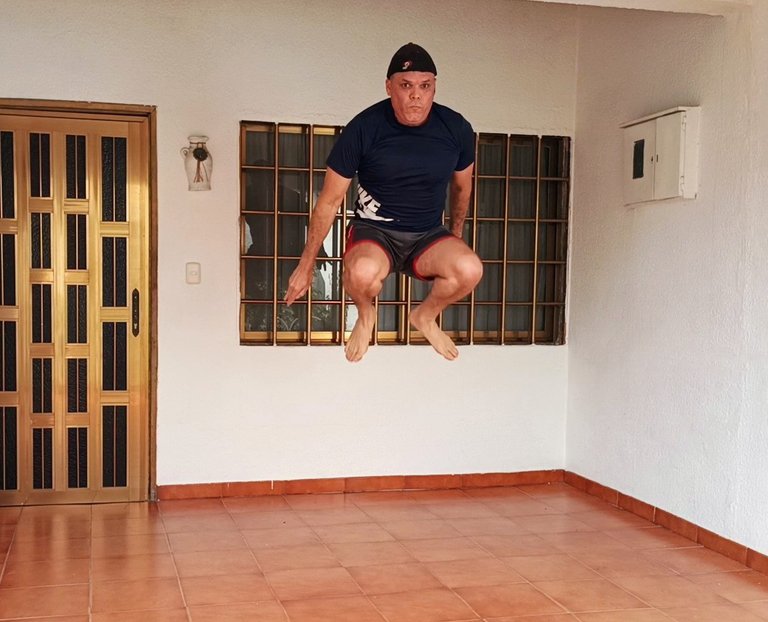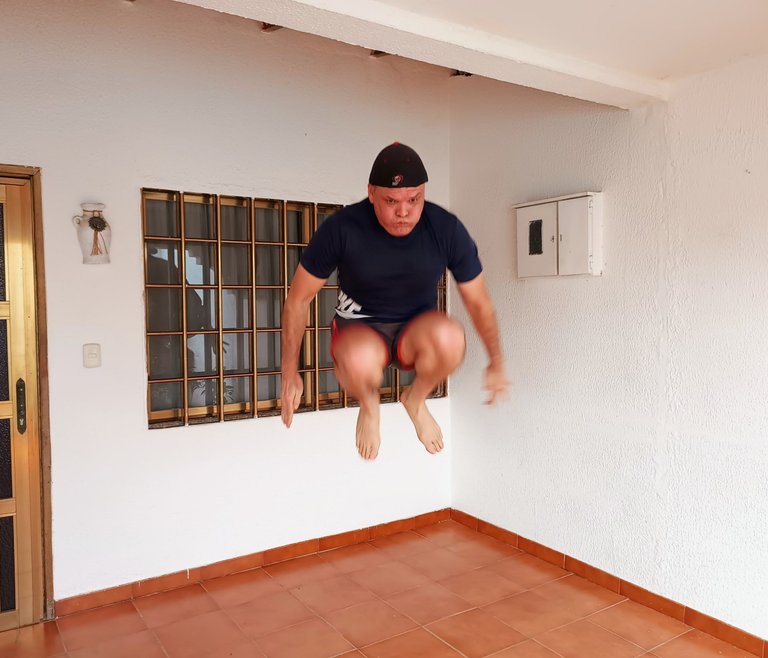 Flexiones inclinadas con despegue en silla
Aquí vamos a utilizar una silla, ustedes pueden hacerlo en un banco, sillón, o donde deseen, lo importante es que estemos inclinados. Ahora, si lo quieren hacer en el suelo es totalmente válido. Vamos que aquí también el cuerpo se activa totalmente dándole énfasis al tren superior. Mantener abdomen y glúteos contraídos.
Tomamos la silla y la apoyamos de la pared. Ahora, nos colocamos frente a ella y boca abajo, ubicando las manos sobre el cojín. Extendemos hacia atrás el tren inferior con las piernas levemente separadas. En pocas palabras adoptamos la posición de flexiones.
Ya ubicados en la posición deseada, flexionamos los codos ejecutando el ejercicio de flexión sin tocar el asiento.
Ahora, tomando impulso y de forma explosiva extendemos los codos depegándonos de la silla, quedando el cuerpo en suspensión. Al bajar ejecutamos nuevamente la flexión con el cuerpo tal cual como viene.
Podemos realizar el ejercicio en 20 repeticiones por 4 series.
Incline push-ups with chair take-off

Here we are going to use a chair, you can do it on a bench, armchair, or wherever you want, the important thing is that we are inclined. Now, if you want to do it on the floor it is totally valid. Here the body is also fully activated, giving emphasis to the upper body. Keep abdomen and buttocks contracted.
We take the chair and lean it against the wall. Now, we place ourselves in front of it and face down, placing our hands on the cushion. We extend our lower body backwards with our legs slightly apart. In short, we adopt the push-up position.
Once in the desired position, we bend our elbows, executing the push-up exercise without touching the seat.
Now, taking impulse and in an explosive way, we extend the elbows, detaching ourselves from the chair, leaving the body in suspension. When we go down we execute the flexion again with the body as it comes.
We can perform the exercise in 20 repetitions for 4 series.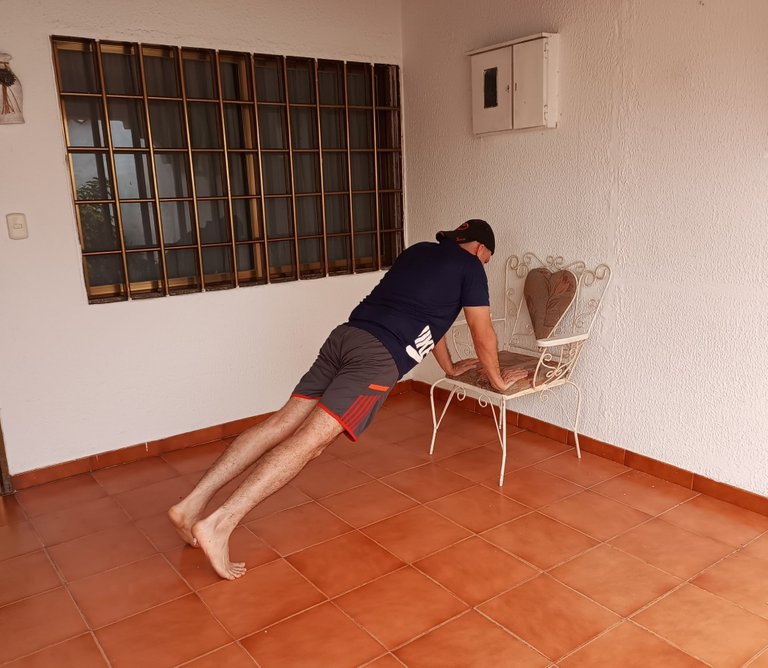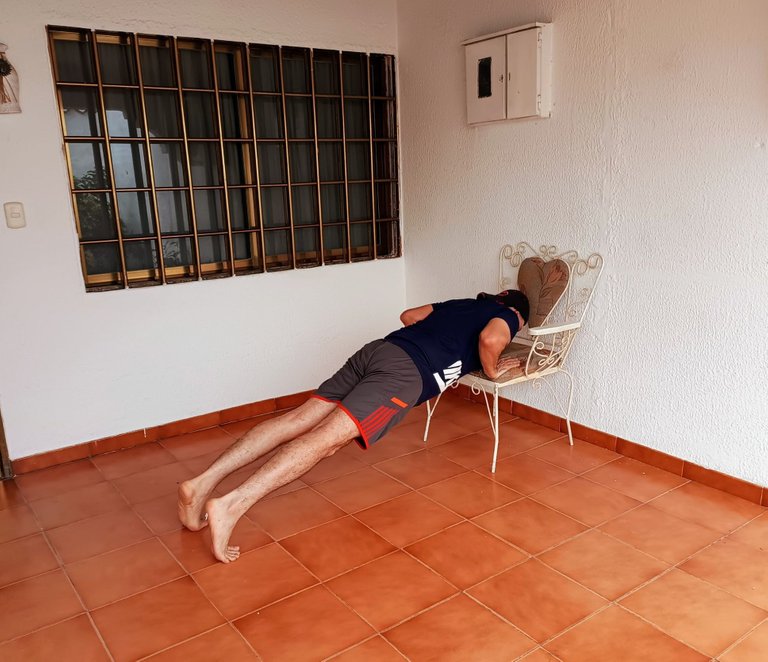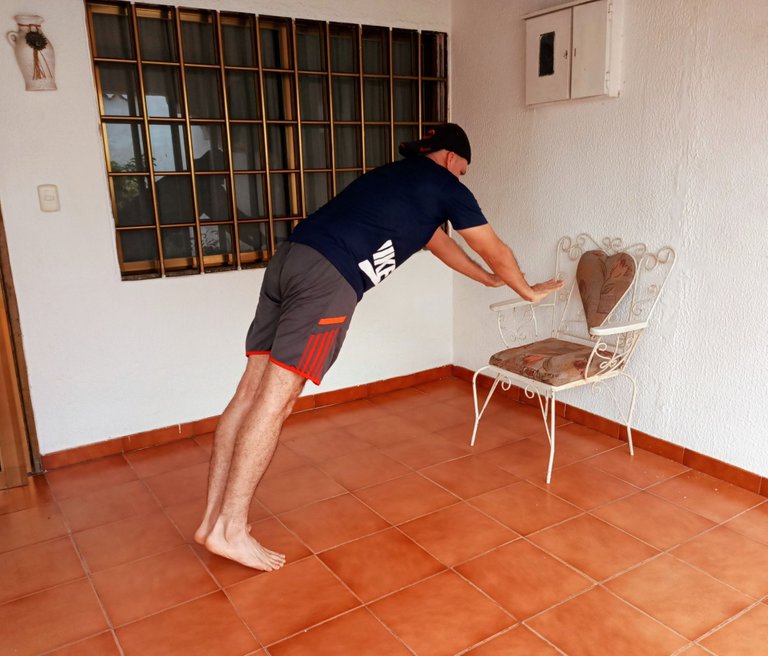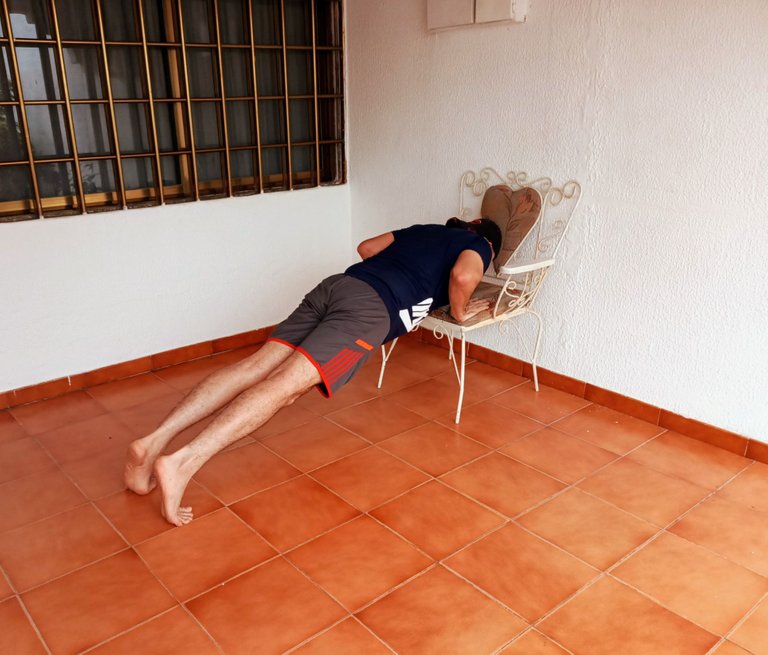 Plancha + salto alterno frontal en una pierna
No podía faltar una plancha, confieso que estos ejercicios son muy utilizados por mi persona, claro está aplicando variantes y ésta no tiene desperdicio. Tren inferior súper activo, abdomen en total acción y brazos brindando un apoyo fantástico. Como dije, el cuerpo trabaja completamente. Vamos
Nos colocamos en el piso en posición de plancha o flexiones. Codos extendidos y piernas hacia atrás con rodillas un poco flexionadas.
Ya activados en la posición deseada, simplemente a través de un salto llevamos por ejemplo, la pierna derecha hacia el frente, mientras la rodilla de la pierna izquierda se flexiona y se coloca sobre la derecha.
Con otro salto volvemos a la posición inicial, para luego saltar ahora con la pierna izquierda, flexionamos la rodilla de la pierna derecha y la ubicamos sobre la izquierda. Recuerden que los saltos son en una pierna de forma alterna.
Realizamos 20 repeticiones totales en 4 series. Pura candela.
Plank + front alternating jump on one leg

I could not miss a plancha, I confess that these exercises are very used by me, of course applying variants and this one has no waste. Super active lower body, abdomen in full action and arms providing fantastic support. As I said, the body works completely. Let's go
We get on the floor in plank or push-up position. Elbows extended and legs back with knees slightly bent.
Already activated in the desired position, simply through a jump we take for example, the right leg to the front, while the knee of the left leg is bent and placed on the right.
With another jump we return to the initial position, to then jump now with the left leg, flex the knee of the right leg and place it on the left. Remember that the jumps are on one leg alternately.
We perform 20 total repetitions in 4 series. Pure candela.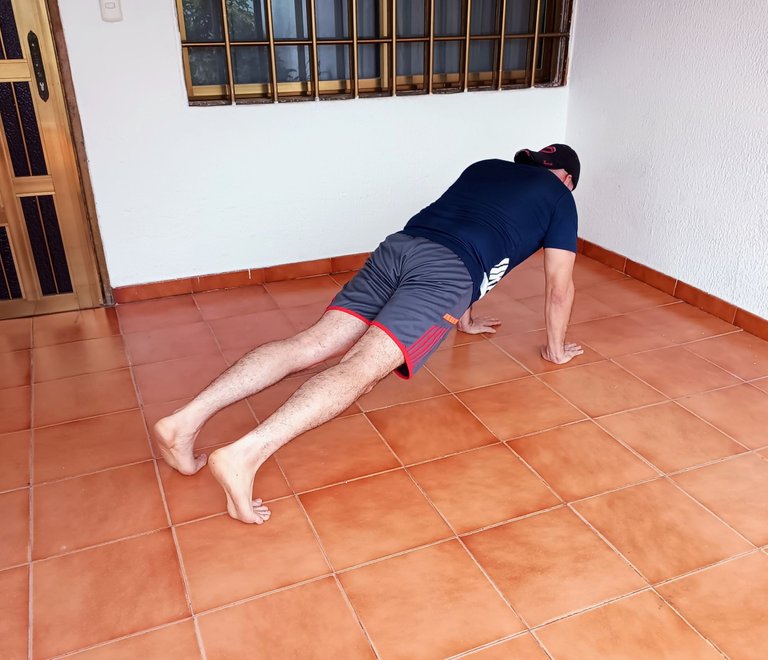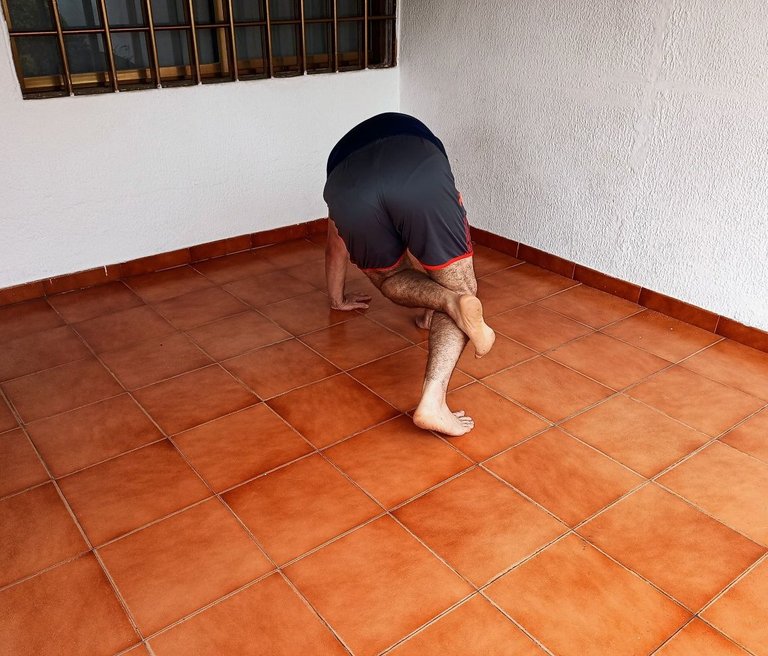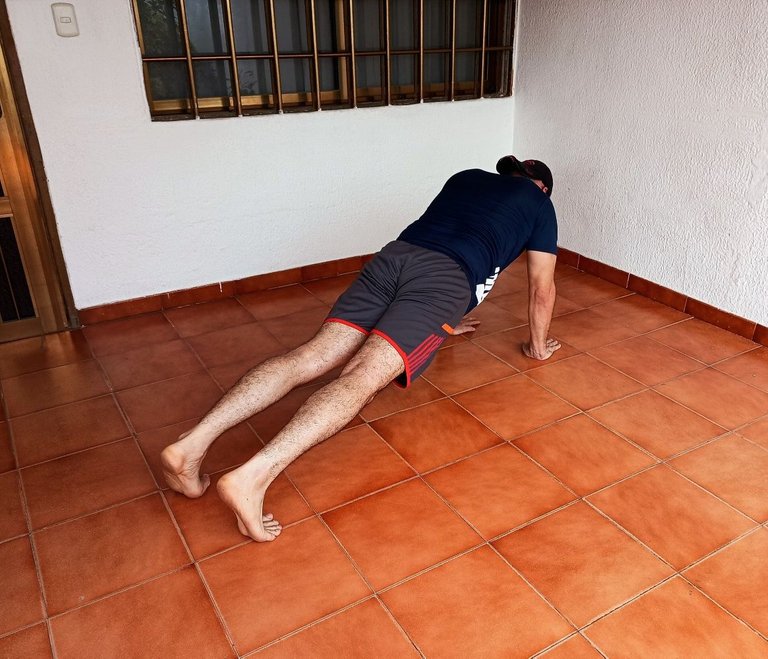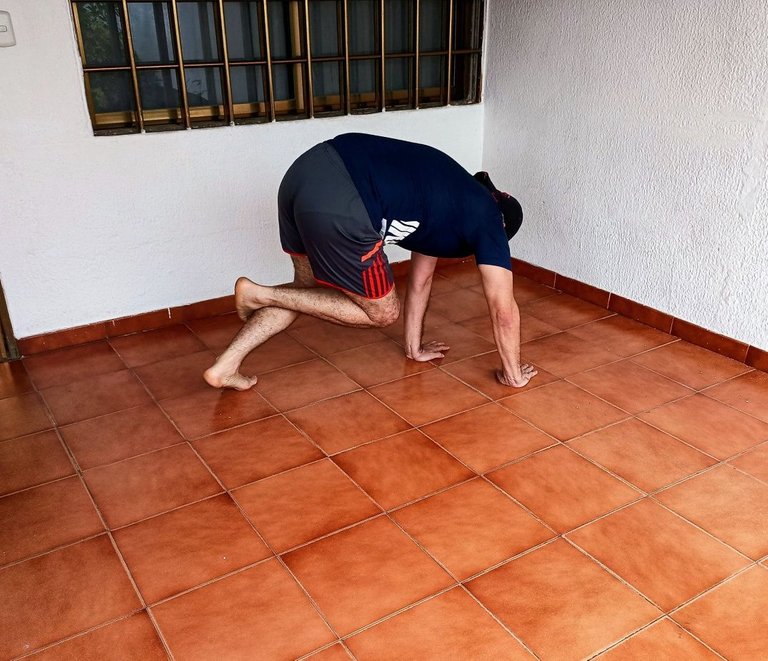 Relajación Corporal
Ahora nos activamos con la relajación corporal. Recuerden respirar y exhalar. Ejecutamos los movimientos suavemente.
Body Relaxation

Now we activate with body relaxation. Remember to breathe in and out. We execute the movements smoothly.

Giro de pierna con rodilla elevada
Movimiento sencillo, recuerden que aquí vamos a enfriar el cuerpo. No existe ningún apuro.
Estando de pie colocamos las manos a los lados de la cadera. Piernas un poco separadas.
Ahora y sin despegar las manos de las caderas, vamos elevando las rodillas de forma alterna girando las piernas hacia atrás.
Repetimos los movimientos por 3 minutos.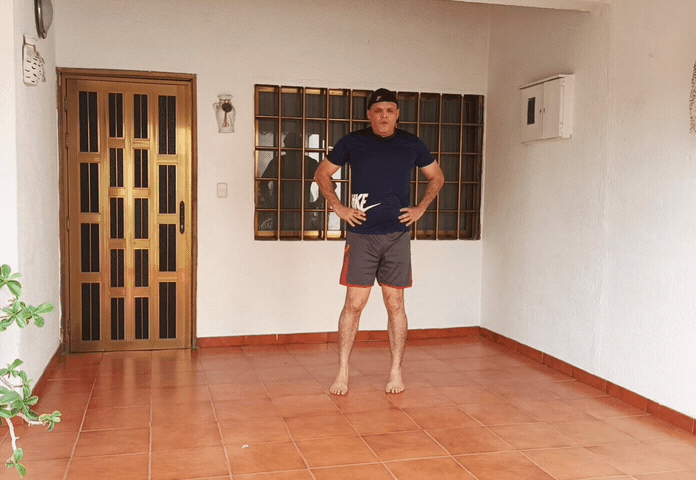 Leg twist with knee elevated

Simple movement, remember we are going to cool down the body here. There is no rush.
Standing we place our hands on the sides of our hips. Legs a little apart.
Now, without taking your hands off your hips, we raise our knees alternately, turning our legs backwards.
Repeat the movements for 3 minutes.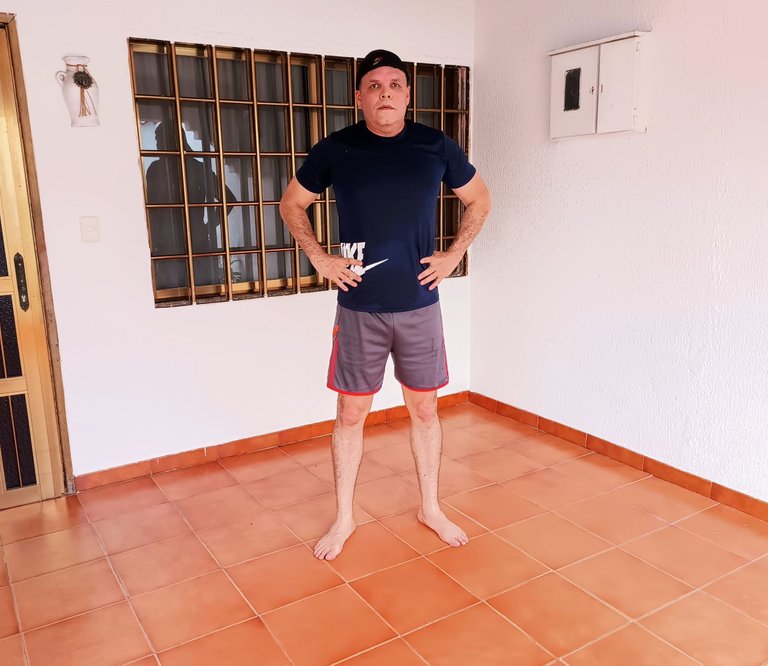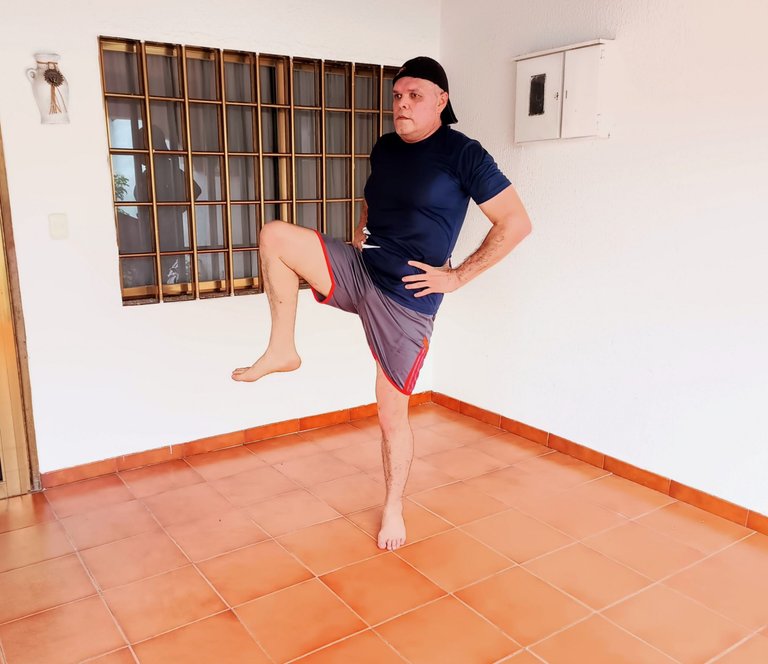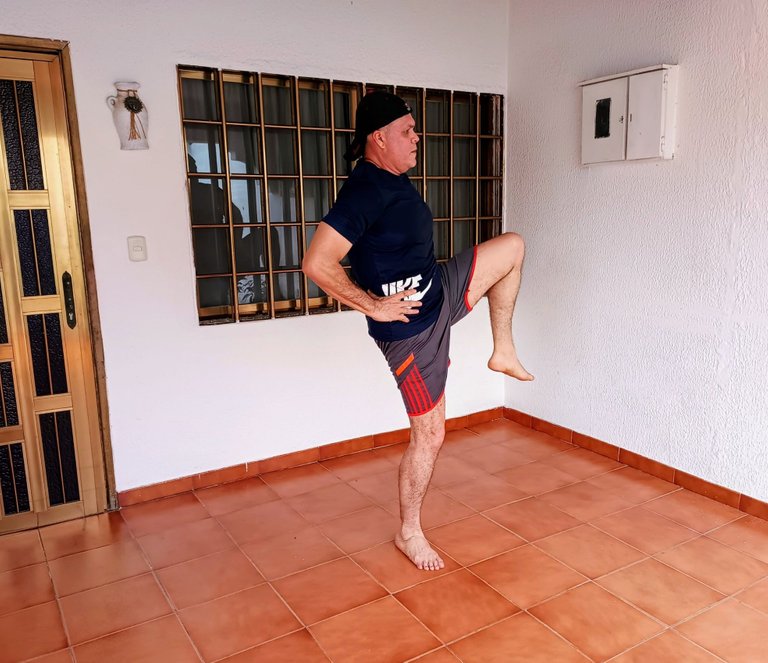 Ajá mis amigos, de verdad que hemos explotado de pura adrenalina, energía y emoción. La sesión de hoy estuvo super genial porque nos mantuvimos bien activos. Como siempre, les recuerdo que para lograr nuestros objetivos debemos tener en cuenta que la dedicación, constancia y disciplina son la clave para el éxito. Que nadie se límite, que nadie se detenga, un abrazo y hasta una próxima emisión de entrenamientos con @omarcitorojas.
Aha my friends, we really exploded with pure adrenaline, energy and excitement. Today's session was super cool because we stayed very active. As always, I remind you that to achieve our goals we must keep in mind that dedication, perseverance and discipline are the key to success. Let no one limit themselves, let no one stop, a hug and see you next time for a training session with @omarcitorojas.
...Gracias Por Visitar...
...Thanks for visiting...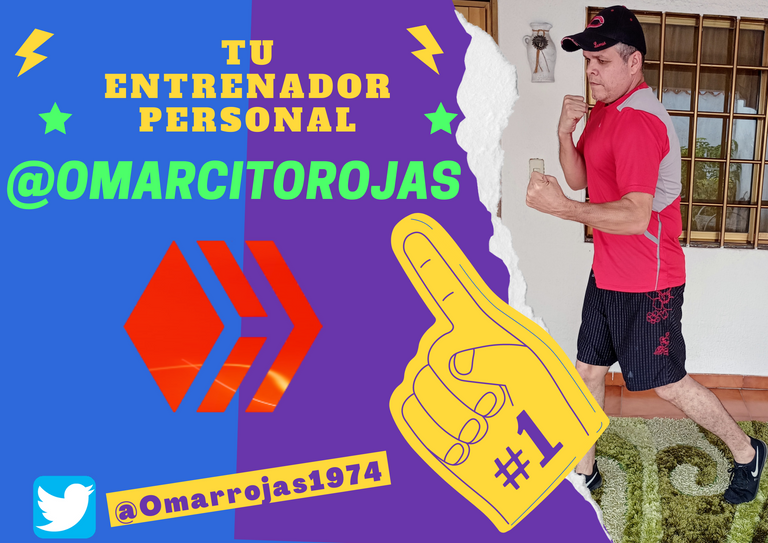 Imágenes y videos tomados por Militza Núñez.
Images and videos taken by Militza Núñez
Sorry. English is not our native language. Therefore, a web translator is used for texts in English. (Spanishdict)
---
---