Season 11 Qualifiers Results + Super League Bonuses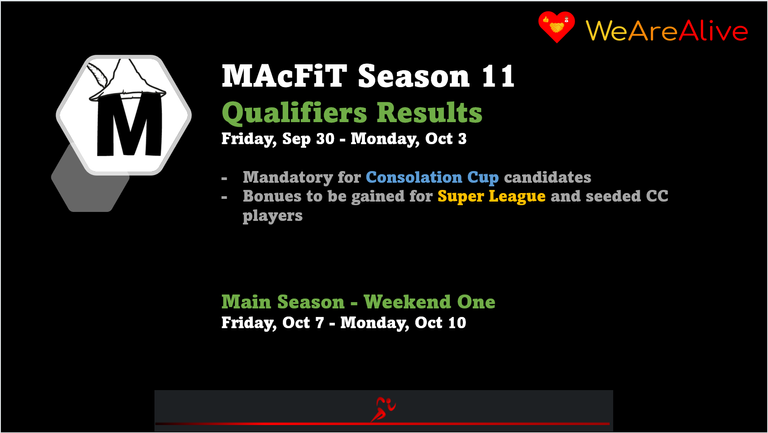 Hello,
During this past weekend (Friday, Sep 30 thru Monday, Oct 3) qualifiers for Season 11 Consolation Cup were held. The candidates were expected to post their two best results. Only @masoom cared to do so. It doesn't mean he will be alone - as announced, I have collected results for the 8 seeded players and the 8 best candidates (based on the @macfit Ranking).
The qualifiers weekend was also an opportunity for Super League players to gain a starting bonus. 7 players posted their best two scores and they will have a pole position in the game.
Consolation Cup Qualifiers
Friday, Sep 30 thru Monday, Oct 3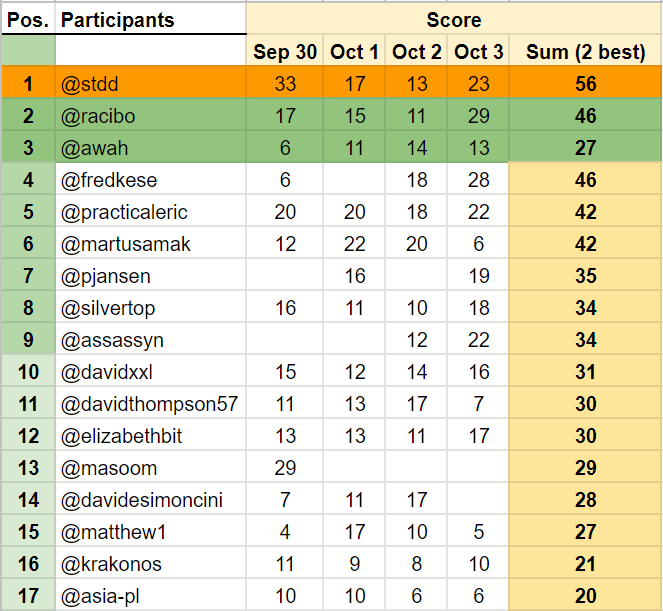 In case of equal score, the player with higher @macfit Ranking gets the higher position.
The best player, @stdd, joins Super League - to fill the slot vacated by @dragokazo.
@racibo and @awah are the only seeded players who cared to post their scores. They will be therefore seeded as #1 and 2, ahead of the rest, who are ordered according to their scores, descending.
Pairs for Consolation Cup Weekend One
Here are the pairs for Weekend One. It will be a play-off, over two matches (Friday, Oct 7 AND Saturday, Oct 8)
@racibo vs @asia-pl
@awah vs @krakonos
@fredkese vs @matthew1
@practicaleric vs @davidesimoncini
@martusamak vs @masoom
@pjansen vs @elizabethbit
@silvertop vs @davidthompson57
@assassyn vs @davidxxl
8 Winners and 1 Lucky Loser will advance to Weekend Two.
Super League Starting Bonus
The following players will enter Super League with a starting bonus. The play begins next weekend (Friday, Oct 7 THRU Monday, Oct 10).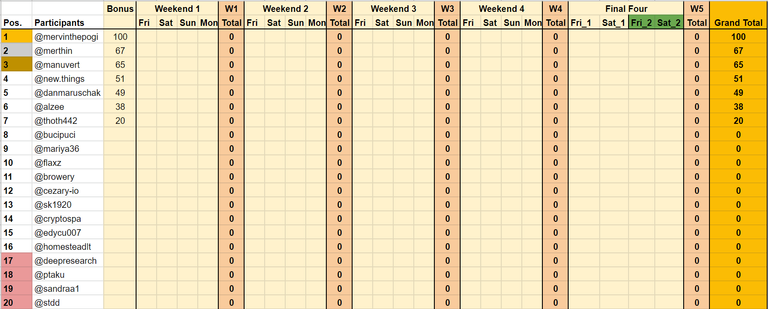 The Standings can be viewed online
Players in bold will have a starting bonus. It gives them an advantage. As we progress, older weekends will be counted with lowered weight (20% less after each weekend). The bonus, however, will stay as is.
@mervinthepogi
@merthin
@manuvert
@new.things
@danmaruschak
@alzee
@thoth442
@bucipuci
@mariya36
@flaxz
@browery
@cezary-io
@sk1920
@cryptospa
@edycu007
@homesteadlt
@deepresearch
@ptaku
@sandraa1
@stdd
After Weekend One, four players with lowest total score will be eliminated (the best of them will join Consolation Cup in Weekend Two).
Non-participants
The players listed below didn't care to post their results, so I take they are not interested in playing. I am still pinging them, in case they change their minds next season.
---
Beneficiaries
All Season 11 @MAcFiT updates have Season 10 Winners as beneficiaries:
In addition:
Total: 20%
80% of the HBD collected via upvotes/tips makes the Season 11 Award Pool.
---
---